Three Things: Cardiff vs. Swansea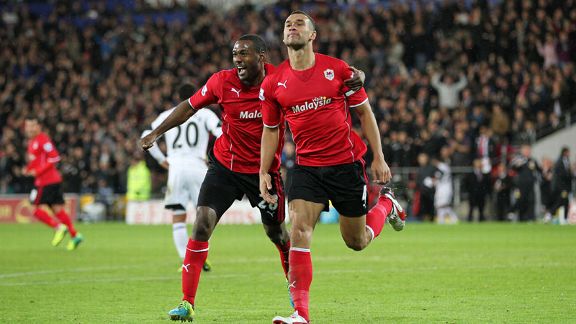 PA PhotosSteven Caulker scored Cardiff's winner against Swansea.
CARDIFF -- Three observations from Cardiff's 1-0 derby victory against Swansea in the Premier League.

Malky's masterplan

"Boring, boring Cardiff," teased the Swansea fans, mocking their opponents' agricultural football as their men played slick, Spanish-influenced fare. Yet here was a reminder that victory can derive from all sorts of approaches. As Cardiff fans celebrated with their "Ayatollah dance," they were anything but bored, especially after Michel Vorm's late dismissal for his last-man foul on Fraizer Campbell confirmed Swansea misery.

Malky Mackay had clearly aimed to keep it tight for the first 45 and then up the tempo after that. His plan paid off as Cardiff claimed victory in South Wales' first ever Premier League derby match. Whatever awaits him, he has gone down in Bluebird legend.

It would be a brave man who forced Mackay out now, though few could doubt that Vincent Tan might have sufficient courage to do so. Were Tan to know a little more about the game, he might recognise that his manager had supplied a tactical triumph to deliver the club's sweetest victory since the 1927 FA Cup final.

When Michu twice went close in the early stages, Cardiff had looked all too capable of being carved open -- but they soon adopted the dogged, determined manner that defines their manager.

The hard tackle, the dead ball and team spirit carried Cardiff through. That Korean creator Kim Bo-Kyung was dropped for Don Cowie was an indicator of an approach in which defensive work would initially dominate the schedule. Mackay the pragmatist changes his team according to the opponent he is facing. He was happy to let Swansea have the ball in places that could not hurt them.

Cardiff's only first-half flicker of threat came when Craig Bellamy, the Cardiff kid back home after a peripatetic career, boomed in a free kick that came off the wall to spinnaker over Vorm's bar. Peter Odemwingie as front man often looked as lonely as he did that night he parked his Range Rover on Loftus Road.

Chilean enforcer Gary Medel patrolled in front of his defence as Cardiff began to seek channels to exploit. Cowie went up to head a ball nodded back by Bellamy but Ashley Williams did enough to put him off.

When Steven Caulker, an ex-Swan, climbed above Chico Flores on Bellamy's well-aimed corner to score, all but that small corner in white celebrated wildly. The moment they had all been waiting for had been seized. "One team in Wales," they sang in joy.

Swans' bubble bursts

They had been "bubbled" in, kettled into the ground like a group of antiglobalism protesters. They were ghettoised in a corner kept remote from the rest of the stadium. Lines of neon-jacketed stewards and police were on either side of them. This would be the only time that Swans feet stepped in Bluebird country. They had all met at their Liberty Stadium at midday and been bussed into enemy territory. No chances were being taken by the authorities. Any celebrations would have to take place back beyond Port Talbot, though in the end there were to be none.

Such draconian measures have long been necessary to separate the fans of Cardiff and Swansea. The two groups are best left apart, as evidenced by a disturbingly violent 60-man punch-up that occurred at Newbury racecourse in July 2012 and became a grisly YouTube hit.

In the days when both languished in the lower reaches, both on the brink of bankruptcy, what reputations they had lay in their fans' extracurricular activities.

This is the Premier League, where such scenes are just not acceptable. A local conflict was not going to be allowed to disgust a global audience.

Early on, the white shirts were booed on their every touch as their "Hymns and Arias" anthem was shouted down. In turn, Swans fans bounced provocatively, eager to remind the home fans that they are flying a Welsh flag in European competition and enjoying a third straight season at the top level.

The atmosphere never quite became the white-hot bearpit the TV company who scheduled it had really wanted. Tepid football saw to that until Caulker's goal, at which point those in the corner became sitting ducks. "1-0 to the capital," lorded it over them, and eventually they sat to a man with crossed arms, contemplating a miserable ride west. Life has been sweet so far for Swansea in the top division, but this was a nadir.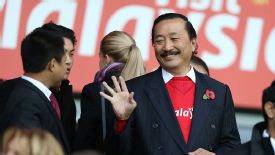 PA PhotosVincent Tan was in the crowd to watch Cardiff take on Swansea.
A victory for Vincent

Swansea are as near to a socialist collective as could be involved in the Premier League cartel. A club for the fans, by the fans, there could not be a greater contrast with the despotic whims with which Tan runs Cardiff. The Swans have this week reported a profit, while Tan is charging interest on loans that keep on increasing.

Alisher Apsalyamov, the Kazakh kid acting as head of recruitment, has piqued the interest of the Home Office. Since his visa only allows him to act as an intern, he is no longer allowed to fulfil his role to the best of his no doubt deep-seated skill set.

Etien Velikonja, the mystery Slovene, was nowhere near Mackay's 18-man squad, but that Cardiff were playing in red was evidence of the Malaysian overlord getting his way. In the stands, blue shirts dominated, though there was a smattering of red, perhaps to symbolise the change in demographic that being in the Premier League has brought.

Tan, unbowed by the widespread derision that a collection of odd decisions have brought him, was in the stands. Contravening stadium regulations, he was often standing up, his 17-inch collar-size trousers pulled up to their usual resting place around his sternum.

The prematch anthem "Men of Harlech" was pumped out at ear-bleeding levels on the PA system to remind us that English football's top division is now 10 percent Welsh, even if Tan would like much of the credit for himself.

To give him his due, he had perhaps learned something of a lesson. Unlike against Manchester City, he did not take to the pitch to lead the postmatch celebrations. Perhaps it was a bit too cold and wet for him to bother meeting his adoring public.