Ramsey shines amid Gerrard's autumn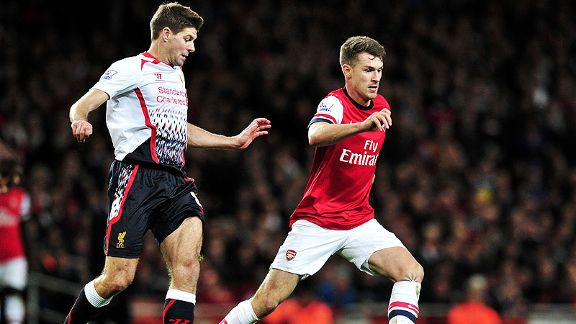 Glyn Kirk/AFP/Getty ImagesSteven Gerrard seemed to be a step behind Aaron Ramsey and Arsenal all evening long in the Gunners' 2-0 win over Liverpool.
LONDON -- Sir Alex Ferguson's autobiographical suggestion that Steven Gerrard never was a "top, top player" caused predictable rage. Anything said on either side of English football's greatest rivalry usually does, but where Ferguson fell short was in not qualifying his statement; he never defined what being a "top, top player" actually means.

Had he compared Gerrard to the likes of Lionel Messi or Cristiano Ronaldo, then perhaps even the one-eyed brigade might have grudgingly accepted. Were he suggesting that Gerrard was a player incapable of producing moments at the top level, then he was utterly incorrect. Memories of Istanbul 2005 and Cardiff 2006 will always burn to the forefront. That, though, was a footballing lifetime ago. Gerrard remains crucial to Liverpool, but now more in symbolic terms than as the true match-winner he was in his 20s.

Aaron Ramsey, scorer of the goal that took Saturday's game beyond Liverpool, played like the Steven Gerrard we knew back then. He charged from box to box, tackled all that moved, and inspired his team to victory. The current version toiled in a malfunctioning midfield that could never get a grip on the match that was supposed to prove his club's credentials as a force for honours.

- Delaney: Three things: Arsenal-Liverpool
- McNicholas: Arsenal's case for the defence
- Walsh: Liverpool doubts

The comparison made by Ferguson, and Jamie Carragher a few weeks ago, has been among Gerrard, Chelsea's Frank Lampard and Ferguson's own favourite son, Paul Scholes. That Gerrard has not refined his game in his latter years is the suggestion, whereas at 33, Gerrard's current age, Scholes, withdrawn into a deeper role, was still Manchester United's key midfielder in a team that was winning titles, cups and continental honours.

Scholes' role was to control the tempo of his team -- speed it up when a goal was being chased, slow it down when United needed to kill the game. Brendan Rodgers sets up his midfield to offer Gerrard a similar role. Lucas is the sitter, while Jordan Henderson provides boundless energy. Gerrard can no longer charge from one end to the other. His job now is to prompt and probe. The heroism has been exchanged for realism, though the reality at the Emirates was that he controlled very little. Arsenal's combination of power and guile bludgeoned Gerrard into anonymity.

Last week against West Brom, that very same midfield triangle provided a platform for wilful destruction wreaked by Luis Suarez and Daniel Sturridge. That was West Brom; this was Arsenal, and Liverpool were overrun by Arsene Wenger's quintet.

"They worked with each other, tactically we dealt well with what they offered in the first half," said Wenger. "We stopped them from playing."

Mikel Arteta and Ramsey provided the shield, while Santi Cazorla, Tomas Rosicky and Mesut Özil glittered ahead of them. All are high-grade performers, and they interchanged at will. In terms of mileage and being seen in all areas of the pitch, Ramsey is Arsenal's Henderson, but on all supportable evidence of the season is a far higher-quality performer.

Such comparisons did not flatter Liverpool. Arteta, excellent throughout, dominated in a fashion that Lucas could not emulate. Gerrard's equivalent was most probably Rosicky, just six months younger but much more of an attacking threat. Cazorla would have been Arsenal's Philippe Coutinho, though the comparison was a no-contest. The returning Brazilian was a passenger after being introduced after half-time.

Running from his knees does not yet seem to ail Henderson's distance stats, though Ferguson may well have twinkled at an early run into enemy territory. Henderson's awkward gait was not helped by Bacary Sagna clipping at his heels, and when the time came to shoot, the unfavoured left foot was a blunt weapon: The ball only pea-rolled back to Wojciech Sczczesny. It registered as Liverpool's best chance of the half. The devilment of Suarez and Sturridge provided hope, but they were isolated from the rest of the team, and each other, too. As Liverpool's triangle retreated, the long ball, never the most precise weapon, was increasingly employed. Only half-chances resulted.

Cazorla's goal was the Rodgers plan cut to ribbons. Sagna ran onto a ball from Arteta, who had burrowed through Liverpool's midfield with rather surprising pace and ease. Cazorla's header crashed off the bar, and then the Spaniard, untroubled by anyone tracking back, scored the rebound. The perils of playing three at the back, with only Lucas as an anchor, had been exposed by zest and pace. Liverpool were undone by sheer force of numbers and were lucky to enter the break only a goal behind.

Rodgers' half-time tweak of his team was a shift to a 4-3-3 that might cut off Arsenal's supply line. Coutinho on for Aly Cissokho was an abandonment of three at the back. Suddenly, Suarez was now a dangerous focal point, too, while Gerrard loped in the deep alongside Lucas.

Such ascendancy did not last. Liverpool flickered only briefly. Arsenal soon recovered their step. A dozing Kolo Toure supplied Olivier Giroud with a match-winning chance. The Frenchman could not take his opportunity, but Ramsey's swirling shot, half-volleyed from a standing start, was Gerrard-esque in its execution of both finish, and Liverpool.

"The best team won," said Rodgers. "They had a greater control of the game but we were still a threat. Their mobility and passing was better than ours. We never pressed the ball well enough."

The fixture list now looks as if had been kind to Liverpool so far, with only Manchester United of true note beaten. Meanwhile, Arsenal passed their first test beyond transitional Tottenham with a performance of determination, creativity and deadly finishing.

"Nobody would dispute that we deserved to win this game," said Wenger.

Gerrard ended the match with a pronounced limp, frequently drawing deeply for breath as he chased shadows. It had been an unhappy and chastening evening. Whatever Ferguson means by being a "top, top player," Gerrard's performance cannot have reached its criteria. Instead, Ramsey, week by week, looks as if he can become one.