United, Chelsea tepid at 'Theater of What Could Have Beens'
Some quick-fire thoughts from Man United's 0-0 draw with Chelsea...

PLENTY OF SMOKE, NO FIRE
It's never a good sign when the most exciting moment came midway through the first as Chelsea's Jose Mourinho was caught on the sideline, anxious and concerned that he couldn't find his pen. The frantic patting of pockets and checking of possible hiding places offered a lively counterpoint to the tense but borderline unwatchable action that played out at Old Trafford.

Should we be surprised? Perhaps not. As is so often the case when games between big clubs on Sundays (that are Super) or Mondays (that are... magical?) happen, the sheer fact of there being so much at stake translated into having too much to lose. The thought of early momentum being stalled at the hands of a presumptive title rival pushed Chelsea into a curious shell. Meanwhile, Man United's cruel affliction of being unable to play the definitive pass in the attacking third proved equally neutralizing.

Andre Schurrle hit the crossbar, albeit moments after being flagged for offside. Petr Cech was challenged twice, first by a deep left-wing cross that forced him into a leaping catch and then with 13 minutes left as Wayne Rooney's rasping, long-range drive was met with a save around the post. Of the 20 combined shots on goal, just seven went where they were meant to.

Some cries for handball (Frank Lampard was arguably luckiest with his) and a couple of meek penalty shouts (Ashley Cole's 71st minute delayed fall was the most egregious) will fuel the postgame fires for both David Moyes and Mourinho as the battle for "we deserved to win" becomes more fierce than the 90 minutes of actual game time.

Though both sides huffed and puffed, no houses were blown down. Little ventured, nothing gained.

THE ELEPHANT ON THE PITCH
Wayne Rooney's reinstatement to the Man United starting lineup can be interpreted (and misinterpreted) in a million different ways. It was a statement of Moyes' intent to retain the striker. No, it was a message to Rooney that he was being given a final chance to prove himself, albeit against the team that covets him most. Better yet, it was an opportunity for the striker to underwhelm and thus justify his eventual exit.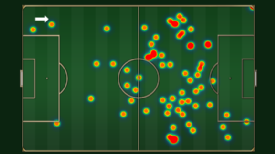 GettyImagesWayne Rooney's touches against Chelsea

Similarly, his performance is equally open to analysis. Was he trying harder to impress Mourinho or satisfy the home fans? Was he working more to prove his worth? And if so, to which team?

Whatever the answers -- I've got none -- the data shows a typically kinetic effort. Rooney touched the ball 68 times and his coverage was more or less the entire Chelsea half, about what he usually produces against the Blues -- 511 touches in the past nine encounters, averaging out to 57 per game, a little less than what he managed on Monday night.

Rooney's pass completion was tidy enough -- 43 of 60, 71.7 percent -- though he faltered in the attacking third. That he was the "second-worst" among United starters (Robin van Persie was lower with 18 of 28, or 64.3 percent), their combined slackness was as much a byproduct of their naked ambition around the box.

As for working with the Dutchman -- yeah, we still remember Moyes' heavy words about Rooney being the "second option" -- they connected 11 times. What made their two-forward bluster more interesting was Mourinho's decision to seemingly field no striker at all, which was either further proof of his perplexing genius or more evidence that he has about as much faith in Fernando Torres, Demba Ba and Romelu Lukaku as he had in Iker Casillas last season. Yet none of them could fashion a decisive chance. Who's the genius now?

That Rooney was the arguable Man of the Match (the ultimate award fell to John Terry) says as much about the overall balance of the game than his effort. Such was the lacking quality of the game that he didn't have to try too hard to be the best player on display.

WASTED WIDTH
The Blues' issues with playing too narrow have been well-documented this season and are seen as a particular point of irritation for Mourinho. (Though no one forced him to carry a gaggle of No. 10s on his squad while showing little effort in cultivating or acquiring wingers.)

It was no different on Monday night as the Blues were constantly generous to United from wide positions. Moyes' men enjoyed more of the ball on the flanks than anywhere else in Chelsea's half, but luckily for the visitors, all of United's flank players -- Danny Welbeck, Antonio Valencia, Ashley Young, Ryan Giggs, Patrice Evra and Phil Jones -- were incapable or unable to deliver a threatening cross.

AGE NO ISSUE FOR DEFENDERS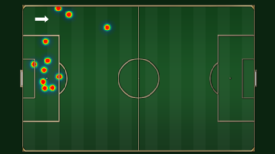 GettyImagesJohn Terry clearances at Man United

Terry is no longer too popular outside Stamford Bridge, but it's borderline ignorant not to notice how seamlessly he's slotted back into the heart of the defense under Mourinho.

So often sidelined in the Rafael Benitez regime in favor of an Ivanovic/Cahill or Cahill/Luiz tandem, the fallen-from-grace defender was integral in repelling United's sporadic attacks. Completing a team-high 11 clearances, his positioning and read of the game seemed as sharp as ever, regardless of van Persie's movement and Rooney's apparently enhanced motivation.

On the United end, both Nemanja Vidic and Rio Ferdinand were equally impenetrable, racking up 13 and 10 clearances, respectively. For a day in which the stories revolved around the embarrassment of attacking riches on both sides, it fell to a trio of seasoned center backs to show why they all still have much to offer their new managers.