Another trophy chance gone for Arsenal as Chelsea march on
LONDON -- Another slight stutter for Arsene Wenger, a further stride for Jose Mourinho. The real issue, however, regards the next step.

That was always the true significance of this League Cup tie at the Emirates, beyond getting into the quarterfinals, although it is the very momentum derived from Chelsea's 2-0 win which may end up just as influential.

Because, if these team selections were not the truest reflections of their clubs' present qualities, they did touch on a few old truths.

A stagnant Arsenal attack, with one of dismally few opportunities, opted to pass when a shot looked on; a Mourinho Chelsea cut them open on the break. The home defence often looked hapless; the Stamford Bridge back line remained entirely durable.

Mangan: Time for Arsenal to re-focus

Wenger has still not defeated Mourinho and has already lost one chance of finally ending that trophy drought, which dates back to 2005. The Portuguese keeps powering through and the increasing sense is that Chelsea are picking up momentum.

Even if the caveat remains that these were no more than League Cup selections, the key is what the potential effect will be for all the other competitions. It is something Mourinho has always understood and is perhaps one of the factors why he has won 16 major trophies in 12 years compared to Wenger's 10 in 29.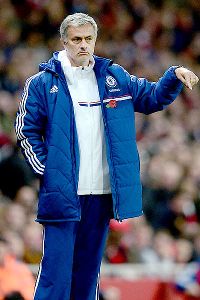 Jamie McDonald/Getty ImagesJose Mourinho moved one step closer to his third League Cup triumph.
The Chelsea coach has seemed to follow Brian Clough's attitude to trophies, that any success generates further hunger for success and conditions a winning nous. The former Nottingham Forest manager, and four-time League Cup winner, once talked about the "positive" feeling that "only a trophy, whatever it is, can bring."

In the same vein that Chelsea can continue to excitedly talk about how many trophies they can aim for, Wenger has already been denied one aspiration.

Similarly, Mourinho's side have now beaten Manchester City and Arsenal in successive games, whereas Arsenal themselves have lost to Borussia Dortmund and Chelsea in their past three.

So, while Stamford Bridge assistant manager Steve Holland was able to talk about growing evidence of Mourinho developing his old relentlessness with this new team, Wenger faced a few old questions.

"It gives you that confidence," Holland said of another win. "But it's taken a bit of time in the early weeks. We've now won six consecutive games in October. The training and Jose's principles of play, that's been hammering home every day, there has been evidence in a few games now."

Wenger was predictably talking from a different point of view.

"Let's not go too quick to conclusions. If you take the points we have made since 1 January, it's more than anyone else. On a longer distance, you'll see more of the quality of the team than in the last two games. It's difficult to swallow what happened to us in the last week, but the mistakes are so big they can be corrected."

That is undeniably true. For Cesar Azpilicueta's surprise opening goal, Jack Wilshere and Carl Jenkinson got themselves confused by a Chelsea counterattack that wasn't exactly lightning. With the full-back instructed to head back, the Spanish defender took advantage of the hesitation to steal in.

The 66th-minute second strike came from an undefended long throw, allowing Juan Mata to fire home superbly from the edge of the box.

In moments of such ruthlessness, it was easy to forget Mourinho had made 10 changes from the team that beat City 2-1 just two days beforehand.

That naturally gives rise to another issue. If it remains too early to draw any lasting conclusions, as Wenger insisted, it is difficult not to think Chelsea are far better equipped for a longer haul.

While a changed Arsenal team badly struggled to replicate the attacking brio of recent weeks -- to the extent they managed only one shot on target -- a completely different Mourinho side maintained the same momentum.

"The emphasis in training isn't on the team for the next game, but the squad," Holland revealed. "Everyone is singing from the same sheet then, whether it was Willian defending in those wide positions or [Andre] Schurrle on Sunday. The understanding of what was required for the team was the same."

As such, while the likes of Samuel Eto'o and Willian looked especially sharp -- not to mention goal scorer Azpilicueta -- home players such as Nicklas Bendtner appeared dreadfully off the pace. In Arsenal's best opportunity of the match, when the Dane had only to turn and shoot, he instead passed back out of the box.

It said much that Wenger wouldn't defend Bendtner after the game and instead pointed to the players who were absent.

"I do not want to go into individual assessment of the players in the press conference. That is between the players and myself. We have [Theo] Walcott, [Lukas] Podolski out, players who have a big impact defensively."

In the end, not even introducing Mesut Ozil and Olivier Giroud could alter Arsenal's impetus. By contrast, Holland was able to smile about Mourinho's pregame instruction to "be given selection problems for the weekend."

"The players responded to that," the assistant manager said.

Now, against Liverpool on Saturday, Arsenal must do the same.