Atletico reaffirm title credentials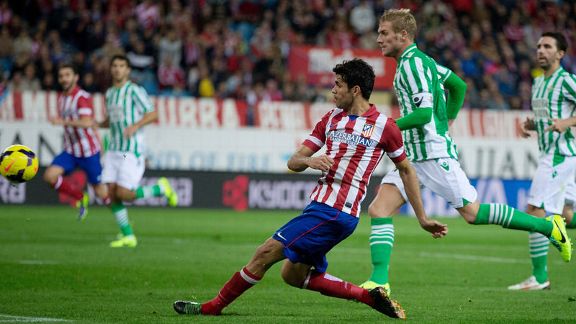 GettyImagesDiego Costa scored Atletico Madrid's fourth goal against Real Betis.
Atletico Madrid's 5-0 La Liga win over Real Betis on Sunday night was just as comfortable and routine as the scoreline suggests. Atletico did not play at anywhere near their best, but there were signs -- the return to form of David Villa, a goal from Diego Costa even when he was not playing well and a historic home debut from teenage playmaker Oliver Torres -- that they might just be capable of going all the way this season.

It is now six years since Manuel Pellegrini's Villarreal split Barcelona and Real Madrid in the final Primera Division standings, and a full 12 since Rafa Benitez's Valencia were the last side outside the big two to take the title. The financial reasons for this are pretty well known, but worth repeating again -- both Barca and Madrid work off annual budgets of more than €500 million, while Atletico are third in the financial rankings with "just" €120 million.

Since Diego Simeone took charge just less than two years ago, Atletico have clearly been La Liga's third-best team -- based on a watertight defence and regular goals from the (goal) machine-like Radamel Falcao. But even last season, when like this term they also began matching eventual winners Barcelona stride for stride, there was a feeling it could not last. And when wear and tear caught up with top scorer Falcao, a wobble in March saw the Catalans stretch ahead and neighbours Real Madrid overtake Atleti to finish second.

Falcao's exit last summer was at first seen as a disaster by Colchoneros fans, but Villa's arrival -- and especially performance in the Supercopa ties against Barcelona -- quickly lifted their spirits. The idea was he would score as many (or almost as many) goals as Falcao, while his better all-around game would help more teammates contribute on the score sheet.

That theory has been working almost too well, for Villa at least. In recent weeks he had been displaced in the team -- both literally and metaphorically -- by Costa, who has emerged from Falcao's shadow to become Atletico's main man in attack. The Brazilian-born forward, who is rumoured to be wavering over his decision to transfer allegiance to Spain, had a relatively quiet game here, perhaps distracted by all the off-field palaver. But he still should have had a penalty before halftime when both pulled back and kicked by Jordi Figueras inside the box, while he calmly finished his best chance of the game -- set up by a sweet Villa pass -- to move to 13 goals in 13 games this season.

Villa's assist for that goal (Atletico's fourth) was likely due to his confidence being high again -- as by then he had ended a barren run of seven games. The Asturian had looked down in the opening period, but everything changed on 53 minutes, with a darting run across his marker and flashing header to the net from a Felipe Luis cross. Just four minutes later he had his second, taking a loose ball in the box and lashing it home gleefully with his left foot.

Atletico's opening goal had come from an even less expected source. Eighteen-year-old Oliver is already a starter for Spain's Under-21s, and has long been hyped in the Madrid media, but has been gradually introduced by Simeone. This was his first senior start, after making 15 substitute appearances across four different competitions, and it could not have begun any better.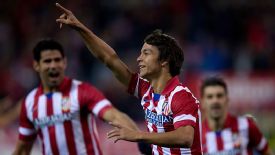 GettyImagesOliver Torres celebrates after breaking the deadlock for Atletico Madrid.
Straight from the kickoff Atletico attacked, Costa caused havoc in the Betis defence and Koke crossed for the teenager to finish from close range. It was the quickest La Liga goal in all Atletico history -- and Oliver did not look back, looking comfortable and getting involved regularly. He faded a little after the break, understandably, and Simeone withdrew him on the hour to give some minutes to the rarely seen Adrian Lopez. The home fans loved what they had seen -- and clapped their latest hero from the pitch.

Oliver will likely be needed regularly in the coming weeks and months as Atletico have a big enough squad, but are light on creators (even if the increasingly impressive Koke is La Liga's leading assist-maker now with seven in 10 games). Simeone really wanted to sign an experienced playmaker last summer, and spoke publicly about wanting to bring Brazilian Diego Ribas back from Wolfsburg. Instead the Atletico board -- with reported help from third-party investment Doyen Group -- provided him with promising youngsters Toby Alderweireld and Joshua Guilavogui. Neither has featured regularly so far, although Alderweireld impressed in Vienna in midweek.

Simeone has explained he is slow to throw in new players as they need time in training to learn Atletico's system -- with a premium on hard work and clever positioning on the field. This system is obviously working well at getting results, and it also means that when squad players such as Tiago, Raul Garcia or Cebolla Rodriguez are needed they know their jobs inside out. And in Simeone's second full season in charge, the machine appears to be functioning even more efficiently than last term.

Despite this, Atletico remain far from free-flowing. Even on Sunday when they were 1-0 up so early, against a team low in confidence and decimated by injuries, the home side were content to sit deep, allow Betis to have a lot of the ball and look to then break in numbers. This led to the visitors actually finishing with 54 percent possession, despite losing 5-0.

It was not always the most entertaining fare for the home fans, especially in the long spell between Goals 1 and 2, but they did not seem to care. This is a team made in its coach's image -- hard-working, gritty, cynical at times, but fully confident in their ability to match all comers. The Calderon supporters showed its appreciation with regular chants in honour of Simeone throughout the game -- along with some hopeful singing of "Atleti Campeon."

To see off Barca and Madrid, and win the Primera Division, will realistically take 90-plus points. This means Simeone's side will have to continue to steamroll teams like Betis home and away, but also likely need to come out on top in head-to-heads against title rivals. Last year's Atletico lost all four La Liga clashes with the big two -- but this season they have already beaten city rivals Madrid, and drawn with Barca in both Supercopa legs.

Given the difference in resources it remains a huge ask for anyone to break the big two's stranglehold. But if anyone can do it, Simeone's Atleti can.