Three Things: Chelsea vs Manchester City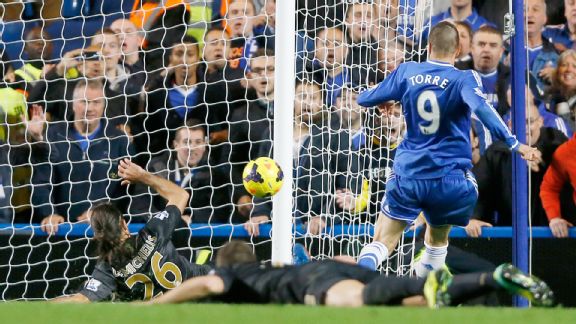 AP Photo/Kirsty WigglesworthTorres turned back the clock with his performance against Man City.
LONDON -- Three observations from Chelsea's 2-1 win over Manchester City at Stamford Bridge.

City wallow in pity

Oh dear, Joe Hart. Woe is you, Matija Nastasic. Manchester City's away wobbles continued with a hugely preventable winning goal from Fernando Torres.

They say that bookmakers are rarely wrong, and they have made Chelsea and Manchester City the shortest price for this season's Premier League title. With Manchester United suffering the pain of regime change, and Liverpool and Arsenal considered not reliable enough, then this was some form of an early title six-pointer. All six are Chelsea's after City committed the type of hari-kari that have become rather too familiar on their travels. As the game neared the 90-minute mark, they looked to have won the point that Manuel Pellegrini came for.

- Curtis: Bridge of Sighs
- Lythell: Torres 2.0 leads Chelsea to victory

Then came the moment of madness that neither of City's culprits will forget easily. Hart was too far forward, Nastasic did not look, and the ball looped toward the City goal. Torres did the rest as Martin Demichelis, blameless this time, chased in vain. This type of thing does not happen when Vincent Kompany is about.

El Cashico cannot match the Clasico for quality, but there were two moments of genuine class. Two Atletico Madrid graduates supplied them. Sergio Aguero's strike for City's equaliser was tremendous, while Fernando Torres' assist for Andre Schurrle's goal was a reminder of how devastating he once was, and now still can be.

There were moments of ref rage for Jose Mourinho to rail against. Eden Hazard looked to have been fouled by Pablo Zabaleta in the penalty area. The Belgian's theatrics probably stopped Howard Webb from giving the decision. Then, Javi Garcia could have been dismissed for a totally cynical shoulder smash on Torres.

Torres' surging runs were especially troublesome to City, and foul measures were repeatedly taken to stop him in his tracks. Mourinho's calm was soon lost as he harangued fourth official Chris Foy. He had a definite case, but Webb could not produce the sending off that Mourinho demanded since City's players were carrying out their assaults on rotation. A flurry of yellow cards would have to do. Fernandinho was rather lucky to escape a booking.

The niggles had rather interrupted the flow. City, with three in midfield shielding a defence that had never played together before, were in retreat for much of the second half. Chelsea's need was the greater; beating rivals at home is key to title success, as Mourinho well knows. He would have settled for a point but instead has three after Nastasic's and Hart's horror show gave him an early Halloween gift.

Both wore expressions wracked in guilt as Mourinho cavorted with fans in the stands.

Finally, Fernando

At last, someone might have solved what was once considered a lost cause. Mourinho got into Torres' head and cured the collywobbles. Then came the chance on the half hour that showed that Torres is best relying on instinct. Ramires' cross gave him the time to bring the ball down. That was duly completed but the resultant shot was a dreadful lash over the bar. Mourinho, aghast and open-mouthed, squirmed in his seat.

Torres momentarily looked as if his head had once again gone down; he is not the best at shielding his body language. But then came the powerful run beyond Gael Clichy that presented Schurrle with a tap-in. Then came a lung-bursting run into City territory, a pivot and a shot that rattled the angle of crossbar and post with Hart stranded. Mourinho now had a broad smile on his chops, but with a wistful look of regret that the ball had not gone in.

This was Liverpool vintage Torres, a striker of rapacious danger and power. He is not the player whom Mourinho left on the bench at Old Trafford while playing no strikers. Chelsea's ill-starred pursuit of Wayne Rooney has had a dual knock-on effect. Rooney is revived in Manchester, while Torres now looks like he was almost worth the money. The miss would once have devastated his confidence, but now he looks to have relearned the lesson that the best strikers all know: It is better to be in a position to miss, and be unafraid of doing so than never being in a position to score.

The return of that instinct left him in place to score the winner. When he was in the doldrums, that type of thing didn't usually happen.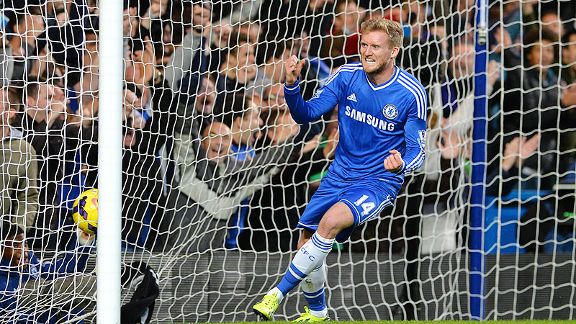 Shaun Botterill/Getty ImagesAndre Schurrle kicked off the scoring in Chelsea's 2-1 win over Manchester City.
Demichelis desperation?

Reports of Pellegrini being a solid and risk-averse Citizen were greatly exaggerated. Giving Martin Demichelis his debut at Chelsea, with no previous appearances, counted as a mighty gamble.

The Argentinian with the Greek surname has never been known for his pace, but with Javi Garcia clearly unfit for purpose as an ersatz centre-back, Demichelis was forced into the starting XI. Demichelis sports the type of ponytail usually seen on incidental characters in "Game of Thrones," and plays with the impetuous quality of a pillaging barbarian. Never the paciest when he was in his 20s, he now, at 32, seems to run faster when he is backpedalling than running forward.

As first touches go, smashing the ball behind for a corner after not listening to the goalkeeper's call was hardly an indicator of composure. Neither was his 1980s-style challenge on Schurrle or being beaten to a regulation header by Torres.

Matija Nastasic has had a patchy campaign after being so impressive but acted as the senior partner. The young Serb was to be seen ordering Demichelis to hang back, and he was always the furthest back, playing as some form of sweeper.

He was entitled to be rusty since his last first-team match had been on May 26 for Malaga against Deportivo La Coruna. The Pellegrini loyalist arrived at City via a very short stay at Atletico Madrid. A knee injury had precluded previous involvement, but Vincent Kompany's continuing problems made his participation necessary.

When Torres provided the slide-in goal for Schurrle, Demichelis' reactions were slow. His slide was in vain, and might even have resulted in an own-goal had he made contact. On the credit side, his cut across Ramires' pass to Torres probably prevented a certain goal.

As many teams are finding this season, decent centre-backs are hard to come by. Judging from a curious debut, Demichelis is not one of them.