Three Things: Sunderland vs Newcastle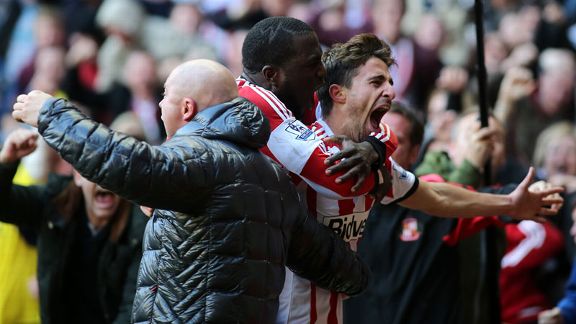 AssociatedFabio Borini runs to the supporters after scoring his late winner for Sunderland.
Three thoughts from Sunderland's 2-1 derby victory over Newcastle.

Poyet galvanises Black Cats

"From now on, there's no excuses," Gus Poyet said after his derby day win over Newcastle, and he was right.

His first home game had attracted a crowd of just over 46,000, which meant there were still empty seats at the Wear-Tyne derby. In previous years, it would have been unheard of. The last fixture in April saw tickets exchanging hands for two and even three times their face value. However, for Sunderland fans, the mood was one of frustration and resentment. They had voted with their feet after witnessing a string of performances that lacked passion, and saw the team rather bluntly branded "gutless."

- Randall: Sunderland finally in business
- Report: Sunderland 2-1 Newcastle

In his programme notes, Poyet spoke of his desire to unite the club and said that if success (i.e. survival) was to be achieved, it required a collective effort, starting Sunday. The attempts to restore faith to the terraces began as soon as his side heard the whistle. Like a released dog, they began chasing the timid rabbits Alan Pardew had named and displayed desire that was embodied by Lee Cattermole, his own tale of redemption from squad pariah to heart of the midfield surprising many.

The bright start was rewarded with a goal that placed the Magpies firmly under pressure. When it would have been easy for Sunderland to sit off, they opted to push further. Yet perhaps the most positive sign for Sunderland's future came in the wake of Newcastle's equaliser.

The previous week at Swansea, they had capitulated after conceding, allowing themselves to wallow in the misery of being in the relegation places. The same could so easily have occurred again. Mathieu Debuchy's goal had not only redressed the balance, but provided Newcastle with a shot of self-belief.

Yet Sunderland held firm. There were moments of self-doubt: a stray pass out of play by Andrea Dossena, both John O'Shea and Carlos Cueller were guilty of dwelling on the ball. And even when the crowd wavered in their confidence, the home side held firm. Their football was simple, and exactly how Poyet had intended it to be.

Dropping fan favourite Emanuele Giaccherini to the bench, Poyet explained how his "back to basics" approach was about placing players in their preferred positions. It shows a marked change from his predecessor. Paolo Di Canio attempted sweeping changes without allowing the club time to breathe. Poyet appears to prefer slow, gradual changes, in the same way he did at Brighton, before guiding them up into the Championship playoffs.

Making the right decisions at the right time, some were made easy for him. The absence of Fabricio Coloccini and Steven Taylor highlighted the obvious fragility at central defence and made naming two strikers the obvious decision.

The introduction of Fabio Borini, however, was his own roll of the dice. The Italian had scored only once before in the Premier League -- against Newcastle in a 6-0 hammering for Liverpool last season. That day it was a toe poke, this time it was a vicious strike that will only get better the more it is recounted by Sunderland fans.

Derby defeat opens old wounds for Alan Pardew and Newcastle

In the buildup to the game, Pardew spoke vividly of the scars from April, the humiliation at being bested so comprehensively by Sunderland on his own patch. Sunday was an opportunity at redemption, and while the score line was closer this time around, it was still the wrong one for Pardew.

This is the third time he has faced Poyet as Newcastle manager, and each time he's ended the day in defeat. If he was nervous, it wasn't showing in his demeanor but rather in his tactical approach. Beginning the game in the familiar 4-3-3 formation, by the end of the half it had shifted to a more conventional and safe 4-4-2. There was a lack of clear identity in Newcastle's first-half play as they desperately tried to cope with their opponents instead of imposing themselves on proceedings.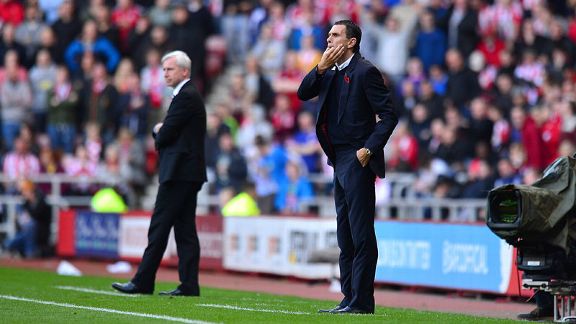 PA PhotosGus Poyet kickstarted his Sunderland career, but Alan Pardew will be searching for answers.
In the second half, things improved for the visitors. As Debuchy's goal drew them level, it appeared to shatter the bubble of positivity that had lifted the Stadium of Light while also denting the confidence of Sunderland's players. Now it was Newcastle's turn to press and cause nerves to be shredded with a spate of long-range drives.

Had just one of their strikes crept inside the post, it could easily have plunged Sunderland into a dark depression. And for the second derby fixture, when Newcastle needed their stars to perform, they didn't. Placing blame on Pardew's shoulders is easy given his elevated position as manager, but games like today's hold a mirror up to the character of players.

It was something the Newcastle boss touched on afterward, critiquing his players' professionalism. With few emerging from Sunday with glowing reports, Hatem Ben Arfa represented the biggest culprit. It's not just in the dictionary where confidence and complacency are close to each other, and after a bright start to the season, his wonderful talents were quickly cited in the buildup to Sunday as why Newcastle fans could be confident. Come full-time, he again failed to make any significant impact. Escaping into his own world, he demanded too much time on the ball, as Pardew's decision to start him as a false 9 looked woefully misjudged.

Reflecting on that defeat in April, Pardew admitted it took him time to steady the ship at St James' Park. Whether that will be the case again remains to be seen, but what is guaranteed is that both he and his players have to once again make it up to the patrons of St James' Park.

The climb begins now

For all the jubilation on Wearside, the true evaluation begins in the coming weeks. Poyet was correct to regress Sunderland's tactics and exploit the cup tie like the ambience that is a local derby. However, he will only be placed in such an atmosphere once more this season.

Instead, he will now be forced to quickly forge an identity at a club that has seemed devoid of one for much of this season. At its peak, his Brighton side played attractive football and were incredibly difficult to beat. However, that took time. Placed into a similar relegation battle when he arrived at Brighton, his approach at Sunderland already seems far more measured and considered than the man before him, as he revealed he looks to find solutions to the problems of his players.

Avoiding the tricky home fixtures of Liverpool and Manchester United by a matter of weeks, Hull City and former Black Cats boss Steve Bruce represent the club's next opponent. Faced with a myriad of decisions to make ahead of the game, the Jekyll and Hyde nature of Sunderland's two performances under his guidance will likely putter itself out in the coming weeks as stability tries to take root at Sunderland. Whether the club can conceivably survive is still far too open to call, but with victory over Newcastle, they at least hold a chance.