Three things: Crystal Palace vs. Arsenal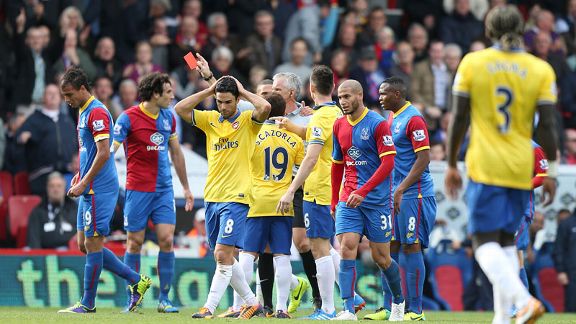 PA PhotosArsenal showed their mettle after Mikel Arteta's red card.
LONDON -- Three thoughts from 10-man Arsenal's hard-fought 2-0 victory over Crystal Palace.

Gunners grit digs it out

Perhaps Chris Foy was trying to make it a fairer contest. Mikel Arteta knew what he was doing when he tried to stop Marouane Chamakh in his tracks, but clearly did not expect the red card. Suddenly, what looked like an easily executed win at the Premier League's bomb squad became a battle for Arsenal.

Arteta was not last man, and was 40 yards from his goal, and nor was his challenge an act of violence. He paid instead for cynicism, and three points that had been gifted by Adlene Guedioura's hapless hack on Serge Gnabry were placed in doubt.

Graciously accepting the gift, Arteta's penalty had been firm and true, and Arsenal looked as if they could get on with sealing the victory. Yet following the sending-off, their previous patient play had to be abandoned as Palace pushed on with renewed belief. Joel Ward's shot was palmed onto the crossbar by Wojciech Szczesny, who then made an even better save from Mile Jedinak's volley.

Arsenal had previously looked somewhat casual. There was a definite tendency to overplay. Until Santi Cazorla's 35th-minute cross shot slipped past the post and Julian Speroni had made a point-blanker from Aaron Ramsey, Palace had actually made the crisper chances.

Jerome Thomas' cross was headed over by unlikely target man Barry Bannan. When space opened up for Marouane Chamakh to shoot, an unlikely story of vengeance beckoned. The shot was, predictably enough for Arsenal fans, tame enough to save. Chamakh later had a headed chance, but rose as if he had no idea where the ball might be. His mojo is still missing, presumed deceased.

As so often this season, an individual's mistake cost Palace points, and while their efforts were praiseworthy, they were not able to force home their numerical advantage. Olivier Giroud's headed goal from Aaron Ramsey's cross was cruel on Palace but a mark of the visitors' true superiority, even while a man down.

Arsene Wenger will take heart that when something went against his team, they recovered their nerve. Winning through adversity when playing not particularly well is a mark of a credible title challenge. Their away record is compelling evidence, too. Since losing at Spurs in March, they have won 12 and drawn two.

They're alright, Jack

In the long months that Arsenal waited for Jack Wilshere to return, his reputation as a potential saviour grew. He has been back a year now, but hit the flat spot that is expected of a young star. Almost all of his predecessors in prodigy have done so, so there is no reason he should be any different.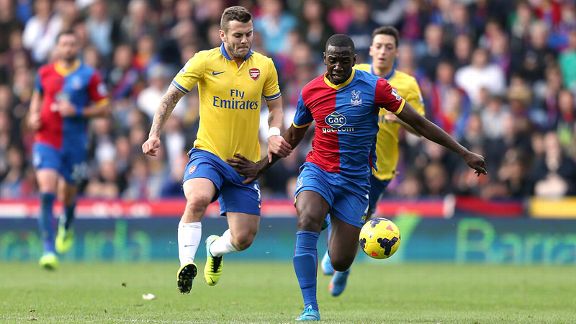 PA PhotosJack Wilshere came off the bench for Arsenal.
Wenger protected him now he had Mesut Ozil, plus Santi Cazorla and Mikel Arteta back to fitness. With Matthieu Flamini and Aaron Ramsey being the team's best two players this season, relegation to the bench is now always distinctly possible for Wilshere.

When Flamini limped off with a groin problem, Wilshere may have expected to form part of a reshuffle, but Wenger turned to the German technology of Serge Gnabry. The 18-year-old has a bull-like build and covers plenty of ground. Shielding the defence one minute, he was playing a one-two with Ozil on the edge of the Palace box the next.

At halftime, Wilshere could be seen larking around with his fellow substitutes, putting on a brave face but if the Premier League is this season's priority then Wilshere will want to play a full part. He will take heart that he was Wenger's first port of call when the match needed locking down after Arteta's dismissal. He replaced Gnabry and played his part in the digging in.

Arsenal have the richest vein of midfield options in the Premier League and will need them now that Flamini is likely to be absent alongside Arteta's expected ban.

Rebuilding the Palace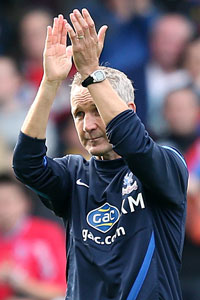 PA PhotosCrystal Palace caretaker manager Keith Millen applauds the fans after the final whistle.
Ian Holloway's blokey banter had not had the desired effect. Broadcast media enjoy his unique grasp of homespun imagery, but football is rarely a popularity contest, and behind closed doors, he had already lost one.

It is widely suggested that if the squad had been granted an amnesty to reveal their true feelings, none would have offered a show of hands in support of Holloway. That feeling was mutual. After Monday's disastrous defeat to Fulham, he offered his resignation, only to be given two days to reconsider. No change in opinion and for once in football, the phrase "mutual consent" actually applied to a manager's departure; Holloway was allowed to leave, though programme notes from co-chairman Stephen Browett suggested that was against the board's hopes and wishes.

At present, only the most clinically-elated Eagles fan could remotely suggest their team has any chance of staying in the Premier League. Losing eight from nine games will do that to you.

The summer transfer window was a disaster -- quantity was swapped for a distinct lack of quality. It is difficult to gaze through Palace's squad and locate a player of requisite Premier class. Jedinak has a claim, as does long-serving goalkeeper Julian Speroni, but beyond that, the squad is made of has-beens and never-likelies.

Tony Pulis, rejected in the end by Stoke fans, remains favourite to succeed Holloway, and many fans would accept his iron-ore football if survival is thus achieved. Such are the dangers of a premature promotion. The thrills of a playoff win have been converted into embracing attrition of an already doomed campaign. Now the novelty has worn off, it is no fun to be a whipping boy.

Caretaker Keith Millen made six changes from Monday's misfits, including the complete removal of open rebellion's Jose Campana and if the approach was one of damage limitation he achieved his mission with notable credit. His team played with spirit. Palace's fans were great, too, with gallows humour fully to the fore.

Palace have had 22 managers since Arsene Wenger took control of the Gunners in 1996. The 23rd is almost certainly on a hiding to nothing this season before any rebuilding can properly begin.