United's old stagers lead the way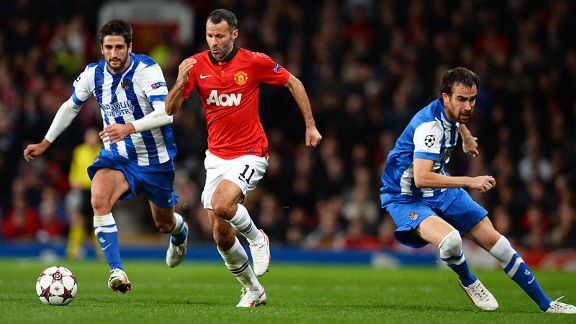 GettyImagesRyan Giggs brings the ball forward against Sociedad.
MANCHESTER -- In times of strife, Manchester United take solace from the presence of a record-breaking old-timer. Now Sir Alex Ferguson is confined to the stands and reinventing himself as Glasgow's answer to J.K. Rowling, it is Ryan Giggs' role to provide reassurance, to summon decades of experience and to provide an instant link with the glory days.

While David Moyes is in a situation where every match becomes a must-win game, the chosen solution was to deploy one of his coaching staff at the heart of his team. Real Sociedad were duly defeated, albeit not easily, with a footballer five weeks away from his 40th birthday proving pivotal. That was Giggs, the man who has stopped the sands of time slipping away from him.

- Okwonga: Encouraging signs for Moyes
- Brewin: Three Things - Man Utd 1-0 R.Sociedad

Every time Giggs is recalled, it is in part because the midfield muddle has not yet been resolved. It is a sign of his enduring influence and an indictment of others. In this case, it reflected poorly upon the benched Marouane Fellaini and Anderson who, even with Tom Cleverley injured, was not among the substitutes. The chunky Brazilian has not been seen since his shocking showing against West Bromwich Albion. If the naturally slim Giggs is his antithesis, he is also the antidote to Fellaini.

The criticism of the Belgian is that he is too one-paced. The Welshman remains nimble and spry, darting into gaps with dexterity. Fellaini appears cumbersome, whereas there is an essential elegance to Giggs' game. There is a tactical significance, too. If United have been too disjointed between the various departments of the side, Giggs provided a bridge between Michael Carrick, who operates at the base of the midfield, and the attack. Intelligent movement is his forte and United were rendered less static in the middle of the pitch.

While Old Trafford's newly assembled singing section chorused about Giggs running down the wing, now he is likelier to glide through the middle, albeit with a deceptive, age-defying change of pace. One burst Wednesday brought a booking for Sociedad's Markel Bergara, who resorted to illegal means to halt him.

There was almost an assist to garnish his contribution, Giggs chipping a cross that Javier Hernandez headed in -- but the Mexican, in a moment to sum up much of his night, was offside. Significantly, too, there was a 90-minute display from the veteran. Moyes has used Giggs as a seasoned substitute to see out games of late, a ploy that has been unsuccessful, but as a starter he had the stamina to last the duration.

So, too, did a rampant Wayne Rooney who, in an indirect way, was the match-winner. On the eve of his 28th birthday, the Englishman curled a shot off the post. It hit Inigo Martinez and went into the Sociedad net. It provided a winner in the first 70 seconds and enabled Moyes to celebrate a player he has rejuvenated.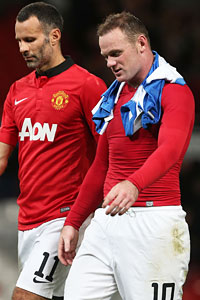 GettyImagesRyan Giggs and Wayne Rooney pushed United on to victory against Real Sociedad.
"I was going to say he was back to the old Wayne Rooney, but in a way it is the new Wayne Rooney," he said, after jokingly referencing a landmark day for his ageing striker. "Is he 28 tomorrow? I thought he was a lot older."

Giggs is nearly a dozen years his senior and, after 949 United appearances, will probably need to play on into his 42nd year to reach the magical 1,000 mark. If visitors to Old Trafford nowadays are no respecters of reputation –- Antoine Griezmann drew a fine save from David de Gea after Giggs had his pocket picked on the half-way line –- just a second start since Sept. 1 confirmed he remains a better option than many of the men who should have enabled him to draw his pension.

Because, at a place where the past is inescapable, United reunited the central midfield partnership who took them to the 2011 Champions League final. Had Moyes succeeded in any of his summer bids for Cesc Fabregas, Thiago Alcantara, Sami Khedira, Ander Herrera or Daniele de Rossi, Giggs might not have been Carrick's sidekick. Instead the old firm were together again and United were all the more coherent as a result.

MAN OF THE MATCH: Wayne Rooney -- in a rich vein of form, which is just as well for United. Beside setting up the goal, Rooney was the supplier when Antonio Valencia hit the post.

MANCHESTER UNITED VERDICT: Moyes' chief regret was an inability to score more goals which, as he admitted, could have cost them. While United deserved their win, there were nervy moments. Moyes spoke glowingly about Shinji Kagawa's attitude towards his defensive duties, suggesting the Japanese could feature more. Robin van Persie missed the game with groin and toe injuries but should be fit to face Stoke on Saturday.

REAL SOCIEDAD VERDICT: Manager Jagoba Arrasate accepted it was a disastrous goal to concede and felt his side did not merit a point. With no points from three games, the best they can realistically hope for is third place and a spot in the Europa League. At least winger Griezmann, who hit the post, was lively.