Three Things: Man United v Real Sociedad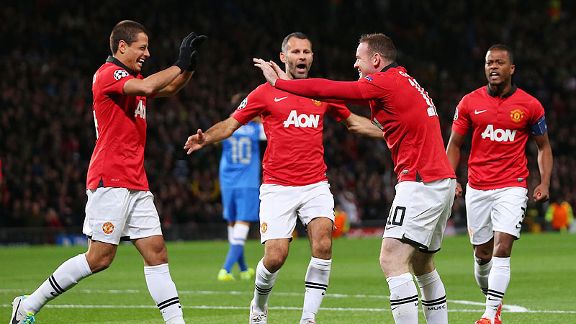 Alex Livesey/Getty ImagesMan United had cause to celebrate the win but few were impressed by the performance.
MANCHESTER -- Three thoughts from Man United's 1-0 win versus Real Sociedad at Old Trafford.

Come on, David Moyes. Play like Fergie's boys.

"I always took risks. My plan was: Don't panic until the last 15 minutes, keep patient until the last quarter of an hour, then go gung-ho."

Sir Alex Ferguson's philosophy, as described in his newly published autobiography, is in danger of already becoming a memory to Manchester United. New manager David Moyes' caution is costing him both points and the patience of supporters. The Glaswegian gambler has been swapped for a safety-first Scot. At present, the Moyes masterplan looks to be to hang on grimly.

Of course, Moyes is not helped by an under-performing group of players. Wayne Rooney's renaissance rarely lasts a full 90 minutes, while a change of management has not brought Antonio Valencia from his slump. Rooney, without Robin van Persie to get in his way, had centre stage, yet looked too eager to prove himself. The wrong pass was chosen rather too often in attacking positions. His finishing was wild, too; he seemed to wish to burst the net every time he shot.

Match-clinching chances came and went. Valencia struck a post before delivering Shinji Kagawa the opportunity to end the affair. The Japanese star got the ball caught in his feet, and fears of a repeat of Southampton's late weekend comeback began to grow. United do not look capable of attacking in the irresistible waves that Ferguson's best teams produced.

- Report: Own goal gives United a win

After Man U took an early lead through an own-goal from Inigo Martinez after Rooney had struck the woodwork, control slipped too easily into Real Sociedad's hands. The superior possession play was mostly Spanish, and David De Gea was often the busier keeper. Antoine Griezmann struck a bar with a free-kick.

Early Basque discomfort was converted to dominance, particularly at the start of the second half. United attacked only in fits and starts. Nerves were betrayed by the desperation of the finishing and rushed passing. Too often, over-anxious attackers strayed into offside positions.

Manchester United managers have not been known for being meek since Dave Sexton was sacked in 1981. The club's tradition has been to attack. Before Ferguson converted United into a winning machine, the expectation was always breathless, attacking play in Matt Busby's traditions. "Just go out there and enjoy yourselves," was Busby's simple advice before every match.

Instead, Moyes paced his technical area in obvious agony. A win was collected, but he and his team were convincing nobody.

Spaniards in the works.

As Ferguson took his now regular seat in the stands, Moyes had a chance to write his own bit of history. Ferguson never had much success against Spanish opponents. Real Madrid were never conquered, and Barcelona's two Champions League final wins served as his most traumatic evenings. Atletico Madrid unseated his Cup Winners Cup holders in the autumn of 1991.

Ferguson's United never managed to score past Villarreal. Though in mitigation, they never conceded in four encounters, either. Deportivo de La Coruna were a prickly opponent a decade ago. Athletic Bilbao ended Ferguson's hopes of winning the only competition he had never won two years ago in the Europa League, and delivered one of his harshest schoolings.

Beating Real Sociedad in this bitty fashion can hardly be viewed as the first of Moyes' great achievements as United manager. Real are not a great team by any means, and they have come from nowhere.

The weekend of May 21-22, 2011 saw United claim their 19th title while Real Sociedad clung on to their Primera Liga status by drawing 1-1 with Getafe. Real's achievement was reaching the Champions League such a short while later, but their presence suggested a definite weakness in Spain below the big two and Atletico Madrid, the rising force who have delighted this season by splitting Real and Barcelona.

Real Sociedad will not be adventuring as far as Manuel Pellegrini's Malaga did last year, or how Deportivo once did. The loss of coach Philippe Montanier and star midfielder Asier Illarramendi makes them a lesser outfit than last season. With no points to show from their group stage so far, this season's trans-Europe travellings will be a novelty.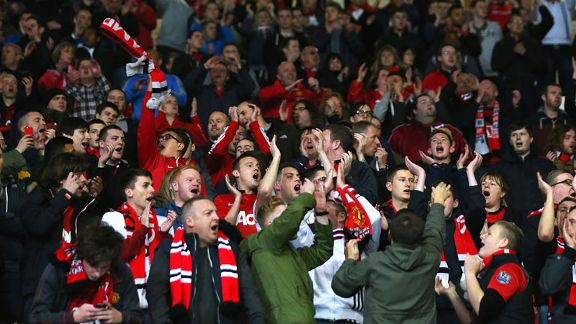 GettyImagesOld Trafford's new singing section in full voice.
Singing section success.

It is universally agreed that the atmosphere in English stadiums are not what they were; a lack of terracing and a different demographic have seen to that. Old Trafford used to be a cauldron of volume on big European nights, but somewhere along the line, the excitement wore off. They have been in the Champions League every season since 1996, after all.

During some matches at Old Trafford, the players can be heard shouting at one another. That would have been unthinkable in the 1970s heyday of the Red Army, but has long been an accepted part of what execs like to call the "matchday experience."

Thus, with club approval, and the leadership of some leading fan activists, Wednesday night's game was the inaugural evening outing of a "singing section." In the corner between the South and East Stands, where away fans are usually placed in Premier League matches, a band of boys bellowed out a series of greatest hits you will hear from United's travelling support.

Pete Boyle, the slimmed-down, self-styled bard of Old Trafford, who was once offered dietary tips by Ferguson himself, led the choruses. It seemed like an artificial idea -- and rather forced -- but it seemed to work. The Stretford End, once the engine of noise, could not compete in volume with a group who were noticeably younger, and rather more well-oiled, than the typical latter-day stadium visitor.

Up to their top right were 6,000 fans in blue and white. They made plenty of noise, too. This was the night that Real Sociedad's fans had been looking forward to since the draw was made. Manchester city centre crackled with Basque and Spanish.

It all reminded of an old-style European night. Well, sort of -- the rest of the stadium was still quiet. And that was the point -- better to have some singing rather than no singing. The experiment was a qualified success. Perhaps other stadiums will soon be following its lead. The Emirates and Anfield should lead the list.