Arsenal brought back to reality after Dortmund loss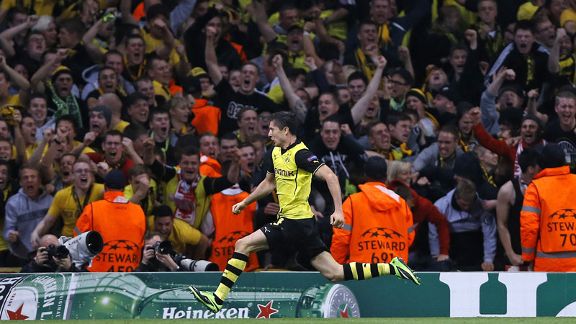 APRobert Lewandowski wheels away after striking a late winner at Arsenal.
LONDON -- Arsene Wenger had been loving life so far this season.

OK, there was that nasty business against Aston Villa on opening day, but since then, his team had rewarded him with performances of both beauty and destruction. The joie de vivre had returned, and Wenger himself was in sparkling public form.

A feeling that this might be their year, after so many of waiting, has been growing. And it still might be. The path to Premier League glory is as open as it has ever been, even in the glory days of a decade ago. Borussia Dortmund, however, showed that European glory may have to wait. Concentrating on the league might not be such a bad thing, though.

- Mangan: Arsenal a touch naive to drop point
- Delaney: Three Things - Arsenal v Dortmund

Dortmund, the incumbent hipsters' choice, had a contender for their crown of cool, and one from an established old order. It has been a long while since Wenger was a trendsetting front-runner. His 64th birthday served as bitter confirmation that new ideas hold greater currency. And Dortmund's fresh take definitely appeared stronger than Arsenal's, as the German side outmuscled the Gunners to a 2-1 win.

"Physically, they were stronger than any team we have faced so far," he said.

Jurgen Klopp had some sympathy for his opposite number's unhappy returns. "I am sorry about this but it is a problem of the date, my birthday is in June," he said with a sympathetic smile.

Arsenal, after fallow years of diminishing ambitions and returns, had actually been delivering excitement and results. This game was little different, aside from that results thing. They even got themselves into a winning position before being taken apart by a moment of Borussia brilliance. A back door that has usually been double locked was twice left wide open with fatal consequences.

Aaron Ramsey, previously the season's golden boy, even in the light of Matthieu Flamini and Mesut Ozil, was the miscreant whom Wenger cursed openly. The Welshman overplayed the ball in front of his area, and in stole Marco Reus, before Henrikh Mikhtaryan fired past Wojciech Szczesny.

Dortmund's second goal was a thing of simple beauty. Arsenal, fancying the win, fell into the trap of allowing their opponents to execute the transition play that is a bedrock to their success. Kevin Grosskreutz's overlap and a host of dummy runs allowed Robert Lewandowski to ghost into the type of position from which he will always be expected to score. He duly did.

Even the famously testy Emirates crowd was appreciative, and rather accepting of its fate. So too, was Wenger. "We were a bit naive on the second goal," he admitted.

Lewandowski was probably fortunate to be on the pitch after a rather obvious and unnecessary elbow on Laurent Koscielny, but Wenger was sanguine. "The referee was in a much better position than I was," he said.

A wide gulf in fan behaviour said much. A sea of German laser yellow bounced, bopped and bellowed while home fans slumped in their seats. A regular chorus of "come on Arsenal" suggested some faith in their team. Spirits are up, belief is a commodity again, though the Gooners could never compete with the roars from the Ruhr, and especially not after the second goal. After that, the exits were being sought.

"I love watching Dortmund, I must say," Sir Alex Ferguson had said in his earlier book-launch junket. It was one of the less controversial opinions placed against his name after lunchtime's embargo since it is shared by much of the continent.

Yet Arsenal, for long periods, restricted the power play that has won hearts in the past few years. They became equal in the pressing game once Dortmund had swarmed all over them for the first 20 minutes of each half. Jurgen Klopp's plan, overseen from the stands due to his extreme ref rage at Napoli, was the same as ever: try to blow the opposition away from the beginning of each half and then hang on. When that doesn't work, then continuing to go for the win is next.

When Olivier Giroud converted Bacary Sagna's cross to equalise, taking advantage of Ramsey-esque hesitancy by both Neven Subotic and Roman Weidenfeller, it meant that Arsenal had held off the first part of the Klopp strategy.

In turn, Dortmund's industry had cut off the supply line that Ozil is expected to provide. Though he played a minor role in Giroud's goal, he was all but absent, a wandering star without portfolio until late on.

A draw most probably suited Arsenal just fine, but instead they are now staring down that barrel called the Europa League. With Napoli winning in Marseille, Arsenal's path to the knockouts is looking treacherous, with trips to Dortmund and Naples to come. "It is tight and difficult for us but possible," said Wenger.

They are also totting up the walking wounded. The absent Flamini's usual screening of his defence might have cut off either goal, while Jack Wilshere's health is of growing concern.

No Arsenal game would seem complete without a collapse to the ground and clutch of ankles. This was no exception. When chasing down the ball in vain, Wilshere collapsed at the touchline, and looked in the type of agony to preclude further participation. He eventually played on, but his second half was brief. A sight of him with ankle on ice on the touchline was disturbing for club and country. The fleet-footed terror of season 2010-11 is yet to be fully returned, and others like Ramsey, Ozil and Santi Cazorla are now ahead of him in both importance and affections.

"We could see that he was not completely himself," said Wenger. "It looked to me that he limped a little bit."

Cazorla's replacement of Wilshere converted Arsenal into the greater threat. They were riding out the second wave of yellow peril to force opportunities. Cazorla might have won the match had his 70th-minute drive been a fraction lower and to its left. The crossbar was as rattled as Dortmund were. Their flow had again broken down and the long ball was being regularly employed.

Arsenal were matching one of the most feared and admired teams in Europe. It seemed a long time since we could properly say that, but Dortmund's composure was recovered, and they found a path to the goal that stopped Arsenal's early-season cheer in its tracks.