Townsend's star continues to rise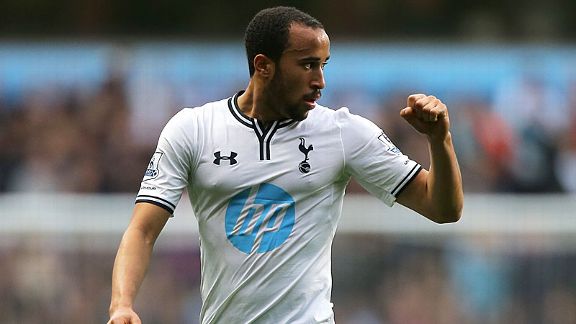 GettyImagesAndros Townsend might have got lucky with his goal, but it was just reward for a fine display at Villa Park.
Aston Villa 0-2 Tottenham Hotspur

BIRMINGHAM, England -- Sometimes, your luck is in and the world is yours. That's the time to ride high and take full advantage.

Andros Townsend made a smooth transition from national hero to club match winner, and for the first time ever. He ended his first big week in the news with a man of the match performance.

An unwanted status of being the Premier League player to attempt the most shots this season without actually scoring is now gone, although in rather fortuitous style. Just past the half hour, Townsend made a typical run inside from the right flank before aiming a left-foot cross in the direction of Roberto Soldado. The Spaniard's high boot missed, but so did everyone else. Brad Guzan, committed to saving an expected header that never arrived, could only watch the ball drift beyond his reach.

- Hughes: Benteke back but more problems for Villa

This season, Townsend had only netted previously for Spurs against Dinamo Tbilisi in the Europa League playoffs, and that was almost two months ago.

Being better for country than club was once a familiar Tottenham trait. Darren Anderton was the last such exponent of a tradition whereby Spurs always had plenty of players in the England setup even when the club was struggling. A performance of danger and devilment suggested Townsend can happily straddle both disciplines.

"Andros Townsend, you were born to play for Spurs," chanted the visiting fans. That they had rejigged an anthem once reserved for Gareth Bale may be of some significance.

The new favourite is an uncomplicated player, direct of intention. Wingers are inconsistent by nature, but Townsend maintains a pared-down modus operandi. He either cuts in and shoots or heads for the byline. In these times of "inverted wingers," Townsend is an anomaly in that he is actually two-footed. While preferring his left, his right is a potent weapon too.

"A great performance. He gives us so many options with his ability to drive us forward, get crosses in and link up play," said Spurs boss Andre Villas-Boas. "He is a fearless player."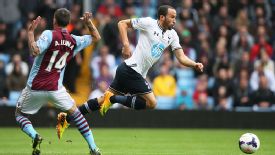 GettyImagesAntonio Luna struggled to deal with the pace of Andros Townsend all afternoon.
Townsend's brilliant right-footed strike against Montenegro will have been a familiar sight to supporters of some of his nine loan clubs, especially QPR, where he was a notable ray of light in last season's doomed campaign. At last granted his head by his parent club, Townsend has finally arrived after years of advance notices and doubts following fallouts with Ipswich, Watford and Leeds.

"Scoring for my country on my debut was the highlight of my career so far, but scoring for my hometown club is up there," said Townsend.

The signing of a new contract has been overshadowed by being the subject of Roy Hodgson's unfortunate "space monkey" team talk. That Villa left-back Antonio Luna was his direct opponent rather continued the NASA imagery. It had not been a stellar match before Townsend's stroke of fortune lifted its tempo. The goal even caused a missile to be launched, when a smoke bomb bounced off assistant linesman Dave Bryan while Spurs fans were celebrating.

Whoever launched it faces trial by CCTV, after pictures clearly caught the miscreant in shot. A significant stadium ban surely awaits the dim-witted culprit.

Somewhere amid Hodgson's muddled metaphors was the idea that Chris Smalling had not passed enough to Townsend against Poland, where Kyle Walker had against Montenegro. Reunited at club level, Townsend and Walker formed a fine understanding, with Walker often running beyond or manning the flank when Townsend cut inside. Walker's ability to get up and down allows Townsend freedom to cause trouble wherever he wants.

He is keeping out some notable names. Aaron Lennon's susceptibility to muscle injuries was one of the chief causes of Tottenham losing out on fourth place last season. That Townsend was on a Loftus Road loan now looks something of an AVB error, especially considering it is Lennon who has become an understudy.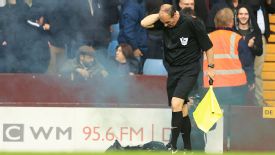 GettyImagesLinesman David Bryan feels the back of his neck after being hit by a smoke bomb thrown from the crowd.
When Lennon replaced Gylfi Sigurdsson from the bench, he became one of those inverted wingers from the left side; he is singularly right-footed. Rocket man Townsend continued to provide the far greater threat, twice sending fizzers over Guzan's bar and creating a chance that Paulinho should have nodded in to complete a rout.

Despite Paul Lambert's postmatch approval, Luna's mission was far from being accomplished. "The game opened up, and that's when I am at my best," said Townsend. When he is in such blistering form, there is little sense in not employing him, even if there are some costly contenders for his place.

Record signing Erik Lamela's appearances have been fleeting -- a frustration to the player. This week saw him suggest that a lack of action might cost him a place with Argentina at the World Cup. Belgium winger Nacer Chadli has been similarly starved of opportunities.

Villas-Boas would point to the fact that he cannot blood all of his summer 110 million pound outlay at once. A year ago, he took time to give Hugo Lloris the nod over Brad Friedel, when most advice suggested otherwise. The post-Bale Spurs are being put together in piecemeal fashion. As Townsend would testify, the chance to impress can take time to arrive.

Before Soldado was landed, Villa's Christian Benteke was widely believed to have been Villas-Boas' prime target. Benteke's appearance as a substitute on the hour had the effect of temporarily lifting home fans' hopes and spirits. Villa are just not the same team without Benteke, but it was still tempting to consider how Spurs would look with such a destructive force as their centre-forward.

Soldado is far less physical than Benteke, but his finish for the clinching goal in the 69th minute was a product of a different and no less valid type of striker's art. He can look static at times but has a poacher's habit of finding the correct position. When Lewis Holtby forced the ball in to Paulinho, the Spaniard was in place to end a contest Townsend had already put firmly in Tottenham's hands.