Impressive City claim important away win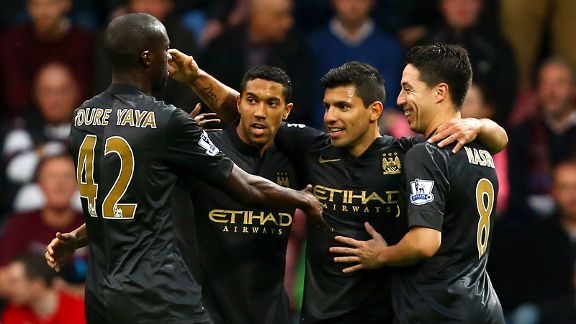 Jan Kruger/Getty ImagesSergio Aguero is congratulated by his Manchester City teammates after scoring the second of his two goals. The Argentine also had an assist in the 3-1 win at West Ham.
LONDON -- Whether this was the day that Manchester City's season finally starts to pick up a bit of speed remains to be seen.

Whatever happens, it was a game in which a fair few elements came together.

Most importantly, it was their first away win of the season, a 3-1 final at West Ham. Most pointedly, just at the stage when West Ham scored and looked to be tilting the game in the manner of City's trips to Aston Villa and Cardiff City, Manuel Pellegrini's side held firm and then went forth.

- Report: West Ham 1-3 Man City
- Curtis: City poetry in motion

Because, most impressively, Sergio Aguero and David Silva linked up in glorious fashion.
As Sam Allardyce put it, regardless of how his team came out, it was as if City seem simply decided "they would be the team to show their quality".

Pellegrini acknowledged the importance of finally ending a drought on the road, but seemed to find just as much value in the manner of it. That's no surprise given that, in the long run, it is arguably more indicative of how their season will progress.

On a particularly awkward away trip, City made their football look so delightfully simple.

"Very pleased," Pellegrini said. "The most important thing today was to win the game. I think we continue playing in the same way like the other games. It was important we continue to play the same way as against Aston Villa. The most important thing for me was winning the game and continuing to play the same way."

There are, naturally, a few implications to this statement.

Although the 3-2 defeats at both Cardiff and Villa suggested a few flaws to be sorted at the heart of this new City side, Pellegrini seemed to be indicating those results were no more than a consequence of early-season coincidences; bounces that went against them; natural teething problems in a nascent project.

And, as good as City were, there could be no disputing this game represented the opposite side of that -- as Allardyce made a point of referencing. Pellegrini's side got a fair few breaks.

"They frightened us a little bit with the passing between Aguero and Yaya Toure, but we made two basic errors for their first two goals," the West Ham manager said.

"It was a simple ball down the middle for the first and somebody not picking up the smallest man for the second. That was disappointing."

It also couldn't be disputed. After 15 minutes, Aguero took advantage of the West Ham defence simply stopping to then roll the ball into the corner. After 52, the Argentine was left with a free header at the near post from a set-piece. That City scored from a situation that Allardyce sides usually excel at said a lot.

Similarly, this was a game when the West Ham manager's striker-less tactics worked against him. After 21 minutes, with the score at just 1-0, Mohamed Diame badly headed wide a hugely inviting cross. Needless to say, it was the sort of opportunity that a proper number-nine would have loved. That fragility in Pellegrini defence remains a significant issue. Teams will also know exactly where to hurt them.

At the same time, City were more than hurting West Ham, and usually with exquisite football. The way in which they pulled and prodded the home side's defensive system all over the pitch was often joyous to watch. As Pellegrini added too, Jussi Jaaskelainen was Allardyce's best player.

Yet, if the first hour reflected the two contrasting sides of City's season so far -- slickness against the slackness that can leave elements to chance -- it was the next 10 minutes that brought things to a crunch.

Because, on 59, Ricardo Vaz Te bicycled a fine finish past Joe Hart. It was just reward for a fine period of West Ham pressure, inspired by the introduction of the lively Stewart Downing. At that point, the game seemed right on the edge, with the tension only escalated by the knowledge that City had previously allowed those two leads at Villa Park and Cardiff to slip away. Pellegrini couldn't deny thinking back to such moments.

"Well, of course, it's typically [to worry] when 2-1 playing away. West Ham has at that moment the ball in possession."

To his credit, though, Pellegrini and his team did not leave this one to chance. First, the Chilean brought on Aleksandar Kolarov to stifle Downing. Then, Aguero and Silva excelled again. With the Argentine striker bearing down on goal and seemingly about to unleash for a hat-trick, he suddenly flicked the ball back. Silva gratefully and graciously curled it into the corner.

"I think that, when we scored the goal, it was all finished," Pellegrini said. So was one of the more negative trends of City's season.

By finally winning away, they also kept pace with the leaders.

"One point from nine [on the road] is not a good average or us," Pellegrini said. "Before we started the game, Arsenal, Chelsea and Everton all won, so three points very important."
It was also quite impressive.