Three Things: Real Madrid v Malaga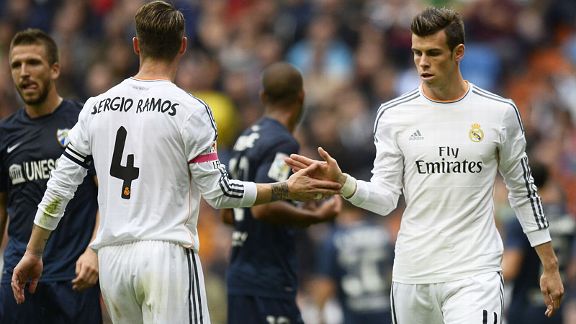 GettyImagesTime for Sergio Ramos to leave Madrid?
MADRID -- Dermot Corrigan's observations from the Bernabeu as Gareth Bale make tentative steps on the road to recovery in Real Madrid's 2-0 win over Malaga.

Bale easing back into action

After the week-long argument between Real Madrid and Marca over whether Bale's back issue was serious enough to stop him playing, the Wales international was on the bench for Saturday's La Liga clash with Malaga. Angel Di Maria -- so impressive so far this season -- was in Bale's presumed spot on the right wing. The Argentine was again among Madrid's best players, regularly showing off his trademark trick of coming back onto his left foot to deliver dangerous inswinging balls. One such cross opened the scoring just after half-time -- with the ball evading both Cristiano Ronaldo's run and Malaga keeper Willy Caballero's dive to nestle inside the far post.

Bale had already been out to warm up before half-time, and the speculation at the break was who might come off at the break given the uninspiring first 45 minutes. But Ancelotti bided his time and the 100 million pound-man was not seen again until another jog down the touchline after the hour mark. He finally entered the fray with just 15 minutes remaining, and went first to the left-wing, then to the right, after Jese Rodriguez had replaced Di Maria.

There was still time to make an impression though, and a driving run into the box won a penalty from referee Miguel Angel Ayza Gamez, even if it seemed more that the ex-Spurs winger had lost his balance rather than been fouled. Ronaldo -- who had moved to centre-forward with the changes -- converted.

That made it a goal and an assist in just 137 minutes for Bale as a Madrid player, but there was not really enough evidence for any clear judgements on his fitness from this quarter hour. Ancelotti said afterwards Bale was in contention to start against Juventus in the Champions League on Wednesday, but it would be harsh to drop Di Maria given his form.

Morata gets his chance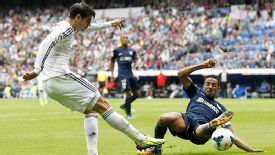 GettyImagesWeligton makes sure Alvaro Morata cannot get a shot in.
Karim Benzema, with Ronaldo, were the only players to start all of Madrid's first ten competitive games this season. But the Frenchman had not scored in his last six La Liga appearances, so Morata's goal from the bench against Levante before the international break had fans and pundits calling for a change. Benzema's unexpected absence with a knock meant Ancelotti could give the youngster a chance, without being seen to drop the club's only senior centre-forward.

Morata looked very keen to take advantage and was prominent from the off. A lot of his best work early was done outside the box, chasing long balls, running the channels, blocking defenders' clearances -- all stuff that the Bernabeu fans love, and that Benzema is not as obvious at doing.

The Spanish Under-21 international was also unlucky not to score though, with only a linesman's flag denying him when he firmly headed Dani Carvajal's cross into the net. There was also a 20-yard curler saved by Caballero, and he forced another excellent Olympic handball / Peter Schmeichel-style save from the Argentine keeper. That brought the chants of 'Morata, Morata...' ringing around the ground before half-time.

A linesman's flag -- this time probably incorrectly raised -- denied Morata an assist when he crossed from the right for Ronaldo to tap home after the break. There was also further acclaim from the crowd for working back to help prevent Malaga breaking from a corner, and then a standing ovation when he was withdrawn for Bale. The fans would clearly like to see Ancelotti giving him another start against Juventus (which is Morata's 21st birthday), but the Italian coach suggested afterwards Benzema would be fit to return.

Midfield still not clicking

When not talking about Bale's back during the international break, Ancelotti was admitting his team hadn't started the season well, and predicting they would click soon. They lined up again in the 4-3-3 shape reportedly asked for by the players recently - with Asier Illarramendi deepest, Isco to his left and Sami Khedira to the right.

Playing against his former side, Isco was pretty subdued, as if unsure himself what positions to take up in this team shape. In the first half he often came deep to start moves, which he can do, but he's at his best closer to goal -- and was rarely in the box before being the first Madrid player substituted with Luka Modric coming in with 20 minutes to go.

Illarramendi's best work was breaking up attacks and passing the ball neatly -- but the former Real Sociedad player rarely even attempted any of the long raking balls to the wings, which Xabi Alonso uses to start moves and shift the opposition defence around.

Khedira's primary role further up the pitch was to press and win the ball back early. This brings him closer to goal, reinforcing that he's not a schemer known for quality final balls. When Carvajal's clever pass freed him inside the penalty area just before half-time, the German international had time and space to pick someone out but eventually pulled the ball back to nobody.

Modric improved the side's cohesion during his short time in the game, and looks likely to start against the Italian champions in midweek and again at the Camp Nou next Saturday. But the main lesson from Saturday's muddle in the middle was Madrid are still badly missing Alonso.