Three things: Manchester United v Southampton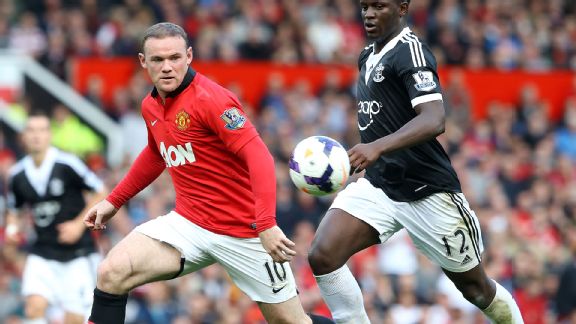 Matthew Peters/Getty ImagesWayne Rooney and Manchester United's inconsistent season continues.
MANCHESTER -- John Brewin attended Manchester United disappointing 1-1 home draw against Southampton and gives his three observations from the match.

Saints alive, United denied

David Moyes' face was like thunder, and he will have known that his team should have collected three points, even if their visitors had fully deserved to share the spoils.

Last season, Sir Alex Ferguson praised Southampton as one of the best teams who had visited Old Trafford in years, and they have improved since then. They began the day in the top four, five rungs above the defending champions, and are still four points clear of them. They might not be there at the end of the season, but they are easily of top-ten quality.

The late goal was just reward. Dejan Lovren may have been a less heralded signing than Pablo Osvaldo or Victor Wanyama, but the Croatian is calm and commanding, and his awareness often outsmarted Robin van Persie. The Dutch master was to be found muttering to himself about how often he was waved offside. Wanyama receives far less licence to roam than at Celtic, but his power provided problems for United's attempts to gain control of the midfield area.

- Payne: Utd's prudence gifts Saints point

Lovren's goal resulted from United's poor defending of a corner. United had failed to kill them off, and paid the price. An inability to complete the job has been the greatest problem of Moyes' troubled reign so far. United's ability to hang on grimly to grind out the result seems to have deserted them. Teams no longer turn up at Old Trafford and expect to be beaten, and nobody has been properly thrashed since the opening day at Swansea City.

Mauricio Pochettino prescribed style is pressing right from the front. Phil Jones and Jonny Evans never had time to dwell as Jay Rodriguez and Osvaldo hunted them down. United might still have doubled the advantage that Van Persie gave them had Rooney's shot off the bar been an inch lower.

United were never allowed to enjoy any sustained spells of possession, and their fans shared similar discomfort as the clock ticked slowly towards full-time. The fear of conceding sloppy and late goals is a growing one. Moyes will bear the brunt but Southampton must be offered full credit.

A light in the North

The morning's breaking news of Adnan Januzaj's signing of a five-year deal gave United fans a spring in their step on their way to Old Trafford. Delays in the deal and signs of other sharks in the bay had many fearing another escape from the United finishing school. The Kosovo-Albanian Belgian who is eligible for Turkey, too, and has a host of hacks hoping he might choose to become English, will not now be leaving in the style of Paul Pogba or Ravel Morrison.

United legend Paddy Crerand is a confirmed admirer, and praised Januzaj's level-headedness in pre-match. The subtext lay in the suspect temperaments of the aforementioned pair. That Pogba wanted too much, too soon is the line from the United camp while Morrison's off-field brushes with the law and awful timekeeping saw him decamped to West Ham. Rumours of a possible return abound.

Januzaj himself plays with the fearlessness that youth supplies. A small frame hides a sinewy strength. An early tackle from Adam Lallana -- the type of cruncher known in the trade as "the reducer" -- was brushed off with a mere shrug. Within seconds Januzaj was making a surging run into Saints territory to begin the move that led to United's best chance of the opening salvos. Like Ryan Giggs and Cristiano Ronaldo once did, he has the effect of lifting United fans to their feet whenever he begins a run. You can tell when he is on the ball and motoring because he is accompanied by the sound of hundreds of seats flipping up.

When the ball came to him on the edge of 18-yard box just past the hour, the Stretford End rose in expectation as he shaped to shoot. Artur Boruc needed his full wingspan to save the resultant missile. At risk of getting far ahead of ourselves, Januzaj might one day offer a combination of Giggs' trickery and David Beckham's shooting power.

When Van Persie broke the deadlock, coolly sliding in a rebound of a Rooney shot, the original chance had derived from an exceptional slide rule pass from the teenager. It is clear that United's star strikers enjoy playing with him; the quality of his service is inestimably better than the poor fare served up by the likes of Ashley Young, say. There is also a steely edge, and he received a booking for the type of vicious swing -- on Nathaniel Clyne -- that Paul Scholes once patented.

Januzaj has provided an answer to the problem of United's left-hand side, even though his eventual future almost definitely lies at "number 10." Rooney will soon have hot competitionm it is clear, for the position he jealously guards. And for the #freeshinji camp, he has swiftly moved ahead of Kagawa in the pecking order. The Japanese star is finding it hard to hide his disquiet back home, say local experts. He will find it yet harder to displace United's latest shining young star.



Centre-backs to the future?

With neither Nemanja Vidic nor Rio Ferdinand in the matchday squad, a potential pairing of the future was fielded by Moyes. The last time neither of the veteran pair played together was Sir Alex Ferguson's final match in charge, at West Brom, and that finished in a rather portentous 5-5 scoreline.

Jones and Evans actually kept a clean sheet together in the League Cup defeat of Liverpool last month, but talk of Moyes being a conservative avoider of risks was again bunked by his fielding of this relatively callow pair.

Of the two, Evans is supposed to provide the timing and calm, while Jones supplies the muscle, even if his running style still resembles that of a young man running down a hill while his trousers fall down.

Marouane Fellaini and Michael Carrick were paired in front of them, though the strength of that shield is hardly Fort Knox. Fellaini is still feeling his way in, and his bandaged wrist reminded that a long break might be in store if a reported prognosis to follow an operation is proved correct. He and Carrick seem like an odd couple at present. Evans and Jones had looked far more comfortable as a pairing before Lovren's goal, which resulted from Jones flailing wildly in the box.

The truth would seem to be that none of United's centre-backs is truly imperious. The same goes for much of the team, too.