Three things: Newcastle v Liverpool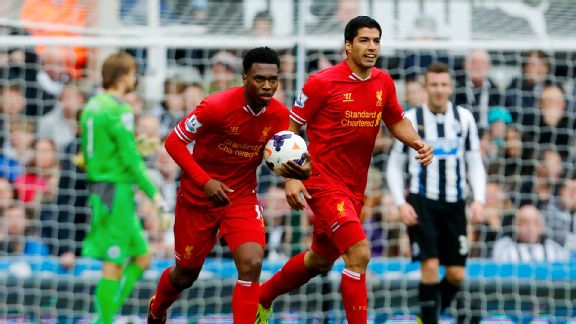 Paul Thomas/Getty ImagesDaniel Sturridge's 72nd-minute equaliser earned Liverpool a point at St James' Park.
NEWCASTLE, England -- Three observations from Liverpool's 2-2 draw versus Newcastle at St James' Park:

- Match report: Liverpool 2-2 Newcastle
- Duffy: Newcastle resilient in draw

Liverpool miss Philippe Coutinho

When the little Brazilian arrived on Merseyside with a smile and his brightly coloured boots, there was an air of uncertainty. His talent presented itself in his first training session with Internazionale when he nutmegged Marco Materazzi, long before he was old enough to officially join the squad. While he could often avoid the clutches of defenders in Serie A, injury was not as easy to escape. It was why the Nerazzurri had decided to take the tempting bait of an £8.5 million offer.

Whether Massimo Moratti regretted that will never be known -- at least publicly. Taking to the Premier League with grace and elegance, Coutinho had a performance in the 6-0 deconstruction of Newcastle last season that was one of his best. Like a needle through black-and-white hay, his passes were delicate, precise and nigh impossible to stop. Close him down and suddenly he would disappear with a wriggle of the hips before re-emerging on the edge of the penalty box.

And yet, so cruel is fate that just as it seemed he had shaken the injury bugaboo from his back, it clambered on top of his shoulder at Swansea. The curse was admittedly aided by a blunt challenge from Ashley Williams. Forced to watch his teammates as they adapt to their new 3-4-1-2, the hole Coutinho finds himself in is probably not the one he wishes he was in.

With Brendan Rodgers unwilling to lean on Coutinho's absence after the draw, blame must fall at Victor Moses. A solid ball carrier, he lacks the artistry to slide balls through like Coutinho -- a fact made more apparent by a home side defending deep with 10 men.

In fairness to the Nigerian international, it has never been his game, and to expect a chronic evolution is a lot. There are perhaps other candidates. Luis Alberto made his way onto the pitch but found himself closer to the touchline than the centre circle, as the black-and-white wall stayed strong.

Coutinho's absence also leaves a gap in midfield, which made the job of Yohan Cabaye and Cheick Tiote easier in the first half. Without the pressure of an attacking midfielder, the duo controlled possession. With Tiote enjoying a return to the form of his first season with the club, it made Liverpool slow and laborious in their attacking buildup.

Although they were able to penetrate Newcastle twice, fans will no doubt be relieved to hear that the diminutive Brazilian is just weeks away from a return -- at which point Liverpool's jigsaw finds its final piece.

Newcastle bury demons with draw

"We were carrying some scars," Alan Pardew said after his side's draw.

He was specifically referencing a difficult month in April that pushed Newcastle to the brink as they conceded nine unanswered goals at home. It began with Liverpool, and as Cabaye trudged off the St James' Park pitch on that day, a red shirt resting on his head, his face denoted the myriad negative emotions better than any match report.

Not only had his team been humbled by six goals, but best friend Mathieu Debuchy had also ended the evening early after a cynical lunge on Coutinho. As the fifth and sixth goals trickled in, the stadium sat quietly, but internally sirens were blaring in the heads of every home fan. They had felt this before: the panic and unease as they viewed the Premier League table, the seemingly unstoppable slip into relegation.

Their next home game was a defeat that, while narrower in the score column, was exponentially harder to stomach -- Paolo Di Canio's dirty knees, the 3-0 scoreline. The alarms had become audible.

Saved by Wigan's inability to balance the mammoth task of an FA Cup run and Premier League survival, today represented a chance for Newcastle to show they had evolved and progressed.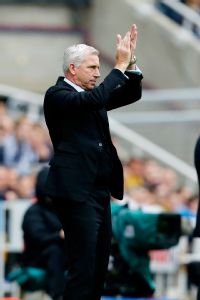 Paul Thomas/Getty ImagesAlan Pardew's Newcastle fared much better this time around against the Reds.
Some achieved that goal. Mapou Yanga-Mbiwa did not. His sending off highlighted his naivety and will further comparisons to another former French defender on Tyneside -- Jean-Alain Boumsong.

Thankfully for Pardew, there were more success stories. Debuchy showed that he can defend as well as attack, more than matching the ox-like Aly Cissokho as Liverpool attempted to overload the flanks. Yoan Gouffran, who had promised a display of "our true quality," delivered an enviable work ethic with his tireless running.

There was even space for a new star to thrust himself forward. Lacking even the remotest of Gallic undertones, Paul Dummett was born in the shadow of St James' Park, and although he represents Wales at international level, his roots are firmly planted on Tyneside. Filling the bill of unlikely goal scorer, his sheer delight at his accomplishment required no interpretation. Pardew has spoken of his hopes for the defender at numerous points this season, as he firmly plants him as competition alongside Davide Santon.

Equally as strong on a defensive front, Dummett threw his body around like it were someone else's, and Pardew admitted he is unlikely to place him in the breach against Sunderland -- with Steven Taylor set to destroy the manager's door in a bid to prove he is ready.

By the final drips of the game, Newcastle fans were once again begging for it to be all over -- a rousing cheer at the draw replacing the tepid boo of derision that had clung onto Newcastle's players since April.

Suarez and Sturridge continue to show deadly partnership

As the counter on Luis Suarez's return ticked down, the question was quickly raised in every channel of the media: Can Suarez and Sturridge work? SAS -- Sutton and Shearer -- had been a notable title-winning duo in the 1990s for Blackburn Rovers. The latter admitted it took training sessions and work to forge a bond with Sutton, unlike his partnership with Teddy Sheringham, which was just natural.

Former Liverpool hero Ian Rush gave the duo an early vote of confidence, and it appears his faith was well placed. Rodgers has described the pair as "telepathic" in recent weeks and believes "anything is possible." At Sunderland, the duo's form was on show as the sometimes selfish Sturridge netted the opener before laying on a brace for Suarez to quell his hunger for goals. It continued a week later against Crystal Palace, with the one-twos and dummies leaving Palace dumbfounded.

Now entering its third game, the Suarez and Sturridge partnership is beginning to provide a consistent outlet for Liverpool's goals. Pardew had backed Yanga-Mbiwa and Mike Williamson to shackle the deadly duo; they failed their test before halftime.

In the first half, the latter brilliantly found the former behind Yanga-Mbiwa for the penalty. Moving into the second half, Suarez planted the ball on Sturridge's head to provide the equaliser. Yet Rodgers wants improvement. Lamenting their inability to retain the ball in first 15 minutes, perhaps it is indicative of the potential he sees that he expects so much -- as revealed in the fluency and delicacy of the second goal.

With title aspirations gently murmured on Merseyside, the most difficult tests are still to be faced. But on their current displays, few can contest the quality of Liverpool's front line as it chalks up another Premier League victim.