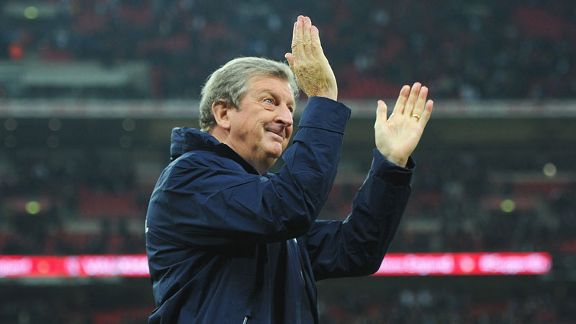 GettyImagesRoy Hodgson savours the moment after leading England to the World Cup.
LONDON -- Roy Hodgson is not to every Englishman's taste. His teams can be as awkward and painful to watch as his rambling homilies can often be to hear. Yet as the moments until the final whistle ticked by, few would have begrudged the sigh of satisfaction he let out when it was clear that victory was inevitable and England were going to the 2014 World Cup finals.

"We came through," he said. "It's job done and we are looking forward to going to Brazil, which I know the nation wants."

When he took on the job 18 months ago, the stated aims were the knock-out rounds of Euro 2012 and qualification for Brazil. He has achieved both. The preparation time from now until June 12 will be a deserved Hodgson honeymoon. "I shall use the next six or seven months ahead to reflect on it," he said.

- Delaney: Three things
- England 2-0 Poland

The respective judgement nights of his most derided predecessors came in the final match of qualifying. Steve McClaren's umbrella could not shelter him from the pelters that rained down as Croatia wrecked hopes of making Euro 2008. In 1993, Graham Taylor was reduced to comically haranguing the linesman in Rotterdam as USA '94 was missed out on. Even Sir Alf Ramsey, the country's finest national manager, lost to Poland and failed to qualify for the 1974 tournament. Such a nightmare scenario is yet to befall England's current manager.

He is still a football man of anachronistic fashion. Hodgson's turns of phrase would better suit Ramsey's era, and he pursues pretty much the same ideas that made his name when an emigre in Scandinavia and Switzerland. Hodgson teams do not do serene progress, but then neither does the England national team. They are well suited in that regard. However, the image of conservatism took a welcome jolt -- England's finals place has been secured by employing an attacking mentality in two must-win games.

This was an English style of attack; working groups, performance plans and commissions will take years to convert the national team into a hybrid of tiki-taka and German efficiency. Flying wingers, energetic midfielders, overlapping full-backs and regular employment of a long ball got them there. Until his substitution, Michael Carrick had reminded that Englishmen can pass and retain the ball, too.

Of course, there were many flutters along the way. Hodgson often looked wracked by the agonies of the occasion. As he made frequent consultations with assistants Gary Neville and Ray Lewington, the pallor was gray, his face sagging with clear worry.

"There are still quite a few emotions churning around inside me," Hodgson admitted. "I died a thousand deaths every time they crossed the halfway line."

At times, the night's elements seemed against him. Aside from Scotland, no previous England manager can have faced a game at Wembley that featured such a large and loud away support. There were far more than 18,000 Poles in the stadium. Smoke filled the air from their flares. Boos and jeers rang out whenever England were in possession.

England needed to lift the home crowd's volume levels beyond the Pole's high-pitched whistles. Whatever was left of the 70,000 expected Englishmen also had to play their part, and they did. From the beginning this was frenzied stuff -- both on and off the field.

Robert Lewandowski continued his Borussia Dortmund role of aggressive defending from the front. Phil Jagielka and Gary Cahill were harried and hurried throughout. An early Lewandowski solo run reminded of his attacking danger, too. Talk of Poland having little to play for could be dismissed in the light of their energetic play. Their attacks were sent on their way with howls of expectation -- England would have to scrap and scrape their way through.

When Lewandowski was played into the type of space from which he destroyed Real Madrid in April, the whole stadium broke into a silence that continued on when the shot rolled wide of both Hart and post. Hodgson, cringing on the sidelines, was visibly rattled, and not for the last time, either. What would cause him more psychological pain was a host of missed opportunities from his own team.

Andros Townsend, a terror throughout, is no longer a secret weapon. His 27th-minute cut in and crash off the crossbar was a trademark almost converted to legend. Seconds later, Daniel Sturridge's shot was palmed clear by Wojciech Szczesny. Earlier, Steven Gerrard's in-swinging free-kick should have been slid in by Chris Smalling. Danny Welbeck forced himself a chance after taking down a Leighton Baines cross but then missed the goal with a hurried left-foot swing.

Pained nights of missed chances and hard-luck stories from decades past began to flash into minds. Though at least England were making chances. Hodgson, almost horizontally hunched over his knees, was to be found picking at his face, twitching in agitation.

"Some of the football in the first half was spectacular," Hodgson said. "And 1-0 was scant reward, but you always know at 1-0 that you're not safe."

Rooney, with protective headband temporarily abandoned, broke the deadlock, if not tension. Baines, supplying attacking danger that Ashley Cole cannot, arrowed in the cross. Rooney nodded home ahead of a host of possibles. He had already been playing like a man possessed by the bear-pit atmosphere. The celebration was suitably maniacal.

A second-half retreat was inevitable. England still created chances, but Polish red was no longer pinned back. Lampard's arrival did not help much, and especially after a rather sloppy and avoidable booking. Conservatism flushed back into Hodgson's England, though caution was wholly understandable given the stakes. Brazil was in sight, after all.

It came into full view once Steven Gerrard, whom Hodgson has placed so much responsibility in, scored the captain's goal that relieved a nation and especially his manager, suddenly beaming with delight, and looking years younger.

"We're all going to Rio," sang England's fans as they danced an impromptu samba. And Hodgson will be leading them there. He has been to a World Cup before, with Switzerland in 1994, but this will be the pinnacle. As he turned tactile, thanking and embracing everyone in sight, even including the journalists, he could reflect on his achievement.

"I am English, and you cannot get away from the fact that it means more if you are doing it with your own country," he concluded with a broad smile of satisfaction.