'Nearly' team in search of perfection
COLOGNE, Germany -- Jogi Loew claimed it was close to perfection, but it is not even that which Germany are striving for. Although the side had just racked up its 26th win in the last 29 qualifiers with a 3-0 victory over Ireland, there was really only one question left in Cologne's RheinEnergieStadion: Is this generation finally ready to win a tournament?

Per Mertesacker gave something of an answer. "I just know our squad is getting better and better," the Arsenal defender commented, if with a caveat. "We are in a good way to represent Germany in South America, so let's focus on that, not that we may lift the trophy."

Many around the squad have noted that shift in tone over the past 15 months. While virtually everyone in the public and media are talking about finally bringing home a trophy for the first time since Euro '96, those within the team are more detached, more cautious -- if no less assured. It marks quite a change from the buildup to Euro 2012, when there were a lot of lavish comments about bringing an era to a crescendo -- not least from Loew himself.

Then, a younger side got burned. It was not just that Italy beat them 2-1 in that semifinal in Warsaw, Poland; it was that Cesare Prandelli's team was such a deserving winner, apparently exposing enduring flaws in this German team's makeup and mentality.

It has represented a quite remarkable reversal of history. Germany probably now play the best football at the international level but have not yet come close to proving themselves as the best team. A modern type of attacking game that is pushing the boundaries of tactics has been offset by the lack of that old-fashioned attitude to just finishing the job. The likes of Lothar Matthaus may not have won the same praise, for example, but they knew how to win the most exacting matches.

So far, this Germany side has been nothing more than a nearly team.

The key, however, is what statements like Mertesacker's mean. Are they more evidence of this willingness to just put on a show and not necessarily do the dirty work to close out games? Or is it an indication of a new maturity required to actually go and win tournaments after the harsh lessons of Euro 2012?

Loew has acknowledged his team is not yet complete and did so again after the win over Ireland. He stated that this entire qualification group, which saw Germany predictably take command of first place so early, has been about filling in those flaws. It was notable that the game against Ireland saw the manager again experiment with Mesut Ozil as a false nine, seemingly adding another angle to an already multilayered attack, and attempt to reinforce a relatively fragile defence.

"I used this campaign to make my team more stable," Loew said. "It hinges around the opponent you play. They will have a major role in making games attractive or nice to watch for the spectators, but I feel we have made progress and this team is more solid and stable than it was in the Euro 2012 finals.

"Of course, we do have some things to tackle. Defensively, there is room for improvement, but this is all trying to reach perfection."

It certainly seemed like Germany were trying to produce the perfect goal against the Irish. For extended periods, their attackers were almost experimentally chipping the ball into the 18-yard box, enticing each other into attempting the most audacious volley.

At the same time, all of that further illustrated the remaining issues with this team. Many of these attempts happened when the score was still 1-0 after Sami Khedira's deflected goal, and even a side as limited as Ireland got at the German defence with undue ease. On either side of halftime, Anthony Stokes squandered fine chances to level the game and let the world know this team is not complete. It was the same in the notorious 4-4 draw against Sweden, when the Scandinavians came back from four goals down. There is just this remaining element of slackness about Germany, with the side occasionally looking more interested in indulging themselves rather than ending any semblance of a contest as in the past.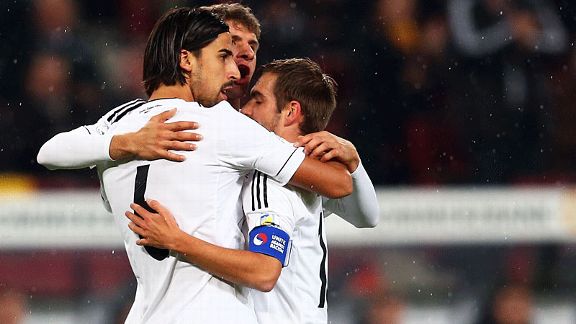 APSami Khedira scored early for Germany against Republic of Ireland.
Not unsurprisingly, the defence has given rise to the only issue even approaching anything like a controversy, with Loew leaving out Mats Hummels. Whatever about the exchange of views the two had, the Borussia Dortmund defender almost defines this team. For 99 percent of a campaign, he is imperious. In the remaining 1 percent, he commits the kind of crucial error that costs them the most important of victories.

"He still has to work with us on some details, but he has class and has developed into one of the best centre-backs in the world," Loew said, using words that also apply to his team.

The Germans might reasonably point to the fact those games against Sweden and Ireland were exceptional circumstances, the former born of an unusually high lead against a decent side, the other of the fact they were virtually certain of qualification in a match against a team so drastically far behind them.

In the game that really secured qualification, a 3-0 victory over Austria in September, they were exceptional.

"We came close to perfection in our games against Austria," Loew said. "That is encouraging."

What is just as encouraging is the progress of Bayern Munich. If Dortmund reflect one side of the team, the hope is that the new European champions will indicate the next step. Many of the questions being posed at Germany now, after all, were asked of Bayern a year ago.

That team, which provides six players to the national squad -- most notably its two leaders in Philipp Lahm and Bastian Schweinsteiger -- eventually came to maturity. Germany must now do the same if they are to become more than just a qualified success.