England are one win away from reaching the World Cup finals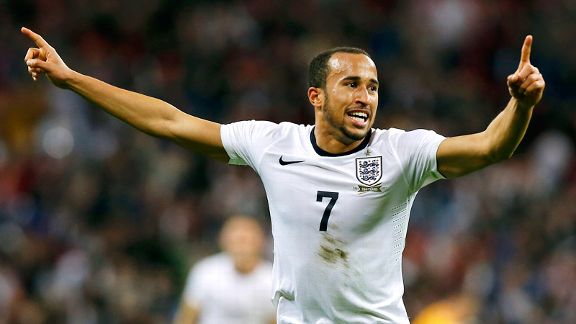 AP Photo/Sang TanEngland will go into Tuesday's game against Poland knowing a win will take them to the World Cup Finals after they beat Montenegro 4-1 at Wembley.
LONDON -- Here are three thoughts from England's 4-1 win over Montenegro at Wembley Stadium.

Roy the lionheart, Branko the hero
Arise, Sir Branko Boskovic. Your beautifully struck own goal kept English hopes of World Cup qualification alive. Your letter of confirmation in the New Year's Honours List will be sent via airmail.

A nation had been very nervous indeed before that. And they would be again, after Dejan Damjanovic slotted home in the 71st minute to close the gap back to one goal. But Andros Townsend's thrashing shot seven minutes later ended the affair. England manager Roy Hodgson turned the air blue in joyous celebration, his shaky jig of delight betraying his age.

Hodgson's version of going for the win can often be confused for a safety-first approach. Not this time. Roy the lionheart went for a four-man attack. Townsend was the big gamble, an attempt to get England out into the open on the right flank. Eventually, it paid dividends.

As is the trend, Townsend played on the opposite side to his favoured foot; the crossed ball from the byline has become a rarity. Townsend's runs often met heavy Montenegrin traffic as they compressed in front of their goal. Stefan Savic, once of Manchester City, now of Fiorentina, was a model of composure.

As a series of half-chances and scrambles piled up, England's anxiety was clear. News from Kharkiv that Ukraine had beaten Poland sapped energy from a Wembley crowd, which had been handed clackers to increase their noise level. When the Montenegrin fans began to be heard, it was an indicator of nerves.

England keeper Joe Hart's shin-roller of a clearance when club-mate Stevan Jovetic was bearing down on goal hardly helped matters, either. The visitors, just as desperate for victory, had begun to enjoy possession.

Misses by Rooney and Daniel Sturridge did not help. Both might blame the wet ball and an uneven bounce, but they should still have done better.

- World Cup qualifying review

Montenegro keeper Vukasin Poleksic had played just three times in three years. It showed, too. His first touch of the ball was a limp pat-a-cake of a Leighton Baines cross. It was evident that his defenders were not convinced at all. They packed the area in front of him whenever England got a corner, in clear fear of his lack of command. None of his saves were particularly convincing, and both of Rooney's best chances came from the keeper spilling the ball. Hart's confidence might be low at the moment, but he could look on and think that maybe his life is not so bad after all.

At halftime, with the game still scoreless, Montenegro might have been the happier, despite a heavy concession of chances, but their good work was undone by Rooney's goal in the 48th minute. The mood was not quite so anxious now, and especially so after Boskovic's pitch-perfect swerving shot around his own goalkeeper. YouTube infamy awaits the Rapid Vienna midfielder and freshly crowned England legend; the eventual score line hides the importance of his unfortunate intervention.

Still, the thought of Poland on Tuesday causes concern. If Montenegro had equalised in the dying moments, England would have been effectively playing off to be in the playoffs. Townsend's strike and Daniel Sturridge's late penalty ended that possibility for now. Win, and England are flying to Rio. Draw or even lose, and a further two matches of probably unbearable tension await.

Familiarity breeds contempt
Stop me if you've heard this one before. Actually, don't. It remains relevant. Even if it should no longer be. If you had told an England fan in 2006 that Steven Gerrard and Frank Lampard would be playing together in their manager's most important game of his career, they would have laughed or been disgusted.

Age has withered them both, but the song remains the same. The pathetic fallacy that one will sit while the other bombs on has never been remotely accurate. Gerrard is much the more mobile, but the legs still do not carry him back to base as they once did. If Brazil is reached, Lampard has to be the one to miss out. After all, Gerrard has a close relationship with Hodgson, who often seems in thrall to his captain.

Text or no text to Harry Redknapp, Gerrard has played his best football as an England player under Hodgson. Euro 2012 was his best tournament yet, and Brazil 2014, if it is reached, will be his swan song.

Gerrard's 106th cap equaled the tally of Sir Bobby Charlton, and Gerrard has never hit the heights of England's greatest goal scorer. Lampard, with 101 caps, perhaps has the most questionable legacy of all of England's centurions. And that is almost certainly down to his continuing inability to pair with Gerrard.

Rooney chasing down a legacy
"We are English. We tackle hard," said Jack Wilshere during his rather ill-fated media duties earlier this week. It was one of his less controversial statements. Wayne Rooney was listening. He began the match with two crunching tackles, both of which bailed out some rather lax anchoring of midfield from Gerrard and Lampard.

If anyone wanted to get this job done in a hurry, it was Rooney. He still had unfinished business from the sending off two years ago in Podgorica that cost him two games at Euro 2012. He played with the grit and vigour he has shown as a newly slimline Manchester United player.

Brazil may be his last chance at a World Cup. A player who has been playing at the top level since he was 16 might feasibly be over the hill by the time Russia 2018 comes around, when he'll be nearly 33. Aside from that, Rooney is still awaiting a good tournament performance to match the excitement of his Euro 2004 breakthrough. He himself admits that he should have scored 60 goals for his country by now.

Unnecessary haste led to his thrashing Poleksic's palm of a Townsend shot into the side netting. Rooney should have given England a halftime lead.

A creative burden fell on Rooney. Playing a few yards behind Daniel Sturridge, he was to be found deep inside the defensive trench that Montenegro had built in front of their goal. His miss drew visible and knowing anguish.

The expression was very different when he eventually slotted home his goal. Rooney, who has never seemed the spiritual type, even pointed to the heavens in his gratitude for the chance to make amends. Danny Welbeck's shot had spilled Rooney's way, and though the aim was to finish calmly, there was still a hint of nerve in his shot.

Job done, for now.