Three Things: Tottenham vs. West Ham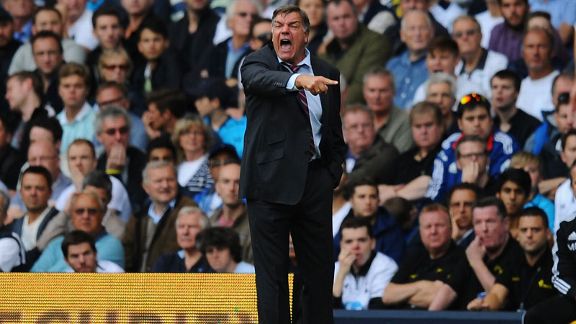 GettyImagesSam Allardyce barks instructions to his West Ham team.
Allardyce outwits Villas-Boas, and deserves credit as well as the points

The fear before this game was that chants in the stands might overshadow events on the pitch. Mercifully, that never came to pass. More trivially, though, the disrupted nature of the football ensured most of the attention then turned to the benches.

A frustrated Sam Allardyce spent much of the game cursing at the fourth official. By the end, he was cheering. Ultimately, the West Ham manager took Tottenham down to his level.

- Fitch: Lamentable Spurs
- Thorne: Great afternoon at the Lane

That should not be taken as the insult it may sound.

For all the comedy that Allardyce can create, and the manner in which he and his teams are occasionally patronised, he possesses a genuinely keen tactical mind. Even if he is unlikely to ever manage a top club, that canniness should not be forgotten. Andre Villas-Boas will certainly not want to remember this defeat.

To his credit, Allardyce completely outwitted the Spurs boss. By playing a withdrawn 4-4-2 that didn't actually feature any true strikers, West Ham interrupted all of Tottenham's recent rhythm and then took advantage of the gaps. Winston Reid's goal came from a corner that saw some criminal marking, Ricardo Vaz Te's from a break. The "false No. 9" Ravel Morrison offered the coup de grace by blitzing through the Tottenham defence.

West Ham actually started the game playing superior passing football to Spurs, and finished it by easily keeping it at bay.

In that, for all that Spurs still need to integrate so many new players, there is a slight worry about Villas-Boas' capability to react to opposition manager sidesteps. In the 1-1 draw against Chelsea, he failed to adapt to the introduction of Juan Mata, and just couldn't make his team click here. A certain indecision was reflected by the manner in which, just after West Ham scored their second, he told Lewis Holtby he was not coming on and then immediately said the opposite.

By then, however, Allardyce had played his hand. It offered both vindication and victory.

From a supposed lost cause to a genuine match-winner

After a goal like that, in a performance like that, the questions will grow about whether Ravel Morrison should have remained at a grander club like Manchester United. Those at Old Trafford may certainly wonder why he is playing so well elsewhere, particularly given the dire need for new energy and spark in the English champions.

Of course, part of the issue with Morrison -- for a whole variety of reasons that ranged from the personal to the professional -- was that he needed a change to finally start making good on his talent. It was no coincidence that he ended up at West Ham, under a manager with a deservedly good reputation for reconstructing the careers of some notoriously difficult players.

There was a peculiar moment here as the players went into the tunnel at halftime, when the score was 0-0. With Morrison walking alongside Kyle Walker, Spurs assistant manager Steffen Freund appeared to nudge the West Ham forward with his arm.

It may have just been some good-natured chiding, it may have been an attempt to wind up a notoriously difficult individual.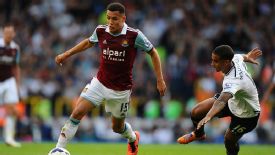 GettyImagesRavel Morrison surges forward for West Ham against Tottenham.
Either way, it had no effect, unless that was to rev Morrison up. By the 79th minute, he was blazing through the Tottenham defence and illustrating his power and potential, before displaying his deftness with a dink over Hugo Lloris that just crept in.

It was superb, and capped off a fine performance as well as a promising few weeks. Gradually, a player who had been seen as a lost cause may be becoming a genuine match-winner.

Reality check for Tottenham, but one that isn't necessarily all that grim

Part of the problem with this stage of the season, with so little evidence to actually go on, is that an awful lot tends to be read into individual results. Two weeks ago, Tottenham were put forward as title contenders. After this, there may be a few questions about their capability to get into the top four again.

There can be no denying this was a dismal result and performance. Who could have seen this coming? It was disconcertingly emphatic.

At the same time, that does not mean the effects need be emphatic, either. At the very least, Villas-Boas has an even better knowledge now of what he needs to fix.

The defence was too easily exposed, both in open play and at set pieces. It is probably time to give Erik Lamela a starting place, even if Gylfi Sigurdsson temporarily did a fine job in holding him off with some high-quality goals.

Overall, the team was too easily cowed and needs to discover extra urgency and impetus in such situations.

At the front, there is a reason Jermain Defoe has only really been starting in the Europa League. Ultimately, he is not suited to games as a lone front man. His link-up play isn't quite good enough, and it seemed to affect his normal ability to finish as he squandered a fine chance just after halftime.

These are all problems that probably mean Spurs won't be title contenders. They do not mean they are suddenly in crisis, no matter how crushing the result.