Fulham win gives glimpse of life in the middle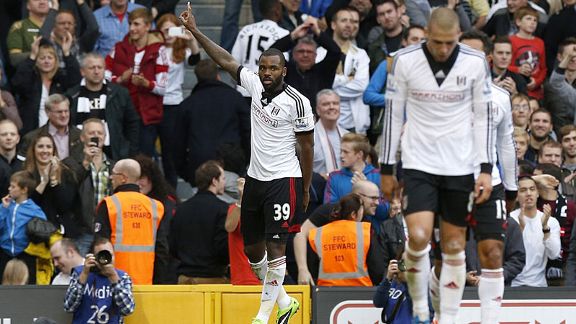 PA PhotosDarren Bent scored as Fulham edged out Stoke at Craven Cottage.
LONDON, England -- As Martin Jol admitted his utter relief, he also attempted to apply an element of perspective.

"I think if you are at a club like Fulham, you have to be patient," the 57-year-old said at the end of a late 1-0 win over Stoke City that ultimately held off the increasing impatience of the Craven Cottage crowd.

"Somebody told me that they had six points after eight games [in one season] so it's not an unfamiliar position. We shouldn't get carried away by early positions. At one stage last season we were first and the fans were talking about top four."

• Premier League gallery



It is those extreme reactions to such short-term situations, if also that glimpse at the more exacting realities of the Champions League places themselves, which encapsulate the eternal issue at mid-tier clubs like Fulham.

The very glamour at the top end of the league has created a much more mundane world underneath, where the potential for upward mobility is so low but the recurrences of managers like Jol ending up under pressure will be quite high.

In the context of the uncertainty around his job, Stoke were arguably appropriate opponents that ensured this game was an interesting case study, not least for the presence of Mark Hughes on the opposition bench.

The Welshman initially left Fulham in 2011 because of what he felt was a lack of ambition at the club, and was appointed manager at the Britannia precisely because Stoke City finally wanted to do something more adventurous than the physical football which did admittedly see the side forcefully anchor themselves to the middle of the Premier League.

This is the Sisyphean cycle these clubs find themselves in, eventually seeing bold football roll away rather than boulders. Both Fulham and Stoke define it in different ways. Because, unless a truly innovative structure is implemented, the best such clubs can hope for is an upper mid-table position and the type of pleasing football that security should bring.

Jol arguably struck the perfect balance around this point last season, as Fulham rose up the table in the manner he mentioned with some gloriously expansive football. Devoid of the pressure at the top and bottom end of the league, talents like Dimitar Berbatov were able to express themselves more freely.

The long-term problem, however, is that a lack of potential for progress will always eventually be accompanied by stagnation and then staleness. That seems to be precisely what has happened at Fulham, and was arguably only emphasised by the fact Jol secured that badly-needed win against Stoke by bringing on one of the most one-dimensional forwards in Darren Bent.

While the striker's capacity for goals can never be questioned, the lasting issue with him is that managers ultimately need to make their side so much more predictable to provide adequate service. Without that element of wonder, Jol was forced to rely on that staple of such sides: everyday grafting.

"We worked ever so hard. Nobody can fault us for our application."

That cuts to the crux of the matter. While the impression remains that Fulham will be fine and remain comfortably in mid-table even with Jol, it suddenly seems doubtful they can ever be so imaginative under him again without significant investment. The Craven Cottage club have a net spend of just £4 million from the last four windows.

As a consequence, there is actually some rationale to the arguments that the club should replace him that are not entirely borne of panic, even if is not entirely Jol's fault either. Because of the fact such sides find it almost impossible to change their overall status, they arguably need to semi-regularly change from within to keep things fresh.

A further issue with Fulham is when you consider that longer-term history of the club. They enjoyed a dramatic rise up to the divisions, excitedly consolidated their place, but now feel part of the furniture. Again, it's about perspective and what you get used to.

In that, it is going to be interesting to see what happens at Swansea, who presently feel so full of potential. Although the club have an admirably unique structure which is based more on coaching and football rather than finance, that tension between the technical and economic sides of the game will eventually arise. Roberto Martinez recently spoke of how he saw Villarreal as the example in Spain, but all his attempts to follow their lead did not stop Wigan eventually succumbing to their lack of resources in a longer season.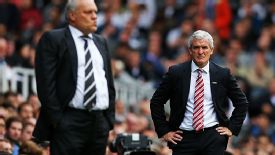 GettyImagesMark Hughes' Stoke fell to Fulham despite their strong passing game.
Right now, Stoke find themselves on the opposite side of the cycle to Fulham, as their match at Craven Cottage ultimately revealed.

They are attempting a more open style of play, and admirably out-passed Jol's side for long periods. Ultimately, though, the fact that process is still at such an early stage counted against them.

"We had control of the game, tried to create opportunities for ourselves, thought we did that, created opportunities at set-plays, good opportunities to pick the right pass and never quite did it," Hughes said.

"End product is something we need to address. We're not getting on the end of things and not taking changes when we do create them."

In such situations, and with so many teams so close in quality, the quirks of fortune can suddenly make a significant difference. Last season, for example, a Norwich that were perceived to be in trouble found themselves in 11th on the final day.

Here, Jol added insult to injury in quite literal terms. Having survived two penalty scares that Hughes railed against, the Fulham manager admitted that he would have left Berbatov on had the Bulgarian picked up a knock. As it was, Bent came on, the ball took a fortuitous deflection and the forward side-stepped Asmir Begovic to knock the ball into the middle of the net.

Fulham are consequently much closer to the middle of the table and, after so much pressure, on the same points as Stoke.

"There are a lot of teams who will be under pressure," Jol warned. "Hopefully we will get out of it. All these teams will struggle."

Even accounting for occasional strides forward, that seems to be life of it at that level of the Premier League.