Townsend effort vs. Swans provides Bale escape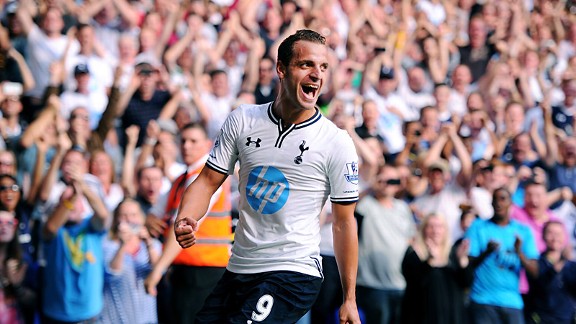 Michael Regan/Getty ImagesRoberto Soldado converted from the spot for the second league match in a row for Spurs.
LONDON -- Willian has been seduced by the blue side of London, Erik Lamela remains at Roma, but in the absence of a costly replacement for Gareth Bale, Tottenham Hotspur have been able to call upon an inexpensive one of their own. Andros Townsend has been with Spurs since he was nine years old, he's played on loan for nine different clubs and now he's making up for lost time. The 22-year-old was in inspired form at White Hart Lane on Sunday, repeatedly eviscerating the Swansea defence and earning the second-half penalty that allowed Roberto Soldado to slip home the winning goal. As he left the field to a standing ovation in the 87th minute, Townsend was hugged close by gleeful assistant manager Stefan Freund. He won't be sent out on loan again.

"Townsend receives the ball with one objective," said Andre Villas-Boas in his post-match news conference. "To beat his man. He's really adding to our game, he has that light and spark. He's an explosive player. We gave him the opportunity after what he did to Dinamo Tbilisi and he took it very well."

- Crace: Willian replacement still required
- Match report: Tottenham 1-0 Swansea
- Report: Chiriches 'on his way to Spurs'

It had all looked a little ominous after just 16 minutes when Swansea's Ben Davies swiped at Townsend's legs and gave away a free-kick on the edge of his own penalty area. Instinctively, you felt the home supporters scan the pitch for Bale, scorer of so many thunderous free-kicks last season. Sadly for them, Bale was probably kicking his heels in some five-star hotel in Madrid, presumably thumbing through a phrasebook and looking for the Spanish translation of, "Please, Cristiano, can I take the next one?"

In his absence, up stepped new signing Nacer Chadli. The young Belgian assessed the situation, took a deep breath and carefully tonked the ball high over the bar. The crowd sighed heavily. Life without Bale will take some getting used to.

Villas-Boas confirmed that Bale had been given two days off from the club and, like other non-selected players, was under no obligation to attend the game. "I would expect him to be in training on Tuesday," he said.

Just as Arsenal's youngsters blossomed after the departure of Thierry Henry, perhaps the Welshman's departure will be the making of Townsend. With the middle of the pitch so congested, thanks mainly to the energy of Jose Canas, the only room for manoeuvre was on the flanks. Poor Davies, an excellent young full back, was given a torrid time throughout, tormented with trickery and roasted for pace.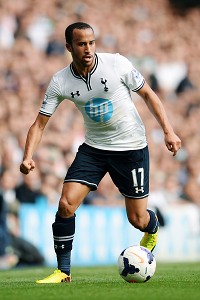 Michael Regan/Getty ImagesAndros Townsend's effort versus Swansea was a welcomed sight for a soon-to-be Bale-less Spurs.
"It was a very good performance," Villas-Boas said. "Defensively we were very sound against a team that usually dominates possession. We had more of the ball, we controlled the game... we deserved the win."

Townsend should have earned a penalty just before halftime when he was clearly tripped by Jonjo Shelvey inside the penalty area. Clearly, that is, to everyone in the stadium except the match officials, who awarded a free-kick. Fortunately, Shelvey was kind enough to repeat the offence in the second half, this time under the unobstructed eye of Swarbrick. Not that Michael Laudrup was convinced.

"The first one should have been a penalty," admitted the Swansea boss after the game to the press, "but the second one wasn't." Laudrup declined the opportunity to label Townsend as a diver and he tried to be diplomatic about the incident. "We have to accept it. We can always discuss that penalty, but it's given and he scored."

Soldado, who opened his account with a spot-kick at Crystal Palace, beat Michel Vorm with a degree of comfort.

A penalty was probably the only way to beat the Swansea goalkeeper. On frequent occasions in the first half, Vorm displayed reactions so swift that the only logical explanation was that he was some kind of replicant covertly living among humans, risking his cover with ill-advised acrobatics. Had it not been for him, Spurs could easily have scored more.

Laudrup's side have won legions of new friends with their attractive, possession football, but it's becoming harder and harder to ignore the fact Swansea have won just two league games since lifting the League Cup in February. In ordering them to face Manchester United at home and Tottenham away, the fixture computer has hardly aided the Welsh side. So impressive in the Europa League, they are long overdue a result on the home front.

It wasn't for the want of trying. Once again, the intent to attack was always there, but there just wasn't the room. Shelvey's passing was as off-key as his tackling, Jonathan de Guzman infuriated his manager by repeatedly wasting possession and Michu cut a frustrated figure at the top of the pitch, starved of service and penalised by a picky referee.

While Soldado has scored the goals and Townsend was the obvious star of this show, mention must be made of Etienne Capoue in the middle of the park. The French midfielder seems to have been carved out of a cliff and brought to life by some ungodly power. He smashes around the pitch, straight-backed, his head held high, as opponents bounce off him and tumble to the ground. Uninterested in making a name for himself by surging forward in search of glory, he is content to lurk menacingly in front of his own defence. He could prove a most inspired signing.

Villas-Boas straight-batted questions about Willian and was content to wish him good luck at Chelsea, but he opted against making any comment on Romanian defender Vlad Chiriches just in case, "someone steals him too."

The day, however, belonged to Townsend. Creator of the goal and persistent scourge of Swansea, he will be relishing the delay in sourcing a big-name replacement for Bale. This is his opportunity and from the looks of things, he has no intention of wasting it. Tottenham will miss the Welshman, as any team in the world would, but his departure does not necessarily mean the end for this team. Others are waiting in the wings.