Three Things: Man City vs. Everton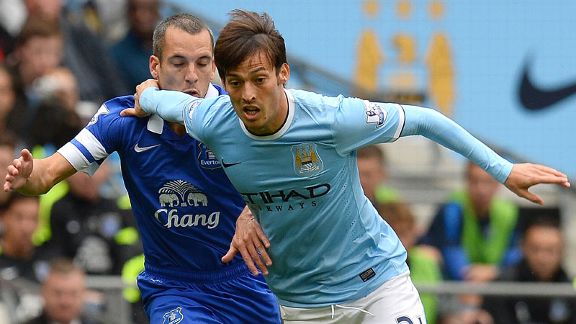 GettyImagesLeon Osman struggled to deal with the movement of David Silva.

MANCHESTER, England -- John Brewin brings us his three observations from Manchester City's 3-1 win over Everton at the Etihad Stadium:

You got the Silva

David Moyes usually had the beating of Roberto Mancini's City, but his replacement has the notable scalp of an FA Cup final victory over the Blues to his name. Moyes' teams secured victory through dogged defending and breakaway attacks. Roberto Martinez's Everton like to play a possession game, and they began the game as if they were the home team.

They played with the confidence gained from being the only unbeaten team in the Premier League, but were punished for lacking the positional sense and calm of Gareth Barry, ineligible to play against his parent club. The peerless status is now gone, and, although referee Jon Moss will be blamed for some very odd refereeing, especially for two bizarre penalty decisions, City possessed too much quality for Everton.

City's power game soon pinned Everton back, and David Silva provided the creative craft. The Spaniard, recovered from injury, was a late sub in midweek and caused Bayern problems. His importance to City continues despite his absence from the derby day massacre of a fortnight ago. Switches of position from left to right, including a spell as a withdrawn centre-forward, sent Everton radars haywire. Barry might have been better placed to know where his erstwhile colleague would pop up next; Leon Osman and James McCarthy certainly had no idea.

Everton have delighted with the quality of their football this season, but Martinez is not one to double-lock the back door in the style of his predecessor. The quality of City's attackers meant a lack of concentration from Seamus Coleman was twice taken advantage of before half-time.

In Alvaro Negredo and Sergio Aguero, Manuel Pellegrini fielded the strike partnership most had expected to play against Bayern. His selection of Edin Dzeko in midweek remains a mystery, and Stevan Jovetic was not even in this match-day 18. A player previously coveted across the continent has barely made any impression at Eastlands, aside from in the League Cup.

Aguero is perhaps not as deadly as two seasons ago -- he missed two first-half sitters -- but is the undisputed No. 1 choice. Negredo cannot be far behind. His rapid-fire equaliser, set up by a delicate Yaya Toure pass, was taken with cool, to follow the fine strike that bamboozled Manuel Neuer. Aguero's goal before half-time was him back to his very best. The assist provider was -- of course -- Silva.

Hart losing heart?

Joe Hart's Munich meltdown against Bayern on Wednesday had led many to suspect that Pellegrini might take him from the firing line. He was given one more chance. The large, loping figure of Costel Pantilimon was the alternative. The Romanian's name might sound a bit like a feminine hygiene product, but there is faith in him in the City backroom team.

Hart's outward demeanour has always seemed confident, brash even, but he wore a pained look of resignation as he committed errors for all three Bayern goals. Franck Ribery's first sapped his spirit, and the image of Bayern fans doing the Poznan behind a stricken Hart was one of almost total humiliation. Roy Hodgson, set to be a pundit on Saturday night's Match of the Day, might well have been watching through his fingers; being forced to rely on a calamity-prone keeper for two crucial World Cup qualifiers is very far from ideal.

"England's No. 1," encouraged the City fans. There is plenty of credit for Hart in the box for his outstanding form in City's championship season, but there is a growing sense of fans losing some confidence, too. One late save, bread and butter to any keeper above Unibond League level, was given rapturous applause. That hardly embodied unbridled belief in Hart.

By then, Hart had already given them plenty of palpitations. In the 15th minute, the ball squirted through with Romelu Lukaku chasing it down; Hart was hesitant. Less than a minute later, the Belgian powered through two City defenders and shot, not without power but within Hart's wingspan. Just like on Wednesday, Hart got a hand to it, but, just like on Wednesday, it was a weak hand. The net billowed while Hart cursed those goalkeeping gods who have deserted him.

A fine save from Kevin Mirallas might have lifted his gloom, even if the flag had already gone by the time he had palmed the ball away. The second half began with a panic when sold short by Aleksandar Kolarov. There was another moment of hesitation, but the clearance was made, even if it did lack poise and grace. Hart, once head and shoulders above all other English goalkeepers but now in a worrying slump, at least has the faith of his club and country managers in him. For now.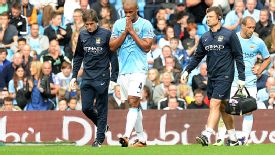 PA PhotosMan City captain Vincent Kompany was injured during the game against Everton.
Bad Kompany

He left the field politely clapping the fans who had given him the same treatment, but his face was a picture of anguish. City are just not the same team without Vincent Kompany, and of personal concern might be his possible absence from Belgium's crucial World Cup qualifier in Croatia. The skipper, the standard-bearer, the inspiration, is picking up rather too many injuries of late.

The absence of a centre-back from the summer's 100 million-pound spree, save for mystery man Martin Demichelis -- missing with injury already -- looks a potentially dangerous omission. Matija Nastasic has suffered a torrid start to the season, and was lucky not to give away a penalty when shoving Steven Naismith just minutes after replacing Kompany.

Joleon Lescott had been hugely culpable in Lukaku's goal, and he was rolled a further couple of times by the Belgian dreadnought, too. When Nastasic fell heavily and grabbed his knee, there looked a potential crisis at hand. The young Serb soldiered on, but the central defensive cupboard looks bare, and vulnerable with it. Ahead of them, Fernandino and Toure do not provide enough of a shield. When Kompany is around, that is not so much of a problem, but City might need to consider an alternative.