Hart failure leads to City woe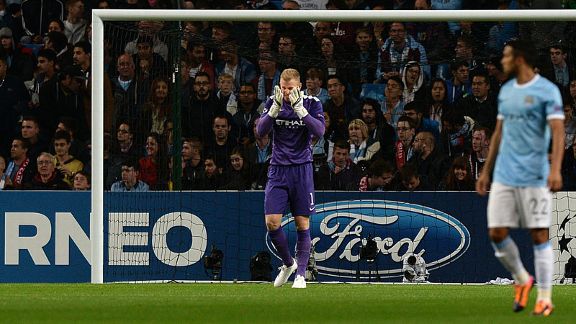 GettyImagesJoe Hart holds his head after letting the ball in.
MANCHESTER, England -- So now Manchester City know how Manchester United felt at the Etihad Stadium 10 days earlier. Out-passed, out-classed, outfought, out-thought, they were flattered by a scoreline that featured a late consolation goal.

"We played really bad," said manager Manuel Pellegrini. "It is not the team we see in the Premier League." However, it was the goalkeeper they see rather too often on domestic duty: Pellegrini was forced to confront the reality that Joe Hart's dip in form is no mere blip while his side were subjected to a footballing lesson.

They were "Mullered" -- not to mention "Riberyed" and "Robbened" -- by a brilliant Bayern Munich team, the victors continuing their onslaught after the final whistle. "We didn't expect an easy game like that," said Arjen Robben, declining to be diplomatic. He and his colleagues were so good they didn't need to be. Even Pep Guardiola, while rejecting invitations to criticise City, admitted: "We dominated."

- Report: Manchester City 1-3 Bayern Munich
- Brewin: Three things learned
- Curtis: Champions of Europe

The banner hung by the visiting fans boasted of "red power". Red pace and red passing were as significant and, if Guardiola's athletes-cum-artists are the finest of the excellent sides City have played in the Champions League over the past couple of seasons, defeat was a new and unwanted feeling nonetheless.

Pellegrini was appointed to change City's fortunes in Europe and he did; whatever Roberto Mancini's other failings, the Etihad Stadium was never conquered by visitors from the continent in his reign. The Chilean, deemed a Champions League specialist after his exploits with Villarreal and Malaga, discovered everything he did backfired.

Pablo Zabaleta was omitted, with the quicker pair of Gael Clichy and Micah Richards ordered to man-mark the Bayern wingers, but the dogged Argentine would have been preferable to either; Robben and Franck Ribery both scored, neither supposed bodyguard performing his designated duties. The choice of the anonymous Edin Dzeko ahead of the more potent Alvaro Negredo, who illustrated his class in a goal scoring cameo, was another indication of an inverse midas touch, even if carping at the choice of strikers ignores other issues.

It is all but impossible to beat Bayern with a 4-4-2 formation which, despite mentions of 4-2-3-1, is essentially what Pellegrini plays. "I thought it was not the correct way to change the whole system before the match," the Chilean said. So he had to do it during the game, rectifying his earlier errors by bringing on Negredo, David Silva and James Milner and switching to five in the midfield as City gained a belated foothold.

Before then, the best team in Europe, managed by an advocate of passing, were granted a numerical advantage in the middle of midfield; Philipp Lahm, Toni Kroos and Bastian Schweinsteiger duly capitalised. Just as Guardiola had killed City with kindness with his pre-match suggestion they could be potential finalists this year, they were asphyxiated by their inability to get and retain the ball.

They completed 219 passes, Bayern 463. Two of the most significant were among the longest; they twice eschewed the short ball to create goals with long diagonal passes. It was an indication of the range of their game -- "We were very good at switching play," Guardiola said -- and an indictment of City.

"I think we can do better for the three goals," said Pellegrini, with typical understatement. Richards, rather than guarding Ribery, lost him and was distracted by the overlapping David Alaba when Rafinha found the Frenchman with a 50-yard ball.

He picked out the bottom corner, with Hart parrying the ball in to add to his compendium of cock-ups. City have lost three times this season and he has blundered in costly fashion in each defeat. "Of course I am worried about the mistakes," Pellegrini said. The outstanding performance of Hart's City career came against German opposition in the Champions League but that was Borussia Dortmund a year ago before his reputation dipped with every error. Now he cuts a frail figure, his trademark arrogance failing to camouflage his fallibility.

Then Clichy was caught ball-watching as Thomas Muller, the master of magnificent movement, ghosted in behind him to meet Dante's long ball, wander round Hart and score. Three minutes later, Fernandinho tried to beat Kroos, was dispossessed and the German released the rampant Robben to finish.

"Of course I was surprised by the game we played," Pellegrini said, before suggesting it is a one-off. "You can have a lot of conclusions but it is only one game." For City, perhaps. For Bayern, it is not. It is the continuation of an extraordinary run of exhilarating football, of an 11-month period where they have won four trophies and only lost two games.

And a footballing force now have a philosopher at the helm. Guardiola described his ideas in an idiosyncratic, compelling way: "The players have to run like animals and with the ball they have to play as a child when they start to play football. The ball is the centre of our idea: it starts with the ball and finishes with the ball."

And Bayern's Champions League, once again, may finish in the final with a further demonstration of red power.

MAN OF THE MATCH: Arjen Robben -- Guardiola declined to nominate one outstanding individual but Robben, the man who won Bayern the Champions League last season, was in scintillating form again.

MANCHESTER CITY VERDICT: Another depressing European evening. The only good news, besides the return to fitness of Silva, who hit the bar, is that the rest of the group will not be as difficult. Their hopes of qualifying probably come down to the double header against CSKA Moscow. Guardiola, for one, is tipping them to go through. But they cannot afford to play this badly again.

BAYERN MUNICH VERDICT: They will have to cope against the minnows of the group without Jerome Boateng, sent off for bringing down Yaya Toure, and Guardiola was unhappy with the way they defended set-pieces. Otherwise, however, they were exceptional.