Barcelona struggle without their Messi-ah
GLASGOW, Scotland -- Considering Lionel Messi plays in a squad of all the talents, Barcelona as one-man team might seem a far-fetched concept. However, many a footballing force has faded without its main man. Ajax fell sharply once Johan Cruyff departed in the 1970s; only recently have Napoli become a European force since the 1991 day when Diego Maradona fled Neapolitan life in drug-fuelled disgrace; Manchester United have never been quite the same after losing Cristiano Ronaldo.

• Report: Celtic 0-1 Barca
• Ledwith: Barca avoid repeat of Celtic nightmare

That, presumably, was the point of signing Neymar: a new counterpoint in case of the master suffering a mishap. Once it became clear that Messi's injury against Almeria would keep him out of Tuesday's trip to Celtic, this became the Brazilian's night to come of age. If he is not yet his club's leading actor, he was certainly the villain of the piece for Celtic's fans. When his late shot was saved by Fraser Forster, Parkhead roared in jeering appreciation. They could not bear to have him score. He had outraged them.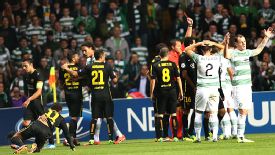 GettyImagesNeymar picks himself off the ground as Scott Brown is sent off.
Neymar's playacting had yielded notoriety and righteous indignation. Scott Brown's tackle on a galloping Neymar was rash from the Celtic captain. In following it up with the stupidity of a clearly visible dig at the Brazilian, he offered little choice to the French referee other than to send him off, even if Neymar continued to make the most of it. "Uncalled for and unnecessary," said Neil Lennon of Neymar's antics, though he admitted his captain might have been better served not to get involved at all.

Neymar had done himself little credit, considering he had shown that he possesses such a range of skills, yet a true end product is so far lacking. Just two goals so far this season hardly signifies a stellar start.

In latter-day Spanish football, the megastar smashes in goals at the destructive rate of a Ronaldo, Messi or Falcao. At the Confederations Cup, Neymar showed the world he is similarly capable, with four goals of thrilling quality. The move to Europe is yet to take off, even if the skills can be as destructive as they eventually were to Celtic. Having disposed of Brown, it was he who supplied the key pass that led to Cesc Fabregas' winner.

"Messi and Neymar have similar qualities," explained Martino. "They are both skillful at breaking out the opponents' defence." Neymar was usually furthest forward, initially from a left-hand side starting position, though did plenty of interchanging with Fabregas and Pedro.

Celtic were unable to conjure up the magic of a year ago, a night described in Tuesday's Daily Record as the second greatest in club history. Victor Wanyama is now at Southampton, Kelvin Wilson at Nottingham Forest, while winning goal scorer Tony Watt is in Belgium at Lierse. That night, Messi was among the slain giants, but Celtic were a much better team then. Had Messi been present, it was easy to consider that Barcelona's revenge could have been taken more easily, and without the late palpitations that Celtic's fighting spirit supplied.

As time draws on, Messi's hold on Barcelona's fortunes tightens. The young player who chased the ball like a puppy dog eager to please its master has become, at 26, a hardened professional, fully aware of his status, and not short of telling less immortal colleagues what he thinks of their failings. Barcelona have been built in Messi's image since the summer of 2008; no less a trio of Zlatan Ibrahimovic, Thierry Henry and David Villa has paid the price of getting in the way of his burning ambitions. Alexis Sanchez is the latest to bear the brunt of the little man's affront at lesser talent. Neymar is now in the firing line. He and Messi are yet to play together like blood brothers.

Life without Messi brought pain last season. Hamstrung, and playing on one leg, he limped on to save a quarterfinal tie with PSG. "It doesn't matter if he's a little bit injured - he can change everything," said Gerard Pique that night, but taking such risks eventually paid unwanted dividends. By the time Messi faced Bayern Munich, looking far less than fresh from another muscle injury, Barcelona were pumped 4-0 and he was a passenger, totally unable to affect events. Barcelona lost their status as the best team in Europe.

The new answer to the question of making Barca more than just Messi happily switched with Pedro and Cesc Fabregas, and was responsible for his team's most threatening moments. Yet until Brown's dismissal, Barcelona were decidedly blunt.

They dominated possession, of course, with Xavi and Iniesta classy as ever. Once they, with Sergio Busquets behind them, began to jell, Celtic were reduced to panicky shadow-play. Only the odd break lifted hackles and hopes among home fans who could never quite produce the type of atmosphere that prevents their team's opponent from thinking straight.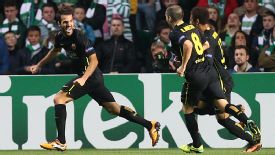 PA PhotosBarcelona celebrate Cesc Fabregas' winner at Celtic.
Fabregas is not a centre-forward, nor does he seem to be a "false nine." The frustrations that led him to dally with Manchester United were said to centre around being unable to play in the position he thought would be his by now. Still, his match-winning header showed that he has the finisher's art. Neymar, barracked as he ran, freed sub Sanchez with a wonderful pass out wide and the Chilean's looping cross was directed back, across and beyond Fraser Forster.

Barcelona had been fortunate not to pay for their profligacy. Celtic, pushed on by a sense of misplaced injustice, had twice gone closer than Barca ever had previously. Victor Valdes was forced to save to his right from James Forrest's goal-bound shot. Charlie Mulgrew missed a header when poorly marked and Valdes had lost sight of the ball in the floodlights.

Within 120 seconds, a move started by Neymar had broken Celtic hearts. He is not Messi, but he had been the match winner, by fair means and no little foul. "We prefer to play with Messi," said Martino. "When he is not available, his absence is not an excuse." It remains a compelling explanation, though.