Rapid Reaction: Arsenal-Napoli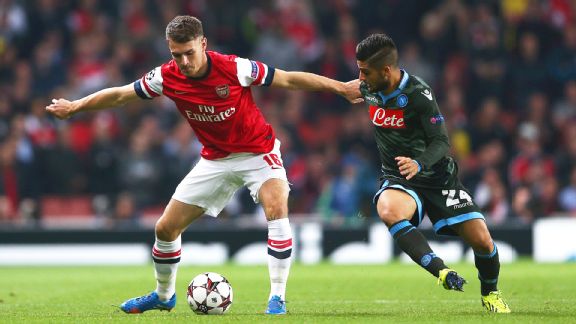 Paul Gilham/Getty ImagesArsenal's midfield, including top Premier League fantasy performer Aaron Ramsey, played a huge role in the club's win over Napoli.
LONDON -- Arsenal clicked on all cylinders in their 2-0 Champions League win over Napoli on Tuesday, giving manager Arsene Wenger plenty to celebrate on his 17th anniversary of joining the club. Here are five standout points from the match:

1. How quickly things change

Remarkable, isn't it, the difference a couple of months make? Down 2-0 and booed off the pitch against Napoli at halftime in the Emirates Cup back in August, storm clouds were gathering around Arsenal. How they have cleared in the meantime. The mood around Ashburton Grove has lifted. In terms of atmosphere, it's completely unrecognisable. Arsenal's players were applauded as they left the pitch at the interval and at full time. Same opponent, different score line. This time they were 2-0 up and that's how it stayed. They played football worthy of comparison with the Arsenal teams of 1997-98, 2001-02 and 2003-04. It really was breathtaking. Napoli came dressed in camouflage and you could be forgiven for thinking they weren't there, such was the calibre of Arsenal's performance. There was a swagger about them. Of course, you might expect that from a team that had lost only one competitive game since March 4 and had won each of its last nine games (if you include overcoming West Brom on penalties in the Capital One Cup). Even so, it was a surprise. It has been said that Arsenal haven't really been tested yet. Their opening fixtures have been relatively kind. But they can now point to this exploit against Napoli -- still unbeaten in Serie A with five wins from six -- and a victory over Tottenham in the North London derby to anyone making that quibble. Top of the group of death with maximum points, Arsenal couldn't have wished to go into their doubleheader with Borussia Dortmund in a better position.

2. Ozil again representative of Arsenal's jump in class

Tonight's match was built up by some as a game between the "orphans" of Real Madrid: Gonzalo Higuain of Napoli and Mesut Ozil of Arsenal, all 78 million pounds of them. Unfortunately, a calf strain picked up in training on Monday night meant that Higuain, so close to joining Arsenal in the summer, didn't even make the bench. It was left to Ozil to write the script, and his role was a defining one. The Germany international opened the scoring with his first goal for Arsenal in the eighth minute, finishing a move of the highest order: Olivier Giroud laid a pass off to the excellent Aaron Ramsey on the right, who cut the ball back to the edge of the box, where Ozil arrived and cushioned a left-footed shot beyond Pepe Reina. After a quarter of an hour, Ozil was decisive again, picking up a loose ball and playing in to Giroud at the near post for the Frenchman to score his fifth goal this season (between Premier League and Champions League). The combination play between Ozil, Ramsey and Giroud was a joy to watch. There have been times over the last year when Arsenal's attacking patterns have been predictable. As has become apparent over the last month, that is no longer the case. Napoli couldn't live with it.

3. Napoli's defensive issues

Credit should go to Arsenal for the guile with which they went forward, but Napoli were all over the place at the back, particularly on the left-hand side of their defence. With the ink still wet on his lucrative new deal, Juan Camilo Zuniga was caught out in each of Arsenal's goals, as was centre-back Miguel Britos. It was his poor clearance that fell to Ozil ahead of the home side's second goal. Unable to bring in a partner for Raul Albiol over the summer, with efforts to sign Liverpool's Martin Skrtel ultimately coming to nothing, one imagines that manager Rafa Benitez, who doesn't seem to rate Napoli captain Paolo Cannavaro highly, will make this a priority once the transfer window opens again in the winter. So far Napoli's transition from a three-man to a four-man defence has gone relatively well, but individual mistakes are mounting. It's enough to think of Reina's against Chievo and Sassuolo, Zuniga's against Dortmund, and those made by him and Britos tonight. Eradicating those errors ahead of their own doubleheader with a decent Marseille side will be paramount if they are to remain in contention to qualify for the knockout stages ahead of their trip to Dortmund and Arsenal's visit to San Paolo.

4. Did we expect too much from Napoli?

Perhaps. Memories of how they escaped a group of death comprising Bayern Munich, Manchester City and Villarreal the season before last are still fresh. Their formidable start to the season in Serie A and the way they provoked Dortmund, last season's runner-up in the Champions League, into self-destruction a fortnight ago made everyone sit up and take note. Benitez's record in this competition meant they weren't to be underestimated, either. But let's not forget how relatively inexperienced this group of Napoli players are in the Champions League. New recruits Reina, Albiol and the injured Higuain were brought in partly to add continental know-how. Napoli were schooled by Arsenal tonight. Napoli weren't allowed to play their own game. A team used to controlling the game at home and away in Serie A this season -- Napoli has averaged 60 percent possession -- had just 36 percent of the ball tonight. They would have aspired to take a greater hold of the game, even if they perhaps came to the Emirates intent on a change of emphasis, siding more toward the counterattack.

5. The Emirates remains an unforgiving place for Italian clubs

Julio Cruz, Andy van der Meyde and Obafemi Martins. Remember them? They were the goal scorers when Inter overcame Arsenal 3-0 at Highbury a decade ago. Quite remarkably, that was the last time a team from Italy played in front of the Clock End and left with a win. Fabio Capello's Juventus imploded and lost 2-0 in 2006. Carlo Ancelotti's Milan, the holders, could only draw 0-0 in 2008. Luciano Spalletti's Roma were edged 1-0 a year later. Francesco Guidolin's Udinese then went down 1-0 in 2011, and Max Allegri's Milan were thrashed 3-0 in 2012. Not one of them even managed to score goal. It put into context the scale of the task facing Napoli this evening. It looked even more of an uphill climb without Higuain, a goal scorer in their victory over Dortmund with four goals in his first six appearances. Ending runs like these has been Napoli's calling card under Benitez this season. For instance, Napoli beat Milan at San Siro for the first time since April 13, 1986. Alas, leaving the Emirates with a historic victory over Arsenal was beyond them.