Three things: Sunderland-Liverpool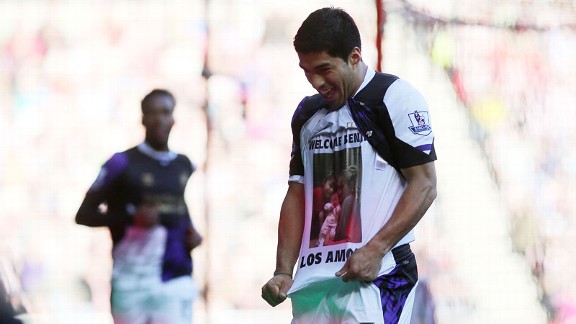 AssociatedLuis Suarez pays tribute to his new son after netting the first of his two goals against Sunderland.
SUNDERLAND, England -- Three observations from Liverpool's 3-1 win over Sunderland:

Suarez's brace does not hide the rust

It had been 153 days since Luis Suarez last scored a league goal. Patience must now be a virtue for the Uruguayan, who -- after making his first appearance since his 10-match ban in the Capital One Cup defeat to Manchester United in midweek -- appeared surprisingly nonchalant during his warm-up for his Premier League return. Perhaps that's because he knew that the magic he so often brings to matches is still cooking inside him. After so long out of the game he so enjoys, a degree of rust is almost inevitable, and despite the free-flowing danger he threatens with a ball at his feet, he is not invincible.

Liverpool manager Brendan Rodgers conceded this after Sunday's game, as he spoke of Suarez's extra conditioning and finishing sessions during his enforced sabbatical. Rodgers also confirmed he granted his striker trips back to Uruguay in a bid to quell his frustration at not playing.

The forward's estrangement from Premier League football was typified in the second half, when an attempted step-over finished with the ball behind him. But, while the home crowd cheered, he remained calm; by that point, he had already scored a tap-in and professed love for his newborn son through the T-shirt underneath his strip. He would be granted an opportunity to display a second celebratory message after a rapid Liverpool breakaway in the final throes of the game.

Yet, despite his two-goal haul Sunday, there is clearly more to come from the Liverpool forward, which is a testament to his undoubted talent. Just as with his midweek run-out at Old Trafford, there were displays of his talent -- a nutmeg, a dangerous turn -- but it was never aligned with enough of his other tricks to make you believe he is back to his best.

Of course, during his lengthy absence, there have been numerous changes for him to now acclimate to -- most notably tactical changes and new personnel, including the three new teammates he played alongside on Sunday. Suarez is feeling his way into a new style that looks somewhat unfamiliar to him. However, while there had been questions raised as to how he would mesh with Daniel Sturridge in attack, this display offered plenty of encouragement: Sturridge provided two goals and an assist to complement Suarez's brace, and the pair showed there is enough space in Liverpool for two big fish. While Suarez will always be the bigger one, for Liverpool to be blessed with such a pair of talented strikers is the ideal foundation to try to mount a title challenge.

Liverpool are in a tactical period of transition

Rodgers is attempting to rebuild the side with a 3-4-1-2 formation, and -- in part -- the change makes sense. Jose Enrique and Jordan Henderson are stellar athletes who can seemingly run for days; despite the latter's lack of experience as a defender, there is logic in employing the pair as wing-backs.

Steven Gerrard is given licence to orchestrate from the centre of midfield, and his job is made easier by the smart runs and good movement of Sturridge and Suarez. However, the chasm in front of Gerrard and midfielder partner Lucas is a concern -- with Philippe Coutinho unavailable because of injury, Rodgers' attempt to shoehorn Victor Moses into the role against Sunderland proved awkward.

With his instinct pulling him out wide, where he feels most comfortable, Moses is not a creative maestro in the manner of Coutinho. The little Brazilian picks passes, and while both will drive at a defence, Moses arguably lacks the delicacy of his teammate. His replacement at the Stadium of Light, Raheem Sterling, is also a dweller of the channels. Speaking after the game, Rodgers was adamant there was more work to be done by his side before they can consider themselves at peak performance, and it looks like a fair assessment after Sunday's showing.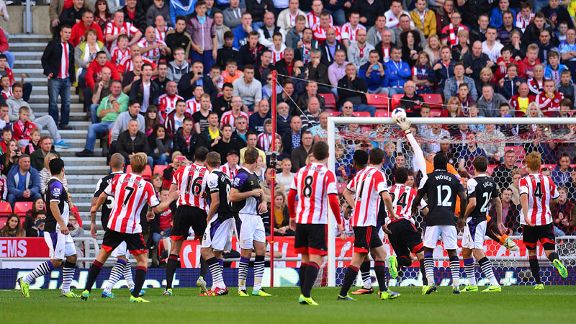 PA PhotosSunderland midfielder Seb Larsson crashes a free-kick against the crossbar.
Sunderland can't catch a break

As the players made their way toward the tunnel at halftime, the home supporters made plain their distaste toward the officials. Sunderland, already cast as the underdogs, had to contend not only with a lack of fortune but also a lack of justice in refereeing decisions. Sturridge's arm helped him secure the opener, before referee Howard Webb missed what seemed a blatant back-pass to Simon Mignolet in the first half.

Coming on the back of Martin Atkinson's baffling decision to rule out Jozy Altidore's first Premier League goal against Arsenal a fortnight ago, Sunderland also took another layer of paint off the woodwork in their attempts to find a goal when Seb Larsson's free kick beat the returning Mignolet. Perhaps most concerning of all is that these instances represent the kind of misfortune that often rides alongside teams that will have to face relegation come May.

If the adage of making your own luck is true, perhaps caretaker boss Kevin Ball should dedicate the entirety of training this week to generating good fortune, as it seems at an all-time low on Wearside at present. Yet, with solid characters such as Emanuele Giaccherini and Lee Cattermole in the side, Ball should not fear for his charges abandoning all hope.

Regardless, that will do little to rectify the cold, hard truth that Sunderland are still the only team in the Premier League without a victory this season. A void of luck cannot be attributed to all six of their fixtures, but they will no doubt be hoping that in the coming weeks -- with games against Manchester United, Swansea and Newcastle to come -- they get a karmic kick-back.