Returning Suarez the nearly man as Liverpool crash
MANCHESTER--And so, after 157 days and ten games on the sidelines, after flirtations with Real Madrid and Arsenal that never became full-blown affairs, after a brief stint training with the reserves, after international, pre-season and behind-closed-doors matches and after the inevitable acres of newsprint were devoted to his trials and tribulations, he was back.

• Brewin: Three things: Man United vs. Liverpool
• Video: Chicharito lifts United over Reds



The footballing world was a very different place when Luis Suarez last pulled on a Liverpool shirt in a meaningful match. Sir Alex Ferguson's retirement was a closely-guarded secret, David Moyes was being applauded for elevating Everton, rather than being mocked for Manchester United's mistakes, and there were reasons to suspect the final chapter of Suarez's tumultuous time at Anfield was being written.

Instead an extended edition is required. The initial twist to the plot, besides Moyes belying the cruel reputation as a manager who lost the defining games by claiming a major win, albeit in a comparatively minor competition, was that Suarez didn't score in the 1-0 Capital One Cup loss. It appeared inevitable, considering a character as irrepressible as the Uruguayan was performing on a stage this size. Instead, his free kick flicked off the head of the jumping Phil Jones, defeated David de Gea but clipped the top of the Spaniard's bar. "He went close," said Brendan Rodgers.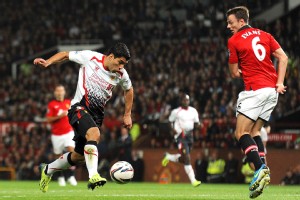 Andrew Powell/Liverpool FC/Getty ImagesLuis Suarez returned to action Wednesday for Liverpool, showing some rust and frustration in an otherwise promising effort.
And that, for once, was Suarez's fate: he was Liverpool's nearly man. He was almost a scorer, almost the Suarez of old. Inactivity has blunted one of the sharpest of strikers. There were understandable signs of rustiness. His speed was not quite as searing as usual, his touch slightly heavy when, had he cushioned Jose Enrique's cross, he would have been favourite to score. The most shot-happy of strikers launched a flurry of efforts, getting steadily closer, without opening his account for the season or extending Liverpool's participation in the Capital One Cup.

Instead, it became a fitness exercise conducted in front of 76,000 people, making it perhaps the most scrutinised training session ever. "I thought he did well considering how long he had been out," said Rodgers. "As he goes on he will get sharper but I was really pleased with him, he was excellent. He ran himself into the ground and he was always a threat." And so, at last, a summer of posturing is finally behind Suarez; a season of prospering may be to come.

It entails making amends, repaying Liverpool for the loyalty they have shown him in trying circumstances. "The fans were brilliant to him," Rodgers said. "The support they have given him is unheralded." On this occasion, it was reciprocated by a seemingly grateful Suarez. He was on his best behaviour; a serial offender's only brush with officialdom came when Jones was cautioned for fouling him.

Otherwise, it amounted to as uncontroversial a return as it could be for Suarez, considering he was facing United and had been suspended for biting another player. There were times when it seemed the Stretford End had forgotten Suarez was playing and it wasn't the 90-minute torrent of abuse some had anticipated, but there were moments of menace.

"He was never going to be fazed by it," Rodgers added. "He is one of the most determined people I have met in my life. He is very thick skinned." As is often the case with Suarez, that could be a criticism or a compliment. The Liverpool manager had devoted plenty of thought to his returning miscreant.

The question of how Suarez and Daniel Sturridge could be accommodated was answered with ingenuity: by switching shape. If Rodgers' change to 3-5-2 was designed to incorporate his two premier attackers as strikers, it had an added benefit; United were taken aback as Liverpool excelled in the first half.

While it appeared a tactical triumph, the jibes from the travelling Merseysiders rang around Old Trafford. "David Moyes is a football genius," they chorused, before the Scot applied his brainpower to help change the game.

It took him 45 minutes to swap Nani from the right flank to the left, where he encountered a makeshift wing-back in Jordan Henderson, and 39 seconds for the change to reap a dividend. The Portuguese won a corner; Javier Hernandez scored from it. The Mexican, the master of movement, contrived to put two yards between him and his supposed bodyguard, Enrique, in the six-yard box, to touch home Wayne Rooney's corner.

Opportunities aplenty abounded thereafter but one goal sufficed to bring Moyes one big win. "We lost at Anfield a few weeks ago, we had lost at the Etihad last week, so we wanted to put that right," he said. It means that, despite some traumatic times, he has made officially the best start of any United manager since Sir Matt Busby in 1946.

"Everyone seems to be picking a stat out but that is a good one," he said. "I have not had that many."

MAN OF THE MATCH:

Wayne Rooney – Even as his three-game scoring sequence ended, Rooney provided Hernandez's goal and, but for two fine saves from Simon Mignolet would have scored more.

MANCHESTER UNITED VERDICT:

They can take encouragement from the fact a much-weakened side beat a full-strength Liverpool team and Moyes deserves credit for the half-time turnaround. Shinji Kagawa looked more dangerous cutting in from the right. Two fit-again men, Jones and Rafael, added power and speed respectively, though they required a superb save from De Gea to prevent Victor Moses from equalising.

LIVERPOOL VERDICT:

Beaten by a corner for the second time in a week, there was another unwanted recurring theme: they still haven't scored a second-half goal against a top-flight team this season. On the plus side, the 3-5-2 system offers an option for a manager who finds himself with a surfeit of centre-backs. "You can see the players are comfortable in it," Rodgers said.