Pellegrini purrs as Moyes is left to ponder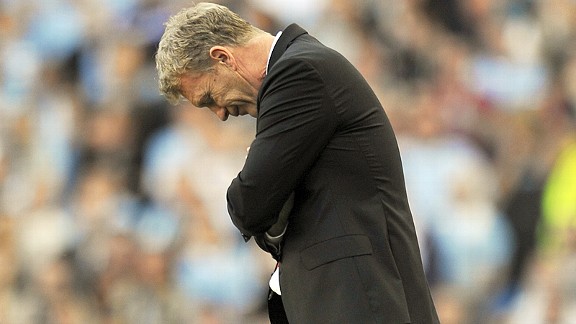 GettyImagesDavid Moyes has nowhere to hide at the Etihad.
MANCHESTER, England -- His side were thrashed and bashed. It was an evisceration, a humiliation, an exercise in domination. And yet the ultimate ignominy for the beaten manager came not from the boots of Sergio Aguero or Yaya Toure but from the mouths of the noisiest of neighbours. "One David Moyes," they chanted. It was a chorus that Manchester United's new manager must have hoped to hear from his own supporters. Instead, it was a taunt from the Manchester City fans that echoed around the Etihad Stadium.

The song the United faithful have sung urges Moyes' team to "play like Fergie's boys." They did, too: just not the all-conquering outfit that won 13 titles but the team that gave Sir Alex Ferguson sleepless nights after a 5-1 defeat on his first trip to Maine Road in 1989 and the side slaughtered 6-1 by Roberto Mancini's City in 2011.

- Brewin: Three things we learned
- Curtis: The City is Blue
- Okwonga: United overwhelmed at the Etihad

Yet even in the 6-1 game, the margins were narrower until the final few minutes. Not here. City boasted a four-goal lead with 40 minutes remaining, giving their public time to revel in Moyes' misery. "We were second to things in the first half especially," he said. They were second in every statistic in a 45-minute period showing 13 City attempts at goal and one, a lame, tame Antonio Valencia shot, from United. "I am disappointed we didn't perform," Moyes said. "There was no reason for us not to perform."

And yet he cited one. "Any manager given that run of fixtures at this club would have found it difficult," Moyes added. Their three marquee matches so far have yielded a solitary point, a draw against Chelsea followed by defeats to Liverpool and City, and a lone goal, Wayne Rooney's late, great free kick. In both losses, they have been shorn of a talisman, Rooney absent at Anfield with a gashed forehead and Robin van Persie missing the Manchester derby with a groin problem. "Obviously you miss Robin van Persie," Moyes said. "He is a huge miss to anyone."

Yet the same words could have been said about the sidelined David Silva, another with a derby pedigree. Instead, City turned a supposed weakness into a strength, a seemingly fallible partnership of Aleksandar Kolarov and Samir Nasri running riot on their left flank.

It was a redemptive return to derby action for Nasri, the man blamed by Mancini for van Persie's winner, which he deflected in nine months ago, but who volleyed the fourth goal and played a part in the first three. The Frenchman flourished, but the platform to perform came from the men in the middle.

Manuel Pellegrini was at Anfield on a scouting mission three weeks ago and borrowed from Brendan Rodgers' blueprint. City were imbued with pace and power, Toure and Fernandinho giving them mastery of the midfield. There was a depressing familiarity to it for United, who have struggled to halt Toure the terminator time and again.

The symbolic moment came when he escaped from Marouane Fellaini to knee in City's second goal. It was sandwiched by strikes from another derby talisman. Aguero has five in six games against United and a capacity to make Rio Ferdinand and Nemanja Vidic look and feel their age. Perhaps Moyes need not have paired the veterans against both Crystal Palace and Bayer Leverkusen. As it was, Aguero eluded them to volley in first Kolarov's cross and then Alvaro Negredo's centre before Nasri added a fourth after Jesus Navas was granted the freedom of the Etihad by Patrice Evra.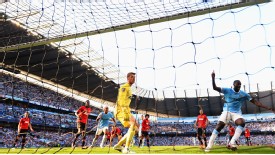 PA PhotosYaya Toure made it 2-0 to City against United at the Etihad Stadium.
"No one believes that 4-1 is possible before the game," said Pellegrini, who had 36 minutes to savour a 4-0 lead before Rooney's consolation. "Normally derbies are more equal, but we had a very good day and that allows us to have a superiority against Manchester United." In the process, the ghost of Mancini was banished a little, the reputation of Pellegrini burnished some more. Now he has his mandate; Mancini seems yesterday's manager.

The usually cautious Chilean had raised eyebrows when he announced on Friday that City had a better winning mentality than United. Two days later, the wisdom of his words became apparent. Pellegrini rarely seems surprised by anything, even an abject United performance. "Maybe they couldn't play better because we play very well," he said.

City stopped United and started their own attacks with energetic enterprise. An old enemy had no answer. "I have been here with Everton many times, and I don't think I suffered a defeat like this," said Moyes. A scourge of City in his Goodison Park days, Moyes had a mediocre record in Merseyside derbies. Perhaps that proved of greater relevance.

Perhaps, too, another Glaswegian hairdryer has given its first blast. Moyes, diplomatically, said he had made his errant charges aware of his expectations. "If ever there was a group of players I would expect [a reaction from], that is Manchester United players," he said. "They react and that is what they will do."

They need to.

MAN OF THE MATCH: Yaya Toure, the destroyer of United again. They couldn't get to grips with the Ivorian and his excellent sidekick, Fernandinho, in midfield.

MANCHESTER CITY VERDICT: Superb. They could have scored more goals. As it was, the four they did record made this much the best day of Pellegrini's reign. This was his style of football, playing a high-speed pressing game, pushing up and attacking from the off. His selection choices -- Nasri ahead of James Milner, Negredo instead of Edin Dzeko -- were justified in a performance that amounted to a statement of intent.

MANCHESTER UNITED VERDICT: A late improvement should not camouflage the reality: They were wretched before then. Moyes described Rooney as "outstanding" after the striker scored for the 11th time in a Manchester derby; he now stands alone in the history of the fixture, but rarely can a record have meant less. If the principal failings were in the centre of the pitch, Chris Smalling was also culpable. He lost Negredo for the second goal -- having done the same with Vincent Kompany at the same end for his derby winner in April 2012, this is becoming an unfortunate habit for Smalling –- and came off second best in his duel with Nasri.