Rapid Reaction: Ramsey leads Gunners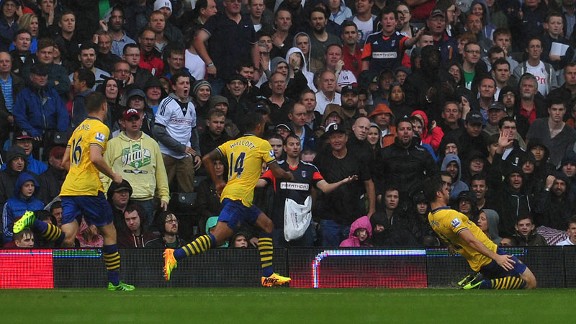 PA PhotosOlivier Giroud celebrates after giving Arsenal the early lead.
Three things we learned from Arsenal's 3-1 win against Fulham...

Crisis? What crisis?
There's always a danger in writing off a team after one weekend. It's equally churlish to declare a team "fine" a week later, but such is the helter-skelter nature of Arsenal that it's hard to resist.

Whatever happens between now and the end of the transfer window is anyone's guess, but the XI that Arsene Wenger did deploy at a rainy, difficult Craven Cottage was exemplary. Giroud's charmed form continued as Aaron Ramsey's shot/pass ricocheted kindly off the Frenchman's own leg -- he barely had a clue where the ball was, initially -- and into his path, allowing him to scoop it over advancing David Stockdale for an early Gunners lead.

The wet conditions made it tougher for goalkeepers as both sides shot at will (19 for Arsenal, 9 on target, compared with 16-7 for the home side), and, although Wojciech Szczesny stood tall -- his double save from Adel Taarabt and Damien Duff in the first half was superb -- Stockdale couldn't keep up.

To wit, Arsenal's second goal four minutes before halftime. Theo Walcott's angry long-range shot could only be parried by Stockdale into Lukas Podolski's path, prompting a smart left-footed finish through the crowd from the top of the box.

The visitors' scoring was completed by Podolski midway through the second half, a sharp, simple first-time shot from the left side of the box that seemed to squirm past a helpless Stockdale. The German forward's future has been scrutinized of late, given Giroud's progression and Wenger's very public courtship of a number of top-line strikers. Yet he thrived on the left side of Arsenal's 4-2-3-1/4-3-3, cutting infield and offering a meaningful outlet for the Gunners in attack.

All told, not much for Wenger to complain about -- for once. Although the obvious flaws and requirements remain for a wafer-thin Arsenal squad, it's clear he does have a decent foundation on which to add. Was that ever in doubt?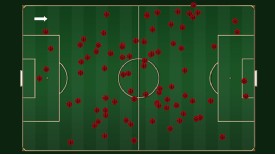 OtherScatter chart showing position of Aaron Ramsey's passes against Fulham.
The wonderful Welshman
With many fans puzzled as to the "rest" prescribed for Jack Wilshere on the Arsenal subs' bench, it turned out the rainy conditions were perfect for the man who eventually fulfilled that role.

Ramsey was exemplary in the Gunners' midfield against Fulham, anchoring possession, displaying real intelligence in distribution (his heat map shows a balanced spread of the ball across the entire pitch) and generally controlling the overall flow of the game. With Santi Cazorla finding room in attacking areas and Tomas Rosicky playing further upfield, the young Welsh midfielder was more than capable of serving as the deep-lying playmaker.

The rain didn't prevent him from leading Arsenal in touches (94), pass attempts (85) and pass completions (73) -- just what Wenger's side needed against a team normally so combative in midfield.

By contrast, his opposite number -- Scott Parker, making his Fulham debut -- endured a difficult afternoon, completing more passes than anyone else but finding himself frequently overmatched by the Gunners' quick movement and distribution in midfield. His heat map showed his lack of ambition or forward thrust on the ball, often passing wide but not achieving much penetration into the attacking third.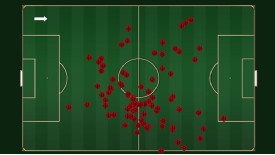 OtherScatter chart showing position of Scott Parker's passes against Arsenal.
Lone strikers make for long afternoons
Much has been written in the past about Dimitar Berbatov's more sedate style of play. His languid, sporadic brilliance is a known quantity, yet Martin Jol left the easy-jogging frontman in isolation for much of the game. The end result? Little production or menace from a man normally so deadly with the ball at his feet.

Berbatov's 25 touches were the lowest of all players who started the game, such was Fulham's difficulty in working the ball upfield cleanly. Much as with Swansea vs. Man United and Crystal Palace vs. Spurs on the Prem's opening weekend, only when Darren Bent was brought on to offer a second attacking option did the Cottagers suddenly become more dangerous: Berbatov's clever spin and low cross for Bent's tap-in goal underscored the frustration of what could have been.

Although a five-man midfield does offer much more balance and restraint against better teams -- Jol's 4-4-1-1 had Pajtim Kasami tamely linking up play as the CF, spending more time near the halfway line than the goal line -- it also neutralizes itself if the striker and wide midfielders (in this case, Taarabt on the left and Duff on the right) can't retain possession long enough to get support in the final third and break opposing defenses.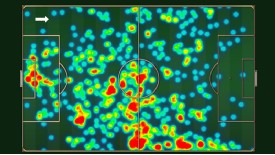 OtherHeat map showing Fulham touches.

A quick glimpse at Fulham's heat map shows just how little any of them managed. The flanks were sparsely populated. The danger area around the top of the penalty box was practically uninhabited. It doesn't take a genius to realize you won't win many games if you can't get near goal.