Role reversal as Arsenal outmuscle Stoke
LONDON -- Arsene Wenger at least managed to get his head around a game that left many others scratching theirs.

"When you play against Stoke City, you don't expect to score three goals from set pieces," he said. "That was a surprise to me!"

It wasn't the only curiosity to this odd 3-1 Arsenal win, either. There was also the fact that the majority of the second half saw Stoke dominating the ball around the Arsenal box, at one point managing 57 percent possession. Occasionally, it seemed the most obvious option was to launch some long balls only for Mark Hughes' side to try to work it through. "That's what we want to do this year," the Stoke City manager admitted. There could be few greater signs than Geoff Cameron finally opening his account for the club by deftly guiding the equalizer into the corner after Marko Arnautovic hit the post.

What Arsenal want to do is improve their overall outlook, and in that sense, a change was as good as a rest here. Having played more fluent football in the game's opening minutes, a Wenger side inevitably somewhat jaded after an intense first few weeks of the season withdrew and decided to rely on industry rather than innovation.

- Report: Ozil inspires Arsenal vs. Stoke
- Cross: Gunners can dare to dream

The manager acknowledged they had two very different halves.

"The first one was fluid, well going forward. In the second, we looked jaded physically, lost a bit of our game, in the end losing our technical quality. But we showed another aspect. We can dig deep and fight when we are under pressure. Positive, very good week for us. We won in Marseille, won in Sunderland, won today, so overall a positive week."

Hughes echoed some of his thoughts but said Stoke have changed nothing in their set-piece preparation, even if they are attempting to alter other areas of their approach. "We're disappointed in the scoreline, in terms of how we conceded the goals," he said. "Three from set pieces doesn't normally happen to Stoke teams. Unfortunately, today it did."

Just as this game overturned a number of previous perceptions about both of these teams, though, perhaps the bigger question is what it says about perceptions of a potential first title challenge for Arsenal since 2007-08.

Was this, as Wenger put it, the team finally showing another "aspect" of its play that will point to a more rounded Prem challenge? The truth is probably that it lay somewhere between the gap created by Stoke trying to alter their own approach and Arsenal suffering some fatigue -- even if that was offset by creditable resilience.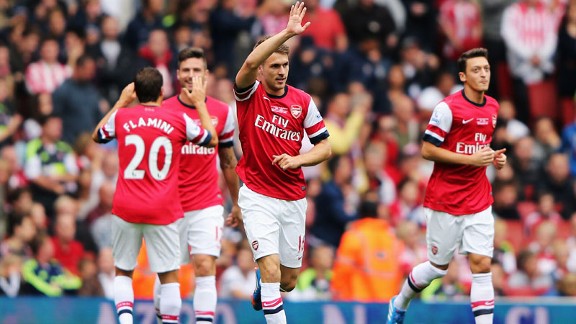 GettyImagesAaron Ramsey and Arsenal have made a flying start to the season.

Similarly, just after Wenger admitted his "surprise" at how the game had been decided via set pieces, he did say that it "shows the importance of the deliveries." Who was supplying them? His influence may be obvious, but then again, so is the utter quality of Mesut Ozil. Already, after just two games, the German has supplied more assists than any other player in the Premier League.

"His numbers and his assists are not a coincidence," Wenger said. "He has shown he is a great player."

Admittedly, it would probably be stretching it to describe his contribution to the first goal as an assist, even if his shot from a direct free-kick forced Asmir Begovic into the parry that allowed Aaron Ramsey to score the opening goal, his seventh in eight games this season. The deliveries for Per Mertesacker and Bacary Sagna to hit the second and third goals, however, were inch-perfect.

Given that this was a match against the team that previously defined the baseline level of the Premier League's assumed physicality, the Arsenal manager also raised a relevant point about quality and the adjustment to different cultures. "It shows you that football is football. Good players make a good pass, the bad players make a bad pass. In England, it's exactly the same."

Ozil can also create a superior culture for his teammates as well. This is one of the more intangible positives of his arrival but one that Wenger still sought to explain. "Look, it's not only him. He gave a lift to everybody at the club," Wenger said.

Mertesacker and Sagna certainly rose high for the two goals that put Arsenal back into the lead and then sealed the win. It also reflects how, somewhat ironically, the signing of one individual may be helping to make them more of a rounded team.

Despite the previously free-scoring Olivier Giroud inevitably looking weary after his overuse as primary striker -- and Jack Wilshere suffering when Wenger admitted he "should have rested him today" -- a number of others stepped up. Ramsey is obviously one of them, with those at the club saying that he has been working exceptionally hard in the gym and is clearly in a better place psychologically. Always an excellent finisher in training, many wondered why he wasn't scoring more last season given some of the positions he got himself into.

Now, he's reaping the benefits. So, too, are Arsenal, and that return may prove key, especially if they can bolster with the necessary purchase of another striker in January. Because gradually, and particularly after a game that overturned so many expectations, it all feels like this season could offer significant opportunity; that given other big clubs' early stumbles, the league is all a bit more open.

The most important stat of all, of course, is that Arsenal have also stepped back up to the top of the table. For Wenger, the positive of that goes beyond the position. "We can focus on improvement in a stable environment."

This victory showed they've already improved areas not always considered qualities of Wenger-led teams. This may have been a role reversal, but Arsenal will hope it will finally help them accelerate to a new status.