Three things: Man City-Man United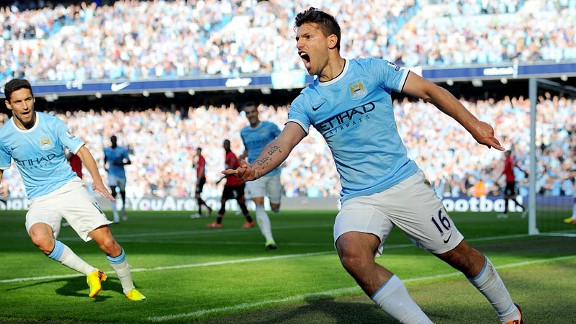 PA PhotosSergio Aguero wheels away after sweeping in a fine volley against United.
MANCHESTER -- Three observations from Manchester City's resounding 4-1 win in the derby against United.

Perfect for Pellegrini, misery for Moyes

David Moyes has failed miserably in his trio of early season acid tests. From three matches against Chelsea, Liverpool and Manchester City, he can call on a solitary point and a consolation free kick from Wayne Rooney. Worse still, his United team were utterly humiliated at City's ground in the manner of Maine Road, September 1989, when Sir Alex Ferguson crept home from a 5-1 defeat and put his head under a pillow to escape the clutches of those calling for his head.

Playing defensively is fine when your team defends well. If not, then a team with the resources of City will pull you apart. Conservatism proved catastrophically costly.

His opposite number, by contrast, can already claim folk hero status in Manchester's blue half. Manuel Pellegrini's selection and tactics were bold and reaped huge dividends. He opted for Sergio Aguero and Alvaro Negredo in a game in which both teams fielded two strikers, making it something of a throwback. The difference was that City's saw plenty of the ball and made deadly use of it.

Aguero is the master of the pincer movement that eludes defenders and puts him in scoring positions. His first goal in the 16th minute, a wondrous reflex finish, supported Gary Neville's frequent comparison of the Argentinian with Romario. The second, a near-post finish at the start of the second period, was completed as a matter of course.

Negredo, direct and forceful, provided the headed assist for Yaya Toure to score the second. Rio Ferdinand and Nemanja Vidic both creaked horribly. Suddenly, a team of champions looks in need of major surgery, and a department that previously looked trustworthy in disarray. Those two Leverkusen goals in midweek were pointers: United can be got at, both on the flanks, and through the centre. City, with Navas on the right, and Samir Nasri cutting in from the left, took full advantage.

City's desire was always stronger, their passing crisper. If this was misery for Moyes, it was perfection for Pellegrini. The humiliation was complete when the City fans began to mock United's boss.

"There's only one David Moyes," they tittered. "Sacked in the morning, you're getting sacked in the morning." A perfect Sunday afternoon in the sunshine for those in laser blue.

Feckless Fellaini, off-colour Carrick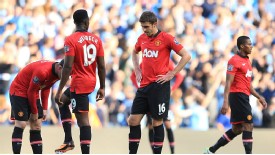 PA PhotosMichael Carrick and his United team-mates have nowhere to hide at the Etihad.
There were prematch whispers that Michael Carrick would be missing from United's midfield as the latest recipient of flu among the squad. Such is his latterday importance that shivers were sent down the spine of those of a Red hue. Carrick took his place, and the focus shifted to his partnership with Marouane Fellaini. They ended the afternoon playing like the strangers they still clearly are.

They were under pressure from the very start. Toure has often monstered United's midfield, with Park Ji-Sung being a particular lamb to the slaughter when the two teams met in what was pretty much a 2011-12 title decider. Toure now has Fernandinho for company, and was able to play his favoured roaming role; the devastation continued.

Fellaini joined United saying he had always wanted to play from the base of midfield. He ended the match playing off the front, looking just as lost as he had as an anchorman. Carrick appeared off-colour, his usual keen sense of anticipation deserting him as City streamed past him.

City pressed hard from the start. Moyes' team set up to play on the break, just as Everton often did when visiting the Premier League's high climbers. All that donkey work meant United severely lacked creativity. Their periods of possession were pedestrian, the movement off the ball never sharp enough. United's first shot on goal did not arrive until the 43rd minute, and that was a wasteful waft from Antonio Valencia.

Fellaini is not the game-changer that United truly wanted and needed in the summer. He can be a nuisance, but not in the sense of pulling opposing defences apart. His deep-lying starting position -- and United's pedestrianism -- meant he never got to make the late runs that provided many of his goals at Everton. And if he is a defensive midfielder, he will have cover far better than his lax effort to cut off Alexsandr Kolarov's assist for Aguero's opener.

No RVP, no method of victory?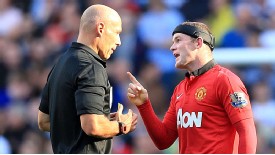 PA PhotosHoward Webb and Wayne Rooney exchange words at the Etihad Stadium.
Moyes' Sunday newspaper quotes suggested that he thought at one point that Rooney had "gone soft." He has not, but his team did. A late free-kick goal meant that a Liverpudlian became the most prolific goal scorer in Manchester derby history with 11 goals, but that was a mere footnote on a sour afternoon. With Robin van Persie absent with a groin problem, Rooney was once again United's main man, just as he likes it, but all too rarely near the opposition's goal. United were not in the same postcode as Joe Hart for long, long periods.

Danny Welbeck's early slip when he might have been through on goal was the type of ricket of which he is all too capable. The positioning was perfect, but the moment escaped him. Van Persie, as almost the complete package, would almost certainly not have made the same mistake. It was United's most effective attacking move right until the point when all was already lost.

Rooney was getting into scrapes with opponents to the point of being booked as part of a totting-up process. Meanwhile, Welbeck was a lonesome passenger. The ball barely went his way, and when it did, he rarely stuck. Has he become that rare breed, a player better for England than his club? One awful effort over the bar was utterly aimless. Welbeck played far better when, already 4-0 down, Moyes pushed him out to the left, a damning indictment of a troubling afternoon across all departments for Manchester United.