Chelsea's win doesn't ease pressure on Mourinho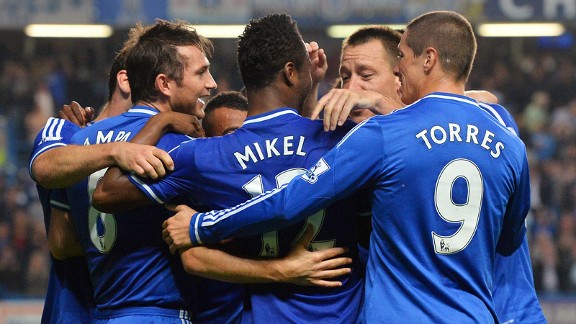 BEN STANSALL/AFP/Getty ImagesChelsea's win puts the Blues atop the Prem, but the same concerns remain.
LONDON -- On Saturday, Jose Mourinho answered one question but opened up a whole host of others.

While Chelsea banished all talk of a crisis to beat Fulham 2-0 and return to the top of the table, the intrigue around Juan Mata's uncertain position has only deepened. After stating Friday that the Spaniard would effectively have to dislodge Oscar to get into the starting lineup, Mourinho left him off the squad altogether.

For one game at least, the Chelsea manager had the perfect response. His new primary playmaker scored a key goal for the second successive game, thereby emphasizing his increasing importance to this team.

In truth, it was far from a perfect performance, with Chelsea lacking spark against a Fulham side that admittedly had no interest in doing anything innovative and made for a pretty poor spectacle. Needless to say, spark is exactly what Mata has provided over the past two seasons.

Except after three months of stressing the importance of developing a new style of football, Mourinho somewhat altered his tone after an exceptionally functional display.

"When we played a very good game against Everton and we lost, the way we played was not important. What we produced in the game was not important. The important thing was that we lost the game and lost three points," he said. "If you want to be pragmatic, today we analyse the same way and the most important thing is the result."

It would be incorrect to say it was the main topic of discussion, though, especially after Chelsea had dismissed Fulham in such a laborious manner.

- Report: Blues sweep Fulham aside
- Prem wrap: LFC suffers first loss

For his part, just as he did on television after the match, Mourinho fronted up about Mata. When the player's exceptional form over the past two seasons was put to him, the manager reiterated that the situation -- and specifically, the formation -- had changed.

"The past is the past. What matters is now, and you have to be judged on what you do now," he said. "I gave him the chance to play against Aston Villa, Everton, 35 minutes against Basel. It's not the same as [Michael] Essien. Essien didn't play one single minute, and I left him out of the Champions League.

"The point is I have my options. The thing I most love in football is when the players prove I'm wrong. I'll be the happy one. I hope he can."

Mourinho also stated that Mata had accepted the decision.

"For the moment, he took it the way I want," Mourinho said. "He trained this morning, and my assistant said he trained very, very hard so at the start the answer is very, very good and Tuesday, of course, he plays from the beginning against Swindon. The people that don't play today, they are going to play.

"And I hope he tells me on the pitch, 'You are wrong. I am the best, and you have to play me every game.' I would be very, very happy. He is a top kid and very, very professional."

As candid as Mourinho seemed, there are still some questions remaining. For one, despite all the talk of Oscar playing as his No. 10 ahead of Mata, the Brazilian's position was switched throughout the game and he spent significant portions of it on the wing. Of course, he also spent one key moment in the box, snapping at David Stockdale's poor handling of a Samuel Eto'o effort to finally force the opening goal.

Overall, though, Chelsea were quite methodical. It spoke volumes that Eden Hazard spent an awful lot of time on the ball but little of it in areas that could hurt Fulham. Mourinho might reasonably argue that is what he wants from Mata.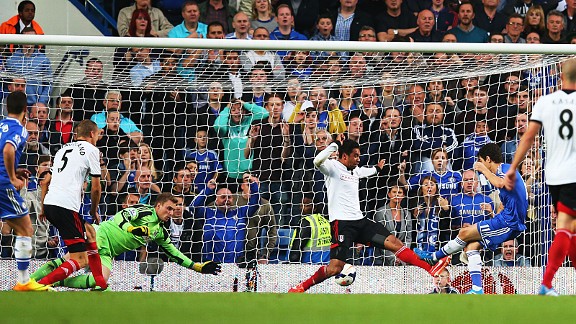 AllsportOscar's goal justified his presence in Mourinho's system, but there was little dispute that the spark lacked by Chelsea could have been provided by Juan Mata.

The Chelsea manager certainly had an argument for Ruud Gullit, who stated on English television that the reason for the Spaniard's omission was personal.

"Ruud Gullit is a different pundit," Mourinho said. "He was also a manager, and I think he shouldn't be a very proud manager for what he did in the last few years."

It was a feisty moment that grabbed the attention more than most on the pitch.

Though this wasn't the most novel game, it did feature a novel moment: a first John Obi Mikel goal in the Premier League, as he poked in from a set piece, ending a drought that stretched to Jan. 28, 2007, and a 3-0 FA Cup win over Nottingham Forest.

"Good for him, good for us," noted Mourinho. "Good for his confidence, and I think people enjoy to see John to score this goal. The finishing was good and in a position, but the important thing for me is he played a good game. He gave balance to the team, gave stability to the team."

He doesn't, however, give particularly perceptive passes. In fact, even beyond the striker issues, deep midfield is arguably the area of the pitch where Chelsea are most lacking and somewhat explains their recent lack of energy in this system. Mourinho does not really have someone to dictate the play from there and find his array of attacking midfielders in the final third. Luka Modric would have been the perfect fit when Chelsea tried to sign him in 2011, but it remains somewhat surprising that the Portuguese did not pursue his interest in Xabi Alonso. It is understood that he did request the signing of that type of player.

Mata has occasionally dropped back to that area, but it would bring up a whole other debate -- and require an adaptation even greater than what Mourinho has demanded -- for the 25-year-old to be deployed there. It would also be stretching things.

On the other side, Martin Jol's men showed no willingness to come out and attack even when 2-0 down. The loss of Dimitar Berbatov through injury is an unsatisfactory explanation, and the Fulham manager admitted that he expected more from his team.

The lack of space did ensure it was another frustrating evening for Eto'o and his second-half replacement, Fernando Torres. Both again failed to score, with the Cameroonian looking particularly unhappy that he did not finish the chance eventually converted by Oscar, kicking the ball back into the net.

The striker issue is the one that lingers most beyond Mata.

"I think he [Eto'o] did his job, worked for the team," Mourinho said. "I can't complain about effort or attitude, but of course they are not scoring goals and that in a striker is not the best."

They weren't the only ones either. Darren Bent badly squandered a glorious one-on-one chance after just 12 minutes. Had that gone in with the score tied 0-0 at the time, it could have been a very different afternoon and created a whole other controversy. As it was, Chelsea did enough to win their first game in four and return to the top, allowing Mourinho to joke about "the disaster" he is enduring.

"That's what I read!" he said. "It means that today we are top; tomorrow probably we are not top. The important thing is not to be top; it's to be there. To be there."

The Mata issue is there too. For the moment, Mourinho has the only possible response: a win and a goal from his direct replacement. Though it finished off Fulham, it won't stop the questions.