David Moyes, Wayne Rooney united in milestones


MANCHESTER, England -- It was a special night for one who left Everton for Manchester United. It was a landmark occasion for another. As David Moyes watched Wayne Rooney complete a double century of goals for the club he had hoped to leave, it was victory and vindication for the Scot. He is, finally, a Champions League manager. Rooney may yet prove his champion, even if he had coveted a place in Jose Mourinho's attack.

-- Brewin: Three things

"I am concentrating on my football as I have done all summer," the striker repeated when asked whether he had wanted to go. It was a politician's answer from the street footballer but, nine years after he opened his United account with a Champions League hat trick at Fenerbahce, he reached the milestone with a brace against Bayer Leverkusen.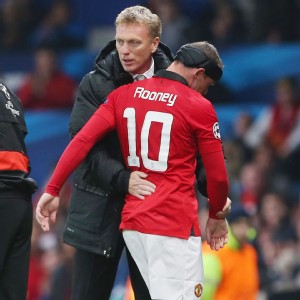 John Peters/Man Utd/Getty ImagesDavid Moyes earned his first win as a Champions League manager in the same game that Wayne Rooney scored his 200th goal in a United uniform.
In the process, he helped Moyes get off the mark himself. The Scot is beginning to apply ticks to a few columns. There has been a first win, against Swansea; a first Old Trafford triumph, versus Crystal Palace; a first Champions League victory, at Leverkusen's expense. His team, who hadn't scored in open play since the visit to Swansea a month ago, struck four times. He even included Shinji Kagawa, offering proof the Japanese player has not been ostracised. Some criticisms have been refuted and rebuffed.

So, for Rooney and Moyes alike, it has been a restorative few days after an awkward few weeks. The autumn chill brought a first outing for the manager's newly acquired United coat, a sign the summer of discontent is behind them. Back-to-back home wins were only the results expected, but as Moyes applauded the Stretford End as he marched purposefully off, he could reflect on a satisfying night.

"It was a good job," he said. So, too, is the Old Trafford post, Moyes' reward for 15 years' hard labour at Preston and Everton. The question was posed if his lack of European experience would be a hindrance; actually the Champions League brought the best from United. While the Scot was mocked for eulogising an undistinguished performance at Anfield, his team delivered a display that meant praise wasn't misplaced this time. "They played ever so well and scored four good goals and maybe could have added to it," Moyes stated.

While two goals were conceded to a side who barely threatened, there were encouraging signs elsewhere. The pieces in Moyes' jigsaw are falling into place. The most idiosyncratic, Marouane Fellaini, made an assured full debut alongside Michael Carrick; the days of midfield mediocrity from the passer's partners may be over.

Antonio Valencia provided an incisive outlet on the right, compensating for a lopsided team's lack of width on the left as Kagawa veered infield into Rooney territory, and contributed the fourth goal with a drilled finish. The strikers are scoring, even if Rooney and Robin van Persie both contrived to miss open goals. Yet they found the net too, the Dutchman with an acrobatic volley, the Englishman with a shot that went in on the bounce and after outfoxing Bernd Leno.

"He could have had a hat trick tonight," Moyes said. "Wayne was great. I remember saying he has got a real chance to be one of the all-time leading goal scorers at this club and if he keeps playing like he did tonight, he'll get there."

Joining the 200 club is, he realised, a rare achievement. "I'm not a historian at Man United but I think there's only four people to do it," Moyes added. Indeed, only Jack Rowley, Denis Law and the watching Sir Bobby Charlton had recorded 200 goals for the club until Rooney ended the four-decade wait to find a fourth member of an exclusive club.

But they are both in select company. Only Sir Matt Busby, his assistant Jimmy Murphy and the watching Sir Alex Ferguson had managed United in the European Cup or Champions League before Moyes. "It was great for the manager," Rooney added. "His first game in the Champions League proper." His first win, too, removing another monkey from his back. And now for another test: his first derby.

MAN OF THE MATCH: Wayne Rooney. Even as Kagawa was given a belated start, Rooney illustrated why he is Moyes' first-choice No. 10. "He is moving as well as he has done," the manager said. "He is in a good place himself at the moment."

MANCHESTER UNITED VERDICT: Excellent. Good as the display at Swansea was, this was much the best of Moyes' reign and, with an awkward trip to Shakhtar Donetsk next in the Champions League, it was a vital win. The Scot probably has nine of his starting 11 for Sunday's trip to Manchester City. The only debates could surround the left-wing and right-back spots.

BAYER LEVERKUSEN VERDICT: As manager Sami Hyypia admitted, the better side won. They missed the injured Lars Bender and were outclassed. Well as they have done in the Bundesliga, this Champions League group may prove too tough for them to progress.