Three things: Man United vs. Leverkusen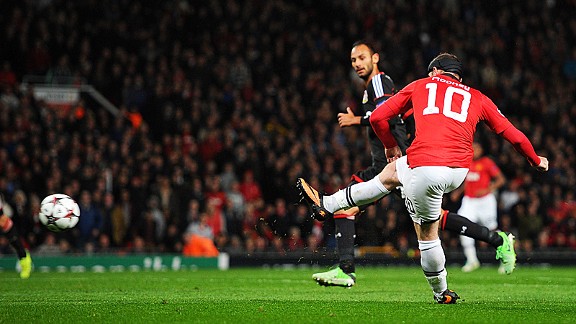 GettyImagesWayne Rooney fires home his second against Bayer Leverkusen.
Three observations on Manchester United's 4-2 win versus Bayer Leverkusen at Old Trafford:

They were right not to sell him

MANCHESTER, England -- Perhaps Wayne Rooney will keep the sumo-style headband on for good luck. The celebrations were happy enough, just as they had been on Saturday. His teammates were warm in their congratulations, too. Manager David Moyes' insistence that Rooney would be staying at United was derided by many. So far, keeping him looks to be a battle won, and won well with almost instant dividends being paid.

Shinji Kagawa and Rooney had showed early signs of developing an understanding, but it was Patrice Evra who supplied Rooney's first goal in the 22nd minute; the right-footed strike was his second in two matches. He followed it with the goal that took United out of sight of Bayer Leverkusen. Later, Rooney's expert assist set up Antonio Valencia's goal, making it a red-letter day for Moyes in his first Champions League outing.

A hospital pass from Sir Alex Ferguson has been dealt with expertly so far by Moyes. Rooney's retention may end up being the greatest success from a troubled summer in the transfer market.

The feeling that Rooney is at his happiest when playing football has been borne out. And not playing was the problem under Ferguson anyway. To sell Rooney to Chelsea would have been suicidal; imagine what Rooney might have done in their dominant first half at Goodison instead of Samuel Eto'o's misfirings. Instead, Rooney's goals against Crystal Palace and now two against Leverkusen have lifted the pressure off his new manager. And the striker looks happy to be a Manchester United player again, and at Moyes' service, too. Rooney left the field to a standing ovation. Who would have foreseen that back in July?

One note of caution: He and Van Persie barely completed a pass to each other. Their failure to do so when Rooney had rounded goalkeeper Leno gave Bayer a let-off that they took quick advantage of with Simon Rolfes ' equaliser.

Van Persie's point to prove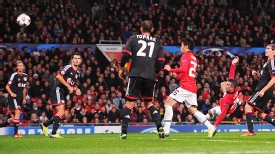 GettyImagesRobin van Persie acrobatically fires Manchester United back into the lead.
David Moyes had his head in his hands when Bayer equalised. The Germans' equaliser had come against the run of play to remind that the Champions League will always offer opponents capable of taking advantage.

A minute earlier, Rooney's inexplicable foul-up stopped Moyes' first-ever group stage game from becoming an easy stroll. Now, the ball was nestling in United's net.

Sami Hyypia's Bayer team do not play with either the 100 miles-an-hour berserk pressing of Borussia Dortmund or with the 70 percent possession dominance of Bayern Munich. Leverkusen possess muscle, with a three-man central midfield and heavy use of striker Stefan Kiessling's ability to hold up the ball.

Bayer, though, received their own reminder of the high grade of finisher that the Champions League provides. Robin Van Persie has never had much luck in this competition. He was an unused substitute in the 2006 final, was sent off at Barcelona in 2011, and last season missed the chance to bury Real Madrid in the Bernabeu.

He had played with zeal and determination throughout, even picking up a booking for dissent when his competitive edge took him too far. When the chance came from an Antonio Valencia cross, Van Persie showed off some admirable acrobatics to take United back in front when they had looked stunned.

Van Persie's face was a picture of grim vindication rather than joy. He wanted this one badly and, as a perfectionist, will probably think most about an inexplicable 89th-minute miss from close range.

Closure on Kagawa? Not quite yet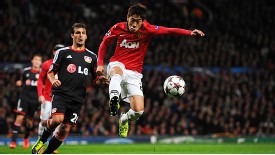 GettyImagesShinji Kagawa returned to the Manchester United team against Bayer Leverkusen.
"I've hardly seen him," said David Moyes of Shinji Kagawa at the weekend. He has now. The conspiracy theorists have hit a dead end. The Japanese playmaker was present, correct and picked for a game that was probably Moyes' most important yet.

Now would seem to be Kagawa's chance to impress his new manager. Ashley Young is in the bad books after his weekend of high diving, and Danny Welbeck has a knee injury. The England forward, who Moyes has so far employed on the left, sat in the stands looking cheery enough but was unable to tell reporters how long he would be absent.

Moyes has converted a former Borussia Dortmund playmaker into a left-sided creator before. Steven Pienaar was a midfielder from the laconic Ajax tradition going nowhere fast in Dortmund, but at Everton he was taught to marry hard work with verve. Kagawa will be expected to do the same, even if it does break Jurgen Klopp's heart to see him play on the flanks. Winning a defensive header in the first half must have won Kagawa brownie points with Moyes.

Granted licence to roam, Kagawa was able to cut into the centre, given Evra's propensity to overlap, and often played as almost an old-fashioned inside forward. It was not altogether convincing, but promising enough, even if Moyes will probably call for further work tracking back. One disguised ball to Robin Van Persie was a pearler that completely befuddled Leverkusen's defence only for the Dutchman's square ball to evade onrushing teammates. However, a first half of creditable influence was not repeated in a second half in which Kagawa went missing.

He possesses an ability to change pace and switch play that can be devastating. It certainly proved so in the Bundesliga. The talk from Carrington is that Kagawa has succeeded Paul Scholes as the player with the best touch in training. There simply must be a place at United for a man of such talent. Finding it represents a significant challenge for Moyes, though this was a step in the right direction.