Superb Barry leads Everton over hesitant Chelsea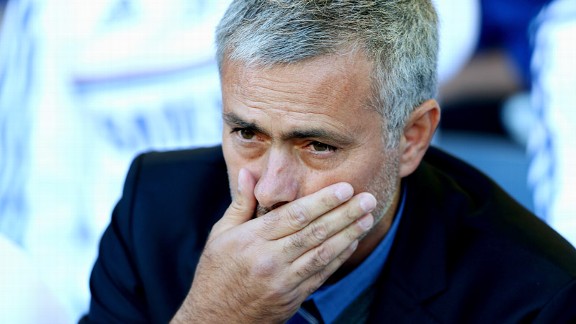 Clive Brunskill/Getty ImagesJose Mourinho's Chelsea lacked the killer instinct on Saturday against Everton.
LIVERPOOL, England -- If the best things in life are free, Everton would agree. Not that Roman Abramovich has ever shown any signs of concurring. Spending has been a constant in his decade at Stamford Bridge, and Chelsea arrived at Goodison Park featuring a substitutes' bench with a combined cost of around £130 million.

They departed defeated by a man signed on a free transfer, playing only because Steven Pienaar was injured and celebrating his 27th birthday in unforgettable style. For unheralded match-winner Steven Naismith, it was a day to savour. So, too, for Roberto Martinez -- whose first three league games as Everton manager had all finished in draws -- and the raucous crowd on Merseyside.

- Match report: Everton 1-0 Chelsea
- Prem wrap: Blues come unstuck against Toffees

Yet for Jose Mourinho, a first Premier League defeat in six years amounted to a sizable setback. His first Chelsea side preferred to lead from the front in the title race, beginning seasons in remorseless, relentless fashion. The second incarnation is suffering teething troubles, failing to score in its last two league games, albeit two difficult fixtures. Chelsea had enough possession and chances to take at least a point; nevertheless, it should be concerning that they departed empty-handed.

What went right for Everton?

Deadline day gave Martinez a major decision to make: Which of his two new central midfielders who replaced the sold Marouane Fellaini should be in the starting 11? He opted for Gareth Barry, a decision that was justified by a masterful performance from the 32-year-old. His most eye-catching contribution was the block that denied Samuel Eto'o a seemingly certain goal -- Barry displaying a long-disguised turn of pace to appear from nowhere -- but an earlier challenge, to end Juan Mata's solo run, was equally impressive. His passing was unobtrusive but perceptive.

When James McCarthy, the other recently arrived midfielder, was introduced, it was a second successful gambit. Not so much because of what the Irishman did, but because, in the ensuing reshuffle, Kevin Mirallas was moved to become the main striker and began to pose a threat on the counterattack.

With Arouna Kone injured and Romelu Lukaku ineligible, Martinez had no choice but to start Nikica Jelavic as his main forward. Although the Croatian's crisis of confidence in front of goal continues, he set up Naismith's winner, rewarding Martinez for picking the Scottish winger ahead of the more exciting Gerard Deulofeu. Meanwhile, Ross Barkley, a beneficiary of the new regime, was terrific again. "The more you watch him, the more you fall in love," said Martinez.

If the result signalled the start of a new era at Everton, one after Fellaini and David Moyes, the manner of it nonetheless owed much to the former manager. With Sylvain Distin and Phil Jagielka to the fore, Everton mounted a fine rearguard action in the final half hour. "Our defending was immense," Martinez said. The key for the Spaniard will be whether he can ally his passing principles with the defensive solidity of the side he inherited. Certainly there was the same commitment. "It wasn't the perfect performance, but when you show that character, all the attributes you have to have to be a winning side, I thought we were a 10 [out of 10]," Martinez added.

What went wrong for Chelsea?

While they became ragged in the closing stages and were perhaps fortunate to finish with 11 men, their principal problems came in front of goal. Mourinho's best teams have had an enviable efficiency. This side squandered opportunity after opportunity. "We had 21 shots, nine on target," Mourinho lamented. "Maybe one day we will have three chances, we will score three goals, and we will win 3-0." This was not that day. "Perhaps we didn't have the killer instinct," the Portuguese manager said.

For Mourinho, the supposed assassin who displayed his softer side was winger Andre Schurrle, who he felt missed "three good chances" and, he argued, underhit his pass to Eto'o, allowing Barry to come to Everton's rescue. "If it is a fast ball, boom, Eto'o scores," Mourinho said.

Equally, Eto'o, excellent outside the box, was found wanting inside it. The debutant has a magnificent goal-scoring record, with more than 300 for his various clubs and country, Cameroon, and really ought to have opened his Chelsea account, perhaps with a fifth-minute header. "Samuel was a killer all his career," Mourinho said. On this occasion, however, the hired gun's shots missed the target, even though an improvised attempt to score with his chest from eight yards showed it didn't dent his confidence.

The challenge for the Portuguese is to get his many flair players to deliver consistently. "Artistic football without goals is not good," he said. He is still more pragmatist than purist, unlike some of his charges. "We have an identity; we play with our identity," Mourinho said.

MAN OF THE MATCH: Gareth Barry (Everton) -- Slotted in so seamlessly that it hardly looked like he was debuting after joining on loan from Manchester City. Martinez paid him a glowing tribute. "No one as an Englishman plays that role as well as Gareth," he said. "Gareth is unique. That profile of midfielder doesn't exist in English football. He senses danger like nobody. He establishes good relationships all over the park."

EVERTON VERDICT: A gutsy, determined effort that had more in common with some of Moyes' famous wins than their previous performances under Martinez, where they passed and passed without displaying the required ruthlessness. As Lukaku is now available and ought to displace Jelavic, they should display more of a threat in attack. With Leon Osman off form this season, it will be interesting to see if McCarthy takes his spot. Naismith, despite his predatory finish from half a yard, may be back on the bench soon.

CHELSEA VERDICT: It may prove a game that crystallises Mourinho's opinions. He is a manager with a track record of making early and decisive substitutions, and the departures of Schurrle and Mata, both before the hour, could be a sign they will be overlooked in future selections. With six inventive players competing for three places, they have little margin for error. The Spaniard was selected for only the second time this season, and his manager's appraisal was hardly a resounding endorsement. "He did OK," Mourinho said.