Bright new era dawning for Tottenham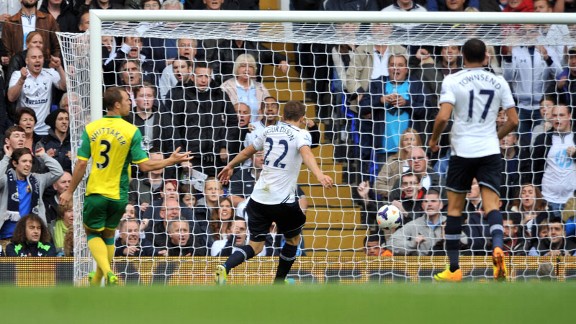 PA PhotosGylfi Sigurdsson scores his second to put Spurs 2-0 ahead.

LONDON -- By the end, the concerns about failing to score a goal in open play felt utterly irrelevant -- as did one journalist's lighthearted question about a significant player sold this summer. In contrast, it seems very much like open season for Tottenham Hotspur.

Andre Villas-Boas promised before this game that the end of the transfer window would represent a "new start" for Spurs, and this handsome 2-0 win over Norwich certainly featured a lot of firsts: that first goal from something other than a penalty, a first appearance for the exceptional Christian Eriksen and -- most importantly of all -- a first glimpse of what looks like an extremely exciting future. It was difficult not to be impressed.

Sure, this was not a completely new team, emphasised by the fact that Gylfi Sigurdsson scored both goals and illustrated by the curiosity that Villas-Boas started only three of his seven summer signings. It was the latest of those purchases that did most of the damage, however, as Eriksen's exquisite economy of touch reflected the team's more assertive style of play. In an informal moment just before Villas-Boas' news conference, one journalist voiced his admiration for the side's display. The Tottenham manager seemed genuinely touched. "Thank you, thank you," he replied. "It's very much appreciated."

- Crace: Tottenham click into gear
- Davitt: Norwich's Prem Lge travel sickness

It was almost as if something this promising, this early, had been a surprise.

"It was a very good performance from the team today: outstanding," Villas-Boas said. "To do it on so many levels of quality -- physically dominant, tactically also -- was very impressive."

The most encouraging aspect was that they played like this despite the fact so many notionally superior players have yet to come in. Villas-Boas has said we won't see the true new Tottenham until October, but if he can gradually introduce the likes of Erik Lamela while maintaining this level, there is no reason that they should have to wait to go on a winning run.

Admittedly, they had to wait for a breakthrough, and the worry about that first goal from open play lasted for 28 minutes. In the moments after a superb Sebastien Bassong block deflected a Roberto Soldado strike that seemed destined for the net, a frustrated Villas-Boas implored his team to "move, move, move."

He needn't have worried. Even throughout that early spell, there was more of a fluency about Spurs than in the first three games of the season. It said an awful lot that they were impressively finding such space despite a constrained Norwich's insistence on congesting the area around their box with eight players.

Still, Tottenham eventually weaved their way through with a move of swift, sweeping class. Soldado started the attack and Sigurdsson finished it with a fine curling strike, but it was Eriksen who linked it all together.

Villas-Boas made a point of praising the manner in which the Dane got into such threatening areas so many times.

"It was a great debut for Christian," he said. "For a player of his age, great experience between the lines, he is a pure No. 10 -- a creative player. He came into the game and bonded very easily. His individual quality made a difference. It is the natural tendency of players that have this individual quality: You are able to bond even quicker."

That certainly felt the case in the second half as Sigurdsson got a second after just four minutes. Again, Eriksen picked the lock, but this time Paulinho played in the cross.

With the Brazilian so far forward, it was one of many moments when that 2-2-6 against Norwich's 8-2 became a 2-1-7. The manner in which Kyle Walker and the supreme Danny Rose got forward, and then Sigurdsson and Andros Townsend cut inside so frequently, was far removed from the reactive counterattacking game Spurs played last season.

Given the number of times Eriksen demanded the ball, he is clearly central to this approach. After the game, a magnanimous Chris Hughton said the Dane is "going to be a star." Despite some controversy about Hugo Lloris getting only booked for a punch outside the area, the Norwich manager said he could "have no complaints" after getting beaten by a "very, very good team" that will "have a say" in this season's title race.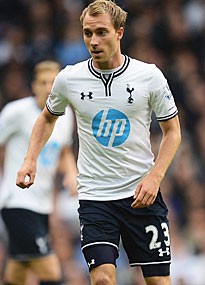 GettyImagesChristian Eriksen dazzled in his Spurs debut against Norwich.

That is one of the deeper aspects to this result beyond the pleasing nature of Spurs' play. Last season, they failed to beat Norwich at all -- drawing 1-1 during an opening four-game spell that yielded only four points -- and were knocked out of the Capital One Cup by Hughton's side. Here, it was never really a contest as Spurs claimed their ninth point of the season.

"We used as a motivation the fact we couldn't win against this team last year," Villas-Boas said. "I think the boys really stood up to that."

He was quick to caution that it is still early, adding: "It was very, very early to come thinking about anything. It is so different to the start last season, but hopefully [it] doesn't mean we have a blip in some way and we are able to keep winning points."

At the same time, Villas-Boas pointed out that the depth the squad now has was reflected by an effective backup player proving the match winner.

"We had a period last season, March and April, where we struggled with injuries, and we didn't have that strength in depth to fight for the Champions League spots. At the moment, we have it," he said. "We lost a player of Sandro's importance, which was key for us last season. I think it [the competition for places] hopefully means we can be right there this season."

Sigurdsson eventually went off for Lamela, who offered a reminder of how much work Spurs still have to do. With the promising winger looking slightly out of place and struggling to really link up -- albeit not quite to the same degree as his debut in the derby defeat to Arsenal -- Villas-Boas had to shout instructions to the Argentine in Spanish. It illustrated some of the everyday realities of this revolution.

At the end of his news conference, Villas-Boas was asked whether he was happy that no one had mentioned Gareth Bale, this match being the first since confirmation of the superstar's departure. "Just you!" the coach laughed, knowing the question is no longer so relevant.

Spurs, though, look likely to be a relevant force by season's end.