Moyes makes Marouane wait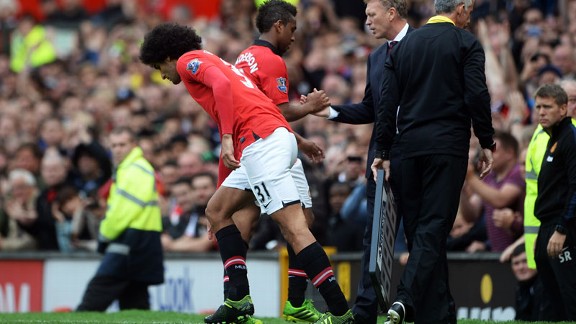 GettyImagesMarouane Fellaini replaced the ineffective Anderson to make his Man Utd debut.
MANCHESTER -- After a fortnight of international concerns, Saturday would be a day of new faces, where the expensive prizes of the transfer window's final days were shown off in their glory by their Premier League clubs.

Except if you are David Moyes, that is. That nickname of "Dithering Dave" seemed appropriate. He made £27.5 million signing Marouane Fellaini wait, even though he should be more than well acquainted with him. Moyes is known for rarely blooding a player when he has not had time to bed him into training; it took an hour for Fellaini to be given his chance.

The Belgian, looking a little too large for his club-issue shorts, made an impressive cameo. A 68th-minute half-volley from distance was well saved by Crystal Palace 'keeper Julian Speroni, and a couple of crunching tackles offered a muscle that United have long lacked in their midfield unit.

- Okwonga: Januzaj leaves OT eager for more

Before all that, the presence of Sir Alex Ferguson had been the main attraction. In the stands for the first time in his directorial and ambassadorial roles, looking chipper and lithe after a successful hip operation, if somewhat ginger of gait, Ferguson will have been familiar with all of the starting XI, and have good memories of the opponents, too. Crystal Palace were losing finalists in the 1990 FA Cup final when Ferguson won the first of his glut of trophies with United.

Sitting with wife Lady Cathy and former kitman Albert Morgan, Ferguson has only actually missed one home game, last month's draw with Chelsea. From now on, Moyes will have to put up with the sensation of two knowing eyes boring into the back of his head. Until fortune swung in United's direction, his team had yet again looked unconvincing.

Moyes will face tougher opponents than Palace, and he benefited hugely from the type of favourable decision Ferguson was long accused of receiving.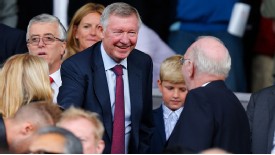 GettyImagesSir Alex Ferguson was in the crowd at Old Trafford for the first time since his retirement.
A frustrating first half looked to be finishing goalless, although Dwight Gayle should have scored for Palace before the size of the occasion got the better of a man who was playing for Bishop's Stortford 18 months ago. His teammates had been defending well, and in deep numbers, too.

But then referee Jonathan Moss gave a penalty for a foul on Ashley Young that, if it was even a foul, was outside the box. Robin van Persie converted after sent-off Kagisho Dikgacoi took a slow walk down the tunnel that even a post-op Ferguson might have overtaken. Palace were dealt an injustice, and Young had been skating on thin ice after a previous booking for clear simulation when challenged by the same defender.

"My opinion just doesn't count," Palace manager Ian Holloway said, mindful of his recent fine and ban for public dissent against refereeing decisions. "I literally cannot afford it. I will let everyone else judge."

Fellaini's lengthy watching brief had disappointed the multitudes of Manchester United fans in specially purchased Afro wigs. The wigmakers of Manchester are thankful to the new man. Swagmen around the concourse were doing a roaring trade in outsized hairpieces, although Sir Alex was not letting one spoil his time-honoured short back and sides. Such tonsorial topiary has not sat atop a United player's head since the days of Remi Moses, the local lad who played alongside Bryan Robson in midfield three decades ago.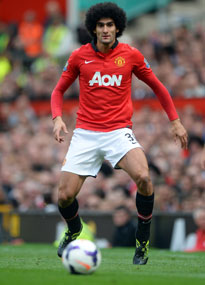 GettyImagesMarouane Fellaini was upstaged slightly by fellow Belgian debutant Adnan Januzaj.
In Fellaini's stead was selected Anderson, one of the class of 2007 that was Ferguson's final foray into the forgotten pursuit of buying central midfielders. Three times the Brazilian lost the ball needlessly in decent positions. Old Trafford insiders report that Anderson has been putting the hours into extra training. He has lost weight, but seemingly his first touch, too. This, his seventh season at United, must surely be his last chance. His eventual and inevitable replacement by Fellaini came seconds after a truly embarrassing trip over the ball.

The continuing Kagawa conspiracy had its latest piece of evidence with the news that Shinji would not be playing after a bout of flu despite playing two games for Japan last week. Manda Fermentation Co. signed up to become United's official nutritional supplement supplier in Japan, but the company's delegation at Old Trafford were not granted a sighting of their national hero.

Instead, Roy Hodgson might have been tearing his own bouffant out with the news that Wayne Rooney was declared fit for purpose despite that vertical gash of his. His large black headband -- "like a sumo wrestler," according to Moyes -- looked as if it might go well with Fellaini's hair-do in the event of United's players hitting a city-centre '70s night. Before his goal, Rooney's most creative moment came in chipping up a first-half chance that van Persie crashed against the crossbar. Hodgson might also have considered that Michael Carrick, a model of anticipation and awareness, could have unclogged England's midfield quagmire in Ukraine.

In mitigation for Moyes, Adnan Januzaj's arrival as a second-half substitute for Young, who had actually been quite effective otherwise otherwise, suggested that the new manager might possess risk-taking values after all. That made it two Belgian newcomers, and the 18-year-old's gifts were apparent from his first touch. It was a foul on him that conceded the free kick from which Rooney scored United's second. A smooth presence on the ball, Januzaj looks a player whose skills grant him time and comfort.

Fellaini was supposed to be a support act rather than the main event in Manchester United's summer transfer dealings. He ended the window as a soloist but now has a young compatriot for company, one who won rave reviews from fans and manager alike.

"I actually considered playing him from the start," Moyes said of Januzaj. "He moved the ball well. He's going to be a good player, the boy."

After a lengthy wait, and although perhaps not the players the faithful had really wanted to see, Old Trafford was finally granted the sight of new faces. The signs were promising, too.