Three Things: Crystal Palace vs. Manchester United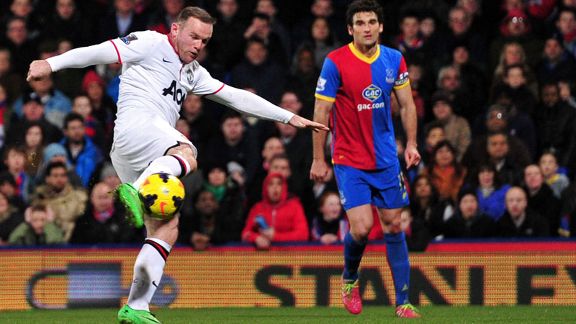 EmpicsWayne Rooney strikes home to make it 2-0 against Palace, cementing his new deal in style.
LONDON -- Three observations from Manchester United's 2-0 win at Crystal Palace.

1. Wayne Rooney makes a down payment

Manchester United for life? Rooney's new contract will eventually hand him the club captaincy and a future ambassadorial role, but the ambassador's reception was hardly rapturous. A glance at Manchester United's Facebook page offered what might politely be referred to as mixed reactions. The loyal Red Army that traveled to South London vocally backed him, even if many might still question his motives.

Goals like the thunderous drive that secured three points for United will certainly help to quell doubters. His first goal of 2014 probably landed him a decent extra bonus to pep up that 300,000-pounds-per-week deal.

- Payne: Rooney volley rubber-stamps contract

What did United get for their money? Rooney certainly took a long while to look worth it. One early nontackle on Marouane Chamakh was not an image of inarguable commitment. A loose first touch also betrayed a rustiness perhaps borne of the club's sun-seeking break in Dubai.

Yet soon, Rooney was playing with responsibility, cutting back into the deep when his team needed him as Palace pushed from the start of the second half. At one point, he served as auxiliary left-back when Patrice Evra made one of the forward breaks with which he eventually won the penalty that gave United the lead after Robin van Persie sent Julian Speroni the wrong way.

The two goal scorers secured the points that put United level on points with David Moyes' old club, Everton, but still look an odd couple. There remain signs that Juan Mata makes three a crowd, too.

One first-half Rooney surge was promising, but his pass was hit just as van Persie ran offside. Rooney and the Dutchman could not match the Tuesday telepathy with which Andres Iniesta and Lionel Messi killed Manchester City; Rooney's pass was tardy, while van Persie's run was badly timed.

Rooney and Mata are too often competing for the same position. Van Persie is yet to feel the benefit of having two suppliers rather than one. Despite his decent goal record this season, he does not look remotely the same player who fired United to their 20th title.

Mata started on the right but cannot stymie his instinct to move inside. Chris Smalling is nobody's idea of an attacking full-back, which caused imbalance, and when Mata was found on the right flank, he looked worryingly one-footed. One attempted overlap took him beyond the goal line.

The Spaniard is still a work in progress and looked far more comfortable behind Rooney once van Persie was withdrawn. Three into two is still not going.


2. Fellaini fluffs his lines

There was symmetry in Marouane Fellaini making his second coming against Palace. A 30-minute cameo in September was his United debut, and it might still be his finest performance in a red shirt. Moyes bought his former Everton charge to play at the base of midfield, a position he looked ill-suited to before a wrist injury was operated on before Christmas.

He and Mata together are 65 million pounds of Moyes' signings, two players in midfield, the area of weakness that the manager has had to address. Neither have slotted in any way seamlessly. Fellaini's misfit status continued. A clod-hopping finish ruined United's best move of the match.

When Mata's layoff found Fellaini with the entire goal to aim at, he hit the ball too eagerly, anticipating the goal instead of actually scoring it. Left footed, and with Speroni stranded, Fellaini leant back on his shot. The ball found its way deep into the stands and into the hands of gleeful Palace fans, who did not spare the mockery.

It was miss to pockmark what was actually a decent display from the Belgian. He played with vigour, while he alone looked capable of meeting United's first-half bombardment of crosses and hit a decent strike in the second half. The miss, though, even if it was with his wrong foot, was a summation of a tortured United career so far.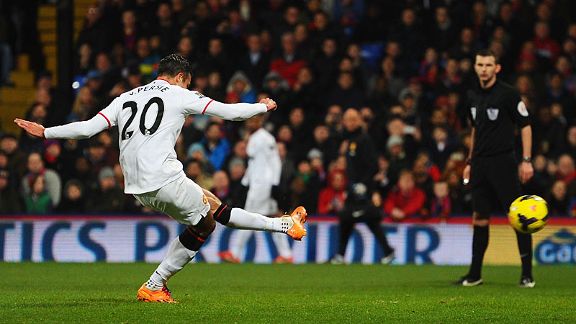 GettyImagesRobin van Persie fires Man United in front from the spot at Crystal Palace.
3. Raid the Palace

Palace fans took this defeat hard. They enjoy their role as tormentors of Manchester United. Back in 1972, a 5-0 defeat here removed Frank O'Farrell of his job as United manager. Moyes might thank the Lord for small mercies. His team escaped unscathed, and he fights on.

Selhurst Park has been a storied venue for United -- both good and bad. Back in the 1990s, they visited twice a season, back when Wimbledon groundshared. It was the scene of some classic goals, like David Beckham's 1996 shot from the halfway line in or Eric Cantona's blockbuster in 1994. Both those came against the Dons.

Palace usually proved trickier. Their last league visit was a 2005 stalemate that all but killed their title challenge, while the 1994-95 encounter was a draw, too, though few recall the 1-1 result. It was the night that Cantona exploded into Eagles fan Matthew Simmonds, an incident that causes bad blood to this day. Nineteen years on, United fans turning up in Cantona masks were denied entry while the singing of the Frenchman's name was met with boos from home fans.

Chamakh's striker's tackle on Evra was an indubitable penalty, but, still, Palace fans berated referee Mike Oliver, labeling him all names under the sun, even though he had done his job to the letter.

However, it says much that Palace fans traveled to Selhurst in the belief they could get something from the troubled champions. It mostly reflects what a fine job Tony Pulis has done in instilling belief and solidity to a team that had just four points when he arrived.

Were it not for Chamakh's rashness, United might have continued to be frustrated. The visitors certainly found it difficult to break down two massed banks of Eagles, with Glenn Murray, back after a cruciate injury, doing a fine job at leading the line.

Even in a defeat that dashed high hopes, Palace are not in the relegation zone. That is progress indeed.