World Cup dream is over but new era beckons for Republic of Ireland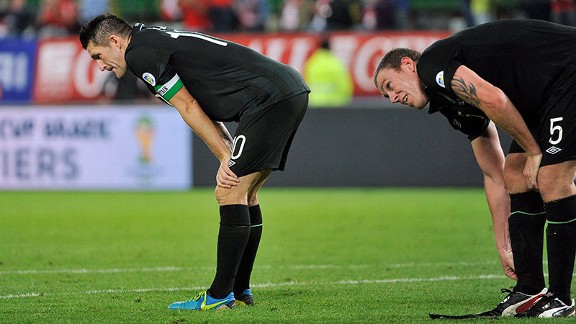 APRepublic of Ireland's Robbie Keane and Richard Dunne taste defeat against Austria.
Once the ball fell to Austria's David Alaba inside the Republic of Ireland's penalty area in their World Cup qualifier, it was inevitable that he would score and ignite the beginning of the end of Giovanni Trapattoni's reign.

• Report: Austria defeat Republic of Ireland
• Trapattoni prepares for Ireland exit

There are still many supporters who want to stand by the 74-year-old and cry foul on anyone who dares to criticize his ways. But the manager himself was even hinting that his time was up after losing in Vienna on Tuesday evening.

The defeat rules Ireland out of the running to qualify for next summer's World Cup, with Austria and Sweden set to fight it out to finish as runners-up behind Germany in Group C. Nobody should be angry about it, but actions should follow to address why it happened.

It would be easy to lay total blame with Trapattoni, who has courted controversy throughout his five-and-a-half years in charge, but certain players are guilty of not delivering when it matters most in the big games. And whoever may follow the Italian will need to recognize that a squad shake-up is necessary.

In their narrow 1-0 loss to Austria, the same issues that have dogged Ireland in this qualifying campaign resurfaced. From the 4-4-2 formation, where they were over-run in midfield, through to not registering a single shot on target, Ireland shot themselves in the foot long before Alaba's 84th minute strike crippled them.

It was predictable stuff from Ireland despite the lively presence of Anthony Pilkington on the left wing, the hard work of Shane Long up front, and the bravery of Seamus Coleman in defence. They need to learn that effort only gets you so far on this stage; or maybe that should be what Trapattoni must understand.

Although, the former Italy manager is not going to change - he never has, never will. So that leaves the Football Association of Ireland (FAI) with a dilemma. Pay up his contract, which runs until next summer, and seek out a new manager or stick by him for their two remaining qualifiers, even though they are meaningless at this stage.

Once the FAI board sit down to discuss that managerial situation, they should also address the long-term plans of the association regarding football development. They have done some excellent work in that area, but continually their international sides come up short when it matters most.

It is something that has become a hot topic - and should heat up even more following this defeat - and at the pre-match press conference for this game, captain Robbie Keane stated that Ireland will never be able to play like Spain unless the FAI affect things at grassroots level.

It was a fair point, except that not every country should aim to play tiki-taka football; instead they can settle for a passing game that caters for their more technical players but also maximizes their physicality and wholeheartedness. And that is what some of the players were saying as they strutted out of the Ernst Happel Stadium. cursing the fact that their World Cup dream was over.

Trapattoni has, in a lot of ways, been good for Ireland and his achievement of guiding them to the 2012 European Championships should not be forgotten. However, he is someone who always wants to be judged on results and anyone who looks at the standings in Group C has the right to tell him that the results haven't been good enough.

Soon after the game, the FAI released a statement that read: "The FAI board of management will now consider the current position over the coming period to discuss the recent results." That is the first indication that they are ready for a change and it will be music to the ears of supporters who have fallen out of love with the Irish team.

The good news is that there are players to build an exciting team. The likes of Coleman, James McCarthy, Darron Gibson, Jeff Hendrick, Robbie Brady and Long can form the backbone of a team who can play an exciting brand of football, if given the proper guidance and backing by the right manager.

As he left Vienna on Tuesday night, Trapattoni will have known that this could be the last time that he pulls on the Ireland tracksuit. There is no malice in removing him from his job, it is inevitable - just like Alaba scoring the goal to knock Ireland out.