Three Things: Chelsea vs. Everton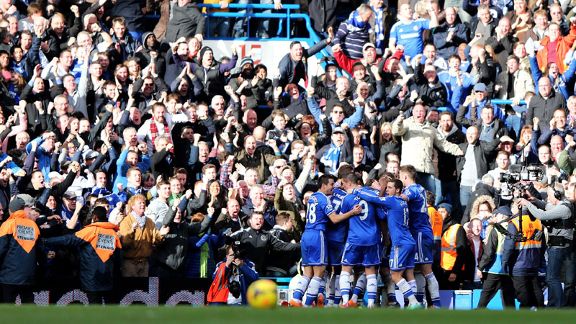 GettyImagesChelsea celebrate their late winner against Everton.
LONDON -- Three thoughts on Chelsea's late 1-0 win over Everton at Stamford Bridge.

1. 'One of those goals'

There were certainly superior ways to force it through, but there's perhaps no other way to describe it: This was one of those genuine "title goals." Almost every season, and in virtually every close race, there is one achingly late moment you eventually look back on as the decisive strike. In 2007, it was John O'Shea's for Manchester United against Liverpool. In 2009, it was Federico Macheda's against Aston Villa. In 2010, it was Joe Cole's for Chelsea themselves at Old Trafford.

It's difficult to know whether this will end up as one of those kinds of moments, especially with this race so close, but it certainly has that feel right now. It is, at the very least, a goal of immense value. Even if it's unfair, you only have to compare it to Arsenal's home fixture against the same opposition back in December. Then, Arsene Wenger's side coughed up a late goal to lose the chance to go seven points clear. Here, Chelsea punctured Everton in such a way -- if not quite as cleanly -- to maintain their lead.

- Lythell: Last-gasp Terry keeps bid on track

Of course, it should not go unsaid that there was an element of unfairness about the eventual goal -- and not just in terms of what Everton merited. There was a strong suspicion Ramires dived for the Frank Lampard free kick that was finally turned in. Indeed, Everton boss Roberto Martinez said of the alleged simulation in his postmatch news conference: "That happens everywhere." Parallels have already been drawn with the West Brom 2-2 draw here, and the Chelsea manager himself attempted to claim that this late win was "compensation" for the two points lost at the Hawthorns.

Either way, it was an immensely valuable victory. When people talk about the value of Jose Mourinho, and why he might ultimately be a superior manager to Wenger in terms of pre results, this is essentially why. He does underline teams with an almost unyielding winning mentality. That might be something intangible, but it had a very tangible effect here.

A certain curiosity is that Mourinho has never experienced a truly tight race in England. His teams, however, seem to know the way to navigate them. Here, they eventually steered the ball into the net. It might not have been deserved, as Mourinho admitted later, but it could be defining.

2. Finishing touches

As Chelsea toiled, and Everton kept tough, Mourinho made one of his signature wild-card moves: He introduced a second striker in Fernando Torres. The problem was that it merely served to highlight the fact that is the one remaining flaw in this Chelsea side -- they lack that single prime top-class centre-forward. Mourinho has insisted they will buy one in the summer, but it could end up costing them this title. It certainly had an effect on this game.

The best Torres could offer was a blazed shot wide, and Samuel Eto'o no more than a few misplaced touches. The one saving grace for Chelsea was that Everton are enduring an identical problem. It ensured Mourinho's side at least kept one point rather than losing all three.

Martinez's side had much the better of the first half, especially in terms of territory, but didn't exactly create any superior chances. The obvious reference here, of course, is the forward who finds himself between the two clubs -- albeit injured and ineligible for this match: Romelu Lukaku.

In truth, Mourinho is likely correct to believe the young Belgian is not yet ready for the pressure of a title race, but Everton do not yet seem fully complete without him. Sure, Lacina Traore got injured in the warm-up, but they ultimately had no one to turn their ability to get so close to the Chelsea box into a properly damaging attack. It meant Mourinho's side turned this even game into a win. That it came through an own goal was arguably apt.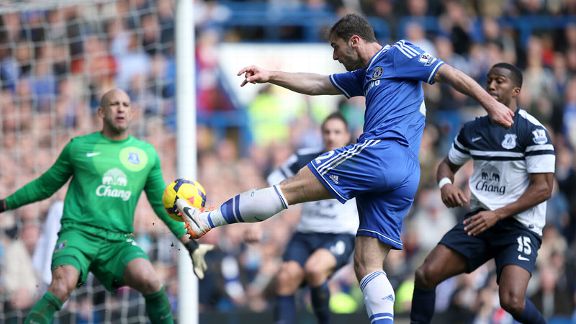 PA PhotosBranislav Ivanovic sees a shot saved by Tim Howard.
3. Everton, however, illustrate they're no soft touch

Mourinho might have been unwilling to say too much before this game, but he had plenty to say during it. The one similarity was the surly expression on his face. As Leighton Baines went to take a throw-in right beside the Chelsea dugout in the middle of the second half, the Portuguese strolled up and gave the left-back the ball as well as what appeared to be a slightly condescending pat on the back of the head.

Before that, Mourinho got himself into a verbal spat with Everton goalkeeping coach Inaki Bergara, who was incensed with Ramires' overzealous attempts to get the ball out from under a fallen Steven Pienaar. In truth, that incident was the first time in the game that Chelsea quite went toe to toe with Everton -- so to speak -- and it was no surprise that it took the introduction of Ramires.

One of the most marked things about this game, especially in the first half, was the muscular approach of Everton. So much for the supposed softness of Martinez teams. For long periods of this game, they were physically dominating one of the most notoriously durable sides in the league. Whatever is said about false perceptions of the Goodison Park boss, after all, there can be little disputing that Mourinho outfits tend to be especially tough.

Just before the 20th minute, most notably, James McCarthy went right through John Terry and came out with the ball. It wasn't the only time a young midfielder occasionally accused of a touch too much meekness made himself known. In at least five different challenges, McCarthy left Hazard chastened. Even though the Belgian eventually got the better of McCarthy with a nutmeg, that was about it. Everton had him pinned down, and it was only when Mourinho introduced Ramires that Chelsea began to get any kind of firm hold on the game again.

It is one particular source of encouragement for an Everton team that are very much a work in progress -- as the final result illustrated. It was not without a certain sense of irony that the ball was eventually bustled into the net. Mourinho, by then, was smiling.