Game of 50-50 moments swings in Bayern's favor
LONDON -- A predictable result, perhaps, but not without an initially unpredictable course.

This was one of those extremely distinctive games where had two or three key moments taken an alternative course, it could have put a wildly different spin on affairs. As it was, Bayern Munich definitively spun the tie with Arsenal in their favour with a late goal from Thomas Muller that made it 2-0.

Had that not gone in, for all the European champions' superiority, even a chance early goal in the return leg could have really altered things. But the lingering question about this tie as a whole, however, is what an early goal in the first leg would have done. And that's not in reference to the Champions League round of 16 -- but also Mesut Ozil's entire campaign.

For the first 10 minutes of this match, Arsenal put it to Bayern like pretty much no side since, well, Arsenal in the final 10 minutes of their second leg last season. Alex Oxlade-Chamberlain seemed to give Arsene Wenger's side an imposing new impetus; Ozil had initially seemed to rediscover his verve.

- Brewin: Three Things
- Report: Arsenal 0-2 Bayern Munich
- Story: Wenger questions Ozil
- Guardiola: Praise for Arsenal
- Mariner: Arsenal grades
- Moreno: Bayern grades

Arsenal were tearing into Bayern in exhilarating fashion, suddenly making them look surprisingly mortal. Pep Guardiola admitted that the home side were playing "incredibly." At that point, it did look like the English team were potentially setting up one of those sensational, rare European nights, with the atmosphere only further feeding it all.

The reaction was especially raucous on nine minutes, when Ozil's mercury-like movement drew a penalty from Jerome Boateng's foul. Even at that early stage it had the feel of a juncture moment, a point of rare opportunity given the manner in which their magnificent opponents were struggling.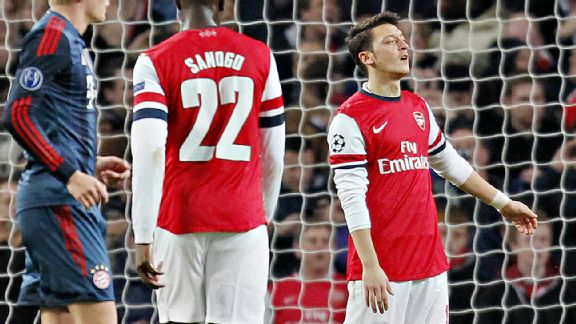 Ian Kington/AFP/Getty ImagesOzil's penalty was a defining moment in Arsenal's UCL clash -- and in the German's difficult season.

Wenger admitted as much after the game. "We needed that tonight because we could see Bayern were on the ropes, [we had] three good chances in the first 15 minutes. I felt more we needed to score that penalty tonight.

"Ozil arguably needed to score it more," the Frenchman continued. "He certainly didn't need to have it saved as meekly as that." Wenger also acknowledged that it "affected" the playmaker, all the more so because of the disappointment of recent games weighing on his mind.

"I think he wanted to do so well tonight that it affected him. You could see five or 10 minutes later, he was shaking his head and it affected his performances."

Five or 10 minutes from the end of the game, a few of Ozil's teammates were doing much more than shaking their heads. In one especially notable moment, Mathieu Flamini grabbed the German, shoved and shouted at him in what seemed fairly furious terms.

Ozil, at that point, was barely at the races. If there have been fair questions about his physical condition the past few weeks, there could be no disputing he was psychologically out of the game at that point.

On several occasions, and especially the moments when a playmaking Arjen Robben moved past Ozil with ease, it was remarkable to think that this was the star Real Madrid felt was a fine upgrade a year after the Dutch forward was sold from the Bernabeu.

"The confidence is your petrol in the team," Wenger sighed. "It is what gives you the desire to go out and play." Whatever about petrol, Arsenal certainly seemed to lose proactivity after the penalty miss. They immediately dropped back about 50 yards; it was conspicuous they didn't create another chance for 11 minutes.

Even by then, though, there was something other than petrol making Bayern really move: Toni Kroos.

Whatever the comparisons with Ozil's predecessor at Real Madrid in Robben, perhaps the real contrast -- and one significant factor in the final result -- was the Arsenal man's midfield teammate in the German national team.

Right through the entire game, it was even more remarkable to think that this is a player Manchester United felt they had a chance of signing. You certainly wouldn't believe that with the way Guardiola was talking about Kroos coupled with the way the 24-year-old was playing.

"Incredible," the Bayern manager said. "I like players like this, in such a difficult situation, in such a big game, in a stadium like this, they take the ball and play and play and play."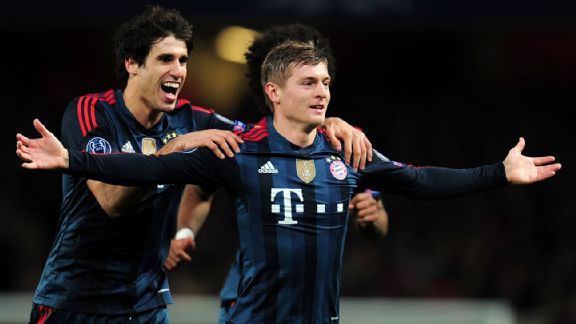 AllsportToni Kroos excelled today as Bayern's counterpoint to Ozil.

He made Bayern move and move and move. On three minutes, he certainly made the ball move, too, driving an exceptional long-range effort toward the top corner. It was only a supreme Wojciech Szczesny save that kept it out.

Gradually though, Arsenal were struggling to keep Bayern at bay. In the half-hour after the Ozil miss, the away side began to get closer and closer to the opposition goal, always just waiting for the key moment. One Robben shot served warning -- but it wasn't one that was all that severe.

As dominant as Bayern were of the ball, and as much as that kind of possession would inevitably have exhausted Arsenal by the 70th minute, Guardiola's side hadn't made their true breakthrough.

This was a hugely engaging tie, tense and tactical. Then, however, came the incident that broke it.

One thing is certain. By the letter of football's laws, Szczesny had to be sent off for his clumsy foul on Robben, and it was a definite penalty. Guardiola made a point of insisting that.

The real debate is whether the rules should be changed, as both managers intimated afterward. The real disappointment, meanwhile, was that the current severity of those rules didn't allow us the full world-class contest that this game was building into. It didn't afford Guardiola's brilliant Bayern a test that could have derived an even better performance from them.

Wenger was left hugely frustrated to the point that he unfairly and somewhat gracelessly criticised Bayern for "making more of every single contact."

"I just feel frustrated," Wenger lamented. "It was a great game until half-time, and no game at all after half-time. On a European night, that's really frustrating. The game delivered what it promised at the start and, the second half, it was not the same game.

"Unfortunately, it changed completely the game. It didn't just change the game. It killed the game ... in the second half, for neutral people, it was boring. One-way traffic."

There could be no denying that. Bayern were dominant. As Ozil increasingly faded, Kroos flourished, finally improving on that third-minute effort. After some interplay with the excellent Robben on 54 minutes, he guided the ball sweetly, first time, into the top corner of the net. It was perfect; more importantly, it allowed Bayern to play some perfect football.

By then, Arsenal were in an unenviable stick-or-twist situation. As Wenger said, "it was similar to what happened at Manchester City" for the Barcelona tie the previous night. The home side had to decide whether to conservatively try to prevent the score getting worse and thereby hold out and hope for the first goal in the return, or go forward for the strike they arguably needed and risk being ripped apart.

Only seven sides in European Cup history, after all, have overcome a first-leg home defeat to go through. Even fewer sides, however, have overturned a first-leg 2-0 defeat.

That score line was precisely what transpired as Arsenal sought to strike a balance. On 88 minutes, substitute Muller struck the target, sending home a diving header. In the end Bayern had done exactly what was expected, but not quite in the manner expected.