Three Things: Arsenal vs. Bayern Munich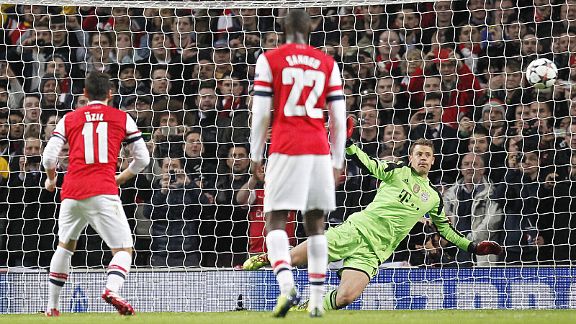 GettyImagesManuel Neuer saves Mesut Ozil's penalty kick.
LONDON -- Three thoughts on Bayern Munich's 2-0 win versus Arsenal in a Champions League last-16, first-leg match.

1. Arsenal pay the penalty

Arsene Wenger ranted and raved. He even showed off miming skills in telling Arjen Robben of his belief that the Dutchman had dived. Two spot kicks had swung the tie away from Arsenal, even if neither was converted.

As against Liverpool on Sunday, the aim for the hosts had been to hold off an early onslaught, and take chances through transition play. Alex Oxlade-Chamberlain, flying in the early stages, was the most likely outlet for success, but then Mesut Ozil committed the crime of not making a keeper work to save a spot kick.

The playmaker won the penalty himself: His cut-back meant Jerome Boateng could not get out of his way. The defender was duped but the embarrassment was soon with Ozil.

The effort embodied the casualness that is becoming his critics' leading gambit. A stutter-step did not fool his international colleague, keeper Manuel Neuer, whose strong-armed punch was delivered with much more venom than Ozil's kick.

- Report: Bayern prevail at the Emirates

A penalty at the other end was soon the source of Arsene's ire. Toni Kroos' chipped ball slipped in Robben, and Wojciech Szczesny could not prevent himself from clattering the Dutchman.

Somehow, though, David Alaba's penalty was even worse than Ozil's: At least the Arsenal man's counted as a shot on target. This was spot-kick taking of Manchester United versus Sunderland vintage.

Bayern, though, had gained a man advantage from their howler. Szczesny had to be red-carded by the letter of the law, even if the rules are unfair in giving players a triple punishment of penalty, dismissal and suspension.

It was in the space left by Santi Cazorla's withdrawal for Lukasz Fabianski that Bayern got the away goal they had come for. Nine minutes after halftime, Toni Kroos stepped onto a Philipp Lahm pass and top-spinned his strike into the net. Minimal backlift belied the venom of a superb finish.

Wenger may have felt that his team could ride out the storm and regroup for a return trip to Munich. A one-goal deficit would not have been so bad but, like Manchester City in the Nou Camp, Arsenal now need a minor miracle to be in the last eight. Ozil, a 42 million pound man who completed only 54 percent of his passes, does not look anything like the man to inspire it.

Lahm, who has become one of the world's best under Pep Guardiola, was the supplier of the felling blow, crossing for Thomas Muller, who took advantage of Javi Martinez pulling Claudio Pizarro out of position and killed off Arsenal.

2. Pep prefers Kroos control

Far less a power outlet than under Jupp Heynckes, Bayern now play with patience rather than power, and Pep Guardiola's philosophy is deeply branded on them.

Similarities with Barcelona at Manchester City on Tuesday were notable. Bayern toyed with Arsenal, especially once the home team were down to 10 men.

However, while City troubled Barca's back line at times at Eastlands when a man down, Bayern tortuously turned the screw. Their movement is far superior to Guardiola's old club and hugely reminiscent of his own Blaugrana team.

Lahm began as a full-back who pushed right onto his opposite number, but at halftime Guardiola converted his captain into an amalgam of Xavi and Sergio Busquets. The Bayern skipper swept up in front of a three-man defence, and he created the angle for Kroos' goal to be whipped in.

One of the most successful teams of modern times is almost unrecognisable from last season. It reminds of Brian Clough's 1974 quip to Don Revie: "We wanted to win it better."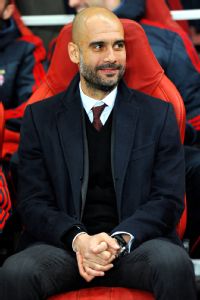 Shaun Botterill/Getty ImagesAfter surviving an early scare, Guardiola's side controlled the remainder of the game.
Guardiola's team are more capable of success than Leeds' "Damned United" ever were. When Bayern won at the Emirates a year ago, they bludgeoned Arsenal aside. This time, they were not to be rushed. Gaining control of the patterns of play was the first objective, especially after a determined start from Arsenal.

Robben's burst to win the penalty came in a moment when Bayern had seemed to lack penetration. An elegant stroke of Kroos' boot changed that, and the young German dominated more and more as the night went on. Despite plenty of effort, Arsenal could not live with him or his colleagues.

3. No go for Sanogo

"I just don't have the words to describe what I am feeling for tonight," the surprise starter Yaya Sanogo said before the game on social media. "Can you help me?"

Wenger was rather hoping Yaya Sanogo could help Arsenal. Olivier Giroud is in the red zone, physically, mentally and, probably, emotionally.

In Sanogo, Wenger is certain he has unearthed his latest gem, but there remain many rough edges to polish. The inexperienced forward was the wild card to double-bluff Europe's champions.

Even though Wenger said in prematch that Sanogo was playing for tactical reasons, it was clear that Giroud's star has waned. His sophomore season has stalled, most probably through overwork, and his manager must shoulder some blame after January's dallying prevented a more senior striking option from refreshing Arsenal's push for honours.

After a promising display against Liverpool, the younger Frenchman, all flailing limbs and lolloping strides, was trusted as a lone striker who would eventually be utterly lonesome.

Bayern Munich's central defence of Jerome Boateng and Dante is the suspect cog of the continent's slickest machine, and Sanogo -- who reminds of a less sure-footed Emmanuel Adebayor -- might rock them, it was thought.

Winning his first header from the kickoff and hounding Javi Martinez revealed much of Sanogo's detail for the evening; Giroud is less willing to defend from the front.

The 21-year-old might even have grabbed the opening goal when Jack Wilshere dug the ball out of a penalty-box scramble, but the eventual shot was scuffed.

Sanogo and Oxlade-Chamberlain struck up a decent understanding -- the striker found the winger with a couple of neat lay-offs -- but by the second half Sanogo was a solitary figure at the head of an ever-retreating pyramid, doing his defending from the front only 40 yards from his own goal.

Starved of service, he chased shadows gamely enough, but without ever supplying the moment to repay Wenger's gamble.