Three Things: Man City vs. Barcelona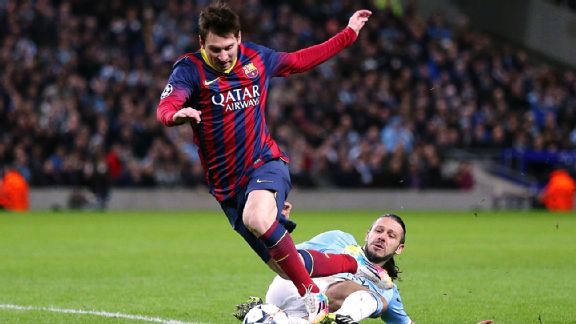 Clive Brunskill/Getty ImagesMartin Demichelis' moment of madness cued the beginning of Man City's demise at home to Barcelona.
MANCHESTER -- Three quick thoughts from the Etihad as Barcelona grabbed a commanding 2-0 first-leg win over Manchester City in Champions League action...

1. Demichelis lets Pellegrini down
Being reduced to 10 men against Barcelona is as painful a prospect as is possible in football.

City were not allowed, and simply were not capable of, their usual attacking whirlwind. They sat deep, using the counterattack as an increasingly blunt weapon. Discipline instead of adventure was required, but Martin Demichelis, the loyalist brought with Manuel Pellegrini from Malaga (by way of Atletico Madrid), badly let down his mentor. It was the right idea ruined by one individual.

Eastlands is not used to the sight of laser-blue shirts camped on the 18-yard box. In the opening moments, Demichelis enjoyed himself, making several interceptions. Those early stages were played at the pace that best suits the Argentine, though his impetuousness was always likely to cause problems. And eventually did.

- Report: Man City 0-2 Barcelona

The first half was sterile, with Barcelona's passing in the final third lacking the necessary crispness. Almost as soon as the second period began, Cesc Fabregas' through-ball found Lionel Messi bearing down on goal. Demichelis' tackle was utterly rash, since Messi was already in the box -- though replays showed their initial contact occurred just outside -- and the defender was the last man.

Messi scoring from the spot was as inevitable as Demichelis being shown the red card. An away goal conceded and a trip to the Nou Camp to come, things already looked bleak -- and would get yet bleaker.

City never quite got into the contest, even though the 10 men showed notable spirit. City fans are so used to their team thundering forward that the stadium lacked noise. Alvaro Negredo's 19th-minute cross shot -- wide of the goal -- briefly lifted hackles. A snap shot eight minutes later lifted the volume higher, as Negredo and David Silva sought their usual angles.

The aim was to get the striker one-on-one against Javier Mascherano, over whom Negredo had a considerable height advantage even though the converted midfielder is actually rather decent in the air.

It hardly helped that Negredo is short of fitness. He continues to be troubled by the shoulder injury received in a dead-rubber, League Cup semifinal second leg at West Ham. City are running out of strikers, with Edin Dzeko suffering ankle trouble and Sergio Aguero missed most of all.

Fernandinho also appeared to be rushed back from the injury he suffered ahead of the Chelsea match a fortnight ago.

Barcelona's arrival in Manchester came at exactly the wrong time for City. When Dani Alves slotted the second goal for Barcelona after a fine reverse pass from sub Neymar, it signaled the death of a dream -- and this tie, too.

2. Messi the killer
Lionel Messi's English curse is over. He has finally scored on an English club's home ground. He could boast of a goal in the 2011 Champions League final, of course, but for a player who continues to break records -- overtaking Alfredo Di Stefano's Liga goal record at the weekend was his latest -- England had proved top be an unhappy hunting ground. The jokes about a wet Wednesday in Stoke could finally have an answer.

Demichelis' error provided Messi with a spot-kick opportunity that he took with relish, though it was his dart away from his chaotic compatriot that had done the damage. Like his great rival Cristiano Ronaldo, as Messi matures, perpetual motion has been sidelined in the stead of ghosting. Messi's role is to supply the moments of precision killing.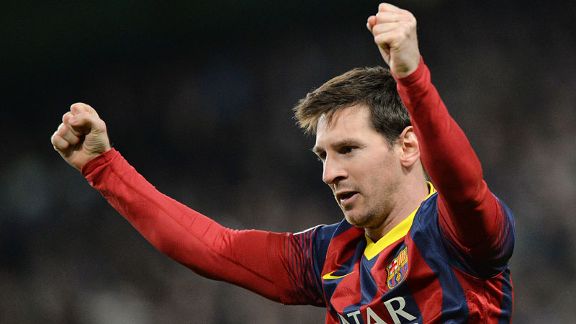 GettyImagesLionel Messi celebrates sending Barcelona into the lead.

The first half had provided a couple of warning signs. One outrageous swerve away from Yaya Toure reminded of the little magician's inherent danger. Vincent Kompany also picked up what could have been a costly booking when he came across to cut off Messi in full flow.

Messi is not quite back to his best, but he was still too much for City -- Demichelis in particular. This year, 2014, is supposed to be Messi's best yet after a troubled 2013. Another ghost was buried, as he provided the moment and all but took his club into yet another quarterfinal.

3. A step too far?
It is almost 15 years ago to the day since City's opponents were Macclesfield Town in English football's third tier. Their captain back then was Andy Morrison, a man who more closely resembled a nightclub bouncer than a professional athlete. For those who do not recall him, let's say he was no Kompany, though Morrison was probably better at tackling than Demichelis is. Messi ought to be relieved that Morrison is no longer around.

The welcoming of Barcelona marked the latest achievement of an objective for the City project. What a difference a billion pounds has made. A journey from Moss Rose to Nou Camp was beyond the belief of those who suffered at Maine Road back in those days.

At the third time of asking, City had reached the knockout stages of the Champions League, almost certainly the planet's highest grade of competition. This was the first step of the next phase; now, City's place in England's elite must be translated to the continent. They will have to wait until next year for the next development.

Nowadays, City are run by Catalan powerbrokers on a "holistic" model. It is fair to assume that Joe Royle, City's manager back then, does not know the meaning of that word. "Typical City," the phrase that Royle coined, is a team capable of playing the most potent attacking football in the English game. To follow Pellegrini's logic on Monday, they have become Manchester's team while that lot down the road pull themselves back together.

Pellegrini was brought to the club for his experience in this competition, one that had been the Achilles' heel of predecessor Roberto Mancini. The Italian, sometimes keen to cock a snook back at his old employers, will have enjoyed this result.

Overall, this was a painful reminder that the journey to the top table of "super clubs" can be slow going. Unless a miracle is pulled off in the Nou Camp, it is back to the drawing board and domestic matters, where City are far more comfortable than they are on the European stage.