Chelsea's tight Villa win reveals glaring front man need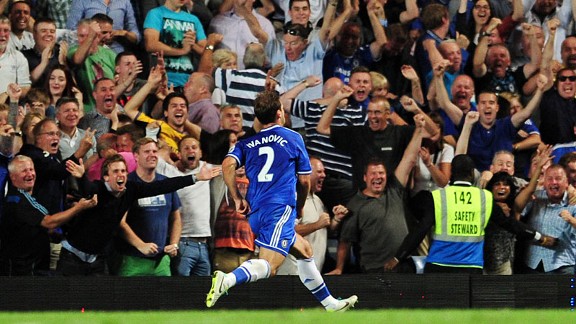 CARL COURT/AFP/Getty ImagesBranislav Ivanovic's late winner for Chelsea was not without controversy.
LONDON -- For once, it was not Jose Mourinho with the most apt wording. There was also none of the recent jocularity. Paul Lambert, however, could only smile.

"It's one opinion," the Aston Villa manager said. "But it's for people to debate."

Lambert was talking about the contentious decision that ultimately tilted a raucous second half at Stamford Bridge and conditioned a controversial 2-1 win for Chelsea. Moments after Branislav Ivanovic might have been sent for a flailing elbow in the direction of Christian Benteke, the centre half plundered the brilliant header that brought Mourinho's second win from two games.

- Match report: Chelsea 2-1 Aston Villa

The Villa manager might, however, have been talking about the entire contest and outcome.

From one perspective, Chelsea were hugely fortunate. Not only did Ivanovic unfairly stay on the pitch to score the winner, there was a hint of offside about the winning goal as well as a stoppage-time John Terry handball that could well have resulted in a penalty. Even beyond referee Kevin Friend's decisions, the home side required one fine save from Petr Cech and another bad miss from Andreas Weimann. There was as much relief as resilience by the end.

From another perspective, though, Chelsea showed admirable fight in a game that might well have seen them drop points in the past.

That was certainly Mourinho's view, as he offered a robust defence of both his team and the referee while also sending a few jabs in the direction of Villa. The tone from his recent news conferences had certainly changed.
On the Ivanovic decision? "I think the referee did very, very well. From minute 1 to 95, there was real fight between Benteke and Ivanovic, fouls from one side, fouls from another side. I think that's football."

On the Terry handball? "Free kick against Aston Villa."

On Villa: "They don't play a lot but they fought a lot and created great difficulties."

On his own side: "The good thing for my team today was that Villa gave us a difficult match, and we coped with that. Defensively we were strong."

And on that end result?

"A draw wouldn't be unfair. Sometimes you have to win because you play fantastic football, sometimes based on other things."

Mourinho stopped well short of saying his team was lucky or didn't deserve the win. Lambert, of course, didn't necessarily agree. Many might also point to the decisions he enjoyed at Arsenal. Yet, as the Villa manager said at the top, it's all about individual opinion.

As regards Chelsea, it remains to be seen whether the manner of this win was a worry or something to give encouragement. Time will tell.

Amid all of that, though, one thing seems certain: Mourinho really needs that striker he craves in order to fully complete this team. That was only emphasised by the way it took a defender -- who probably shouldn't have been on the pitch -- to score the winner. The feeling persists that that game wouldn't quite have been so in the balance had Chelsea fielded that proper Mourinho front man.

Because, up until Benteke's supreme strike on the stroke of halftime, Chelsea had been utterly in control. Although their intensity dropped in the manner of the Hull City game on Saturday, they were still full value for the lead.

With the kind of full-on hold-up front man that Mourinho's system has historically demanded, however, they might have converted much more than Antonio Luna's seventh-minute own goal. As it stands, they have no one to quite pin the attack together, to integrate all that intensity. Fernando Torres was rested after his display on Sunday, but his running game still does not fit the requirements. The Spaniard's replacement, Demba Ba, was an irrelevance here, while substitute Romelu Lukaku looked as raw at this vaunted level as his age suggests -- even if he has all the capabilities to eventually mature into a top-class forward.

Mourinho was diplomatic about them afterward.

"I try to put all my three strikers more or less at the same time," he said. "They all three did their work, they had a defensive job in the team, humble in the service they give to the team, so I can't say I'm not happy."

He also couldn't say that any of them have scored yet, or that he is not still in pursuit of a higher-profile front man. Mourinho insisted he will not attempt one last purchase of Wayne Rooney before the visit to Manchester United on Monday, but may still move afterward.

"I don't want Chelsea to do it before we go there [on Monday] and everybody in club and board agree with me.

"There is time to do things, but we are going to be quiet. What we did before we can do later."

It was arguably an opposition player who most emphasised the importance of Chelsea making that signing. With just two touches before halftime, Benteke conjured a thunderous goal out of nothing to level things. With all other touches either side, then, he continuously brought Villa's attacking play on. He is the real deal. For all the comparisons with Didier Drogba, the efficiency, economy and excellence of his every move resembles Robin van Persie at Manchester United.

Chelsea are understood to have monitored Benteke early in the summer, but Mourinho was not completely charitable when asked about whether the Belgian would specifically solve his side's outstanding issue.

"He's a great player, but he's a great player for a certain style of football. We tried to play a different style of football."

That was not the only opinion that Lambert couldn't go along with. He felt his team was "outstanding" and it was certainly difficult to disagree with that. Mourinho attempted to compare the Scot to himself as a younger coach for the manner in which the Villa boss disputed so many decisions, but there are considerable differences. While the Portuguese has always been the ultimate short-term manager capable of immediately improving a team, Lambert generally works over the longer term.

It was indicative that, with just one new player in the starting lineup in the unfortunate Luna, Villa looked so different from the majority of last season. It was not unfeasible that they could have come away from two astoundingly difficult first two games with full points. That is how far they've come, and that is the consequence of Lambert's coaching.

The feeling remains, however, that Chelsea need that one signing more to go that bit further.

As early as it is in the season, it may go a long way to giving Mourinho that last word.