Barcelona show patience on the road to victory
MANCHESTER -- They call it "pausa" in Spanish football. It is that magical, quiet moment when frantic play seems to stand still and a footballer of brains, distinction, creativity or class does something special.

A pass, a dribble, a twist, a turn and change of direction: whatever it takes to unlock matters.

In this Barcelona team, it has traditionally been Xavi, pound-for-pound Spain's greatest ever footballer. Occasionally it has been Andres Iniesta (not a bad alternative for one team to have).

The more hurly-burly, the more tempestuous the game, the more impressive it is when a player has this innate "Zen" football moment in his locker.

On Tuesday night it was Lionel Messi, but in a quite different way. He scored because he took a pause, not because he produced a moment of "pausa".

- Brewin: Three Things from Man City vs. Barcelona
- Report: Barcelona take control

As the 54th minute ticked by, the Argentinian was left isolated upfield, like flotsam and jetsam left behind at the high tide mark on a beach. A move had broken down and Messi strolled back, casually, offside by around 25 metres.

Traditional coaches or managers, and old-fashioned reporters, would simply have called him lazy. Out of the game, "useless" to his team, apparently disinterested. Then, a full 60 metres away, Manchester City committed a cardinal sin.

Their possession broke down thanks to the combined interventions of Sergio Busquets and Jordi Alba and Messi's mini pause abruptly ended. As Iniesta sprinted on to the loose ball he looked up and spotted his No.10 haring back towards the offside line.

The midfielder took a big step forward while Vincent Kompany -- who was magnificent all night -- just jogged backwards to try and recoup what he thought was the right position.

Messi's movement combined with that of the Belgian and, as soon as the Barcelona man was onside, Iniesta released one of those snooker-cue passes which slid across the green baize to its destination.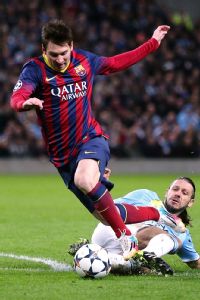 Clive Brunskill/Getty ImagesDemichelis fouls Messi, resulting in a Barcelona penalty and a red card for the Man City defender.
After nearly two-thirds of the game, it was one of the first and only times that the home side's plan to surgically attach Martin Demichelis to Messi failed. The rather larger Argentinian had patrolled his mini countryman with some diligence and success until that point.

All around the City of Manchester Stadium, the English media and the City fans were full of "told you so" expressions, knowing groans and withering adjectives. Demichelis is not well-rated here.

However, though his season may have been limp and slow, that wasn't the case until Messi went walkabout in the offside outback.

What should you do in a situation like that? Your team is in possession and Jesus Navas is pushing down the right wing. If you drop back to try and patrol Messi, then you increase the chance that he won't be caught offside.

Obviously, the responsibility lies with your team-mates not to lose the ball cheaply, which they did, and not to allow free possession to be snapped up by one of the world's great passers, which it was.

So I'd argue that if there's another case for a pause it should be with City's financiers, not Manuel Pellegrini.

Maybe the Chilean coach stands accused of not going sufficiently on the front foot, not attacking Barcelona fully while roared on by a capacity 46,000 crowd.

But it's a stone cold fact that, in the summer, Pellegrini believed his club would back him in the pursuit of Real Madrid's Pepe.

The Portugal international has a price tag of 30 million pounds; too high given his injury record and age (29), but negotiable. Instead the City purse strings were drawn tight and Demichelis was called upon to deputise.

Yes, Joleon Lescott might have started instead. Even Micah Richards? But it's important not to forget that until the calamitous moment Demichelis had formed a firm part of City's robust, relentless attempts to repel Messi.

Block after block was complemented by well-timed tackles and sound positioning.

But once Iniesta set free the man who, with 66, now lies only five goals behind Raul in the race to become the all-time leading Champions League scorer, Demichelis had to lunge. His tackle was a foul and the red card was automatic.

More pause? There was one from Messi as he feinted to put the ball into the corner but, instead, just trickled it down the middle of the goalmouth while Joe Hart dived energetically to his left.

Pause for thought now. Where does this leave our European "runners and riders" assessment?

Patently, this is a much improved Barca: more precise, quicker, smarter and more threatening than when losing heavily in the semi-final to Bayern Munich last season.

When he arrived at the Camp Nou, Tata Martino promised that he would spend time and effort making sure that his squad arrived at the business end of the season all muscle, bustle and hustle. In form, strong, full of stamina and ready to win.

Eight months later Barcelona are in the Spanish Cup final against Madrid, are top of the league with a points total which is equal to or better than any of Pep Guardiola's four seasons at this same stage and now are on the brink of the last eight of this competition. Again.

Martino is making good on his word.

What flickering hope City have of winning at the Camp Nou to turn this tie on its head would have been absolute zero if Dani Alves hadn't been pretty wasteful with a one-on-one chance with Hart as the game drew on.

However there was one final pause.

The last-minute interchange of passes between Neymar and Alves, two Confederation Cup winners and both magicians with the ball when they want to turn it on, left the full-back eye-to-eye with Hart again.

This time he let the world roar around him and the impending tackles go unheeded. Head down, he imparted a deft touch on the ball and the chance rolled through the goalkeeper's legs and into the net.

Cue bedlam in the Barca end.

Prior to Tuesday, of the 15 previous games they had played away from home in the knockout rounds, Barcelona had won only three, while drawing seven and losing five.

It is not a hugely impressive away record yet here they were. Messi's first ever Champions League knockout tie goal on an English club ground, a 2-0 win which could easily have been three or four and distinct signs that this team is building momentum toward dates with destiny: Madrid, Atletico ... Bayern again?

Now comes a three-week pause until we get leg two. It's worth waiting for if it will be anything like this.