Arsenal avenge their Anfield annihilation
LONDON -- This time, they were ready. At Anfield, Arsenal were torn apart in 19 ruinous minutes and Arsene Wenger was prepared to shoulder the criticism. It was a defeat to rip up the usual playbook. In place of laissez-faire came true grit. Liverpool are counting the cost of trying to repeat the same tricks while the "specialist in failure," to quote Jose Mourinho's slur, still has three fronts left to fight on.

- Palmer: Webb's error costs Liverpool
- McNicholas: Fabianski's heroics
- Rodgers fumes at penalty denial

Wenger has long been accused of not varying his tactics, but this was a wholly different Arsenal, not just from last week, but for much of the last nine years. His teams were once capable of duking it out with all comers. If opponents came to kick, Arsenal would kick back harder. Should they come to play, then Arsenal could play most opponents off the field. Somewhere along the way, that was lost. For Wenger, that resourcefulness made a happy return just as another season lurched toward trophylessness. He was more than happy to give his team the credit.

"It was vital for us," Wenger said. "I am very pleased with the intensity of our commitment. We had a clinical desire to take every opportunity to kill them."

In not letting Liverpool have their way and then taking scoring opportunities with precision, a template was provided for how they might have escaped humiliation last week, and might yet in the Champions League. A scratch team of whom only six might expect to play against Bayern Munich on Wednesday ended talk of February being the month that again kills a season. Even Mesut Ozil was to be found buzzing around with purpose and vigour.

When Liverpool came at them late on, the Gunners dug deep, pulling off a win that despite a far lesser margin of victory will be as sweet for them as it had been for Liverpool the previous week. Extra succour was provided by the fact that only three of Arsenal's tormentors from last weekend were absent. A Liverpool side unhindered by European distractions were, in the words of manager Brendan Rodgers, "bitterly disappointed."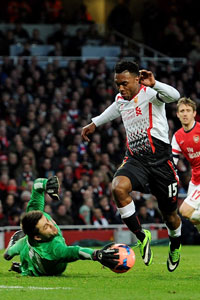 GettyImagesLiverpool were consistently thwarted by Lukasz Fabianski, who was in fine form in between the posts for Arsenal.
"We came here and virtually dominated most of the game and had a real threat going forward," Rodgers said. "And coming away with nothing obviously disappoints because it was a competition we wanted to do well in."

Alex Oxlade-Chamberlain reflected a growing importance not confined to the finishing and crossing that supplied Arsenal's first and then Lukas Podolski for their second. Though he lacks the pace of Theo Walcott, his contribution to defensive duties is better. He can tackle -- usually. The Ox had luck on his side after Howard Webb's amazing refusal to award Liverpool a second penalty; a clumsy foul on Luis Suarez was blatant. Webb, almost certainly through a misplaced sense of evening out the decisions, should later have sent Steven Gerrard off for an obviously bookable foul that deserved a second yellow card.

When Oxlade-Chamberlain left the field, exhausted by his efforts, he did so while reminding his teammates to keep their heads, taking the type of responsibility that was so utterly lacking at Anfield. "We had to make a statement today," he said afterward. He had embodied its making.

Nacho Monreal, terrorised by Luis Suarez last week, reminded why he is a Spain international, while callow Carl Jenkinson, after a couple of scares, eventually cooled the jet heels of Raheem Sterling. Lukasz Fabianski also suggested that there is more than one good Polish goalkeeper at Arsenal. This was a collective effort to exhibit a squad deep in spirit.

While Wenger agonised over who could be rested ahead of Bayern Munich, Rodgers' few changes proved costly: Joe Allen lacks Jordan Henderson's athleticism; the return of Daniel Agger for Kolo Toure should have strengthened Liverpool's back line, but Brad Jones in for Simon Mignolet probably negated that. The Aussie has rarely signified he is a premier class 'keeper and he did not convince for either Arsenal goal.

The story might have been the same as last week had Daniel Sturridge repeated Martin Skrtel's feat of an early brace. Fabianski saved the first, and Sturridge could only rattle the side netting for the second. At full time, the striker left the field distraught.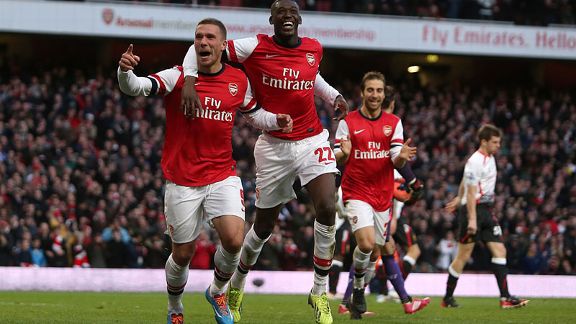 GettyImagesYaya Sanogo was an unorthodox but effective presence up front for the Gunners.
Where Sturridge was wasteful, Yaya Sanogo's output was inconsistent -- there were airshots aplenty -- but effective in its unorthodoxy. His control and shot led to Oxlade-Chamberlain's goal. Olivier Giroud -- under the microscope for off-field reasons -- was left on the bench until the dying moments. His young compatriot earned the manager's praise while Giroud's blushes were spared. "I want to respect his privacy," Wenger said of tabloid-stung Giroud.

"He was excellent, he was always in the game," said Wenger of Sanogo. "It was his first official game, and considering the intensity he was absolutely excellent."

Through Sanogo's energy, Gerrard was denied the wide open spaces with which he began last week's waves of attack. Has Wenger become a belated convert to tactics of pressing and transitions? Mathieu Flamini, suspended at Anfield, certainly assists that approach. Arsenal's best chances came on the break.

After carelessness in defence, Liverpool frustrated in attack. Suarez's annoyance when a goalkeeper thwarts him is something to behold; he takes great saves as a personal affront. He had to settle for winning the penalty, conceded by a striker's tackle from Podolski, which Gerrard converted. That will be little consolation to a previously deadly striker who has now gone five games without a goal, and should have had a second penalty. As Liverpool's push faded, Suarez cut a surly figure. Liverpool have only the league to concern themselves with now.

"It doesn't feel like it now, because we want to be in as many competitions as we can but it narrows our focus," Rodgers said. "If we play with that aggression then we have an exciting 12 games to play."

Like his team, Wenger took his chance well. "I'm embarrassed for him," he said when Mourinho was mentioned. His team remain in the FA Cup, while Mourinho is not.