Three things: Getafe vs. Real Madrid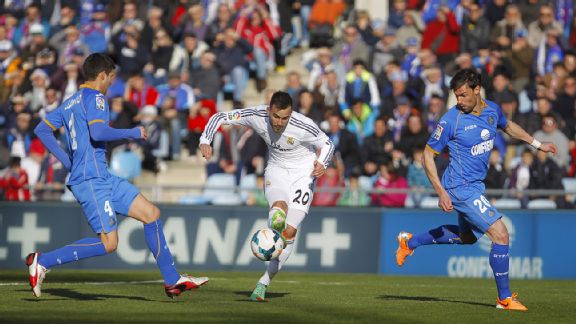 AP Photo/Gabriel PecotJese's brilliant form continued as his opening goal for Real Madrid sparked their rout against rivals Getafe.
GETAFE, Spain -- Three observations from Real Madrid's 3-0 away win at local rivals Getafe.

1. As you were at the top

This weekend we not so much learned, as confirmed, that the La Liga title race is likely to go down to the wire, and probably hinge on meetings between the three top teams, as neither Real Madrid, Barcelona or Atletico Madrid are likely to drop too many points elsewhere.

Madrid had, in theory, the toughest test of the three this week, with Barca and Atletico expected to win at home to 19th placed Rayo Vallecano and 18th placed Real Valladolid respectively. And so it turned out, with Barca scoring after 90 seconds, Atletico needing three minutes to get on the scoresheet, and Madrid taking until the fifth minute before taking the lead here. They went on to match Atletico's 3-0 scoreline, with Getafe and Valladolid being marginally better organised than Rayo who were hammered 7-0 at the Camp Nou.

But Madrid's win was impressive in its own way. Before Christmas, Carlo Ancelotti's side struggled away from home at places like Elche and Osasuna, giving up silly goals and looking likely to drop points. But the 2014 version of Real are better organised and really serious about how they approach each and every game. Here they were in control from start to finish, with Xabi Alonso, Luka Modric and Angel Di Maria again all excellent both with and without the ball in midfield.

Madrid were extra careful on set-pieces, bringing everyone back to defend corners, with Gareth Bale's height being used at the near post. But even then they could still counter quickly and devastatingly, with their second goal coming almost direct from a Getafe corner. Once the initial header was won, Di Maria raced 50 yards before sending a superb cross-field ball to the back post, where Karim Benzema showed no ill effects of his own sprint as he chested the ball down and rammed it in.

Getafe did mount a short spell of pressure early in the second half, winning a few free-kicks around the Madrid box. But visiting keeper Diego Lopez was mostly untroubled -- with his work limited to catching a few crosses which he generally managed fine. The more the home side pressed forward, the more likely was a goal at the other end -- and Modric made it 3-0 by drilling low to the net from 25 yards.

Another clean sheet was Madrid's 11th in 13 games since the winter break, and was well deserved. With the team working hard, well organised, and not taking any risks in the back, their attacking power does the rest. On such solid foundations a title challenge is based.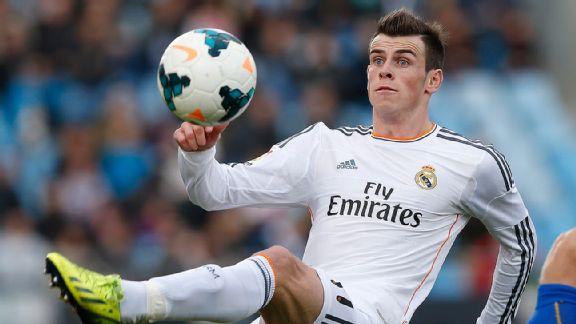 Helios de la Rubia/Real Madrid/Getty Images)Gareth Bale still looks like he is trying to gain confidence in his physical ability after spending some time out with an injury.
2. Bale vs. Jese -- advantage the homegrown kid

Carlo Ancelotti has more or less settled on his favourite side now -- a 4-3-3 which has just one real spot up for grabs -- on the right wing. This was supposed to be 101 million man Bale's way into the team given Cristiano Ronaldo is a fixture on the other flank, but youngster Jese Rodriguez is looking harder and harder to leave out.

Both started here, with Ronaldo serving the second match of his three-game Primera Division suspension. And it was advantage Jese inside just five minutes -- as he took a simple pass from Bale outside the area, backed his marker into the box, and curled sweetly to the far bottom corner from 15 yards. The 20-year-old did not match that moment during the remainder of the game, but was always a threat, did his defensive work diligently, and looks supremely comfortable at this level.

Madrid-based pundits are now comparing Jese's debut senior season favourably with that of Raul Gonzalez, with the latest La Fabrica product scoring more goals, in less time, than the much-loved club hero did at a similar stage. All eyes are now on Vicente Del Bosque's Spain squad for the friendly against Italy on March 5, and the chance that the Bernabeu's new star could oust more established internationals who are having much worse seasons [like say Manchester United's Juan Mata].

Meanwhile, on the other wing, Gareth Bale was struggling to make such an impact. Bale added to his impressive assists record [nine in 16 La Liga games], but was mostly on the periphery of the game. When in possession he often came inside from the right only to be crowded out in a packed midfield, and sent his one direct free-kick chance straight into the wall.

The lack of direct running was a surprise given his marker was Carlos Vigaray, 19, making his first La Liga start today due to Getafe's injury crisis. Vigaray actually had an excellent game, earning applause just before half-time both for a charging run forward which Bale did not track, and then more cheers for getting back moments later to rob the Welsh winger inside the area.

Madrid's newest galactico has now completed three full consecutive games for just the second time since joining from Tottenham last summer. And he is not playing too badly at the moment, his stats remain pretty good [nine goals in those 16 Liga games too], but he just does not look 100 percent fit right now. A fully-charged Bale would have pinned his ears back and tested Vigaray again and again, but this version does not seem to trust his body to handle that effort.

Bale will go head to head with Jese again next week against Elche in La Liga at the Bernabeu, but the youngster looks likely well placed to keep his starting spot when Ronaldo is available again.

3. Life in Spain's suburbs

This seemed an ideal time for to attend a Primera Division game. Madrid were missing Cristiano Ronaldo, but 100 million euro galactico Gareth Bale was on show, as was Spanish football's latest young attacking sensation Jese Rodriguez. It was also a lovely fresh spring afternoon with the sun shining in the suburbs, and Getafe's Coliseum Alfonso Perez is actually not a bad place to watch football -- easy to get to, and with modern facilities. But even still there were only about 12,000 inside the ground for the game.

This was at least the biggest crowd of the season at the 17,000 seater Coliseum, with the biggest crowd before today 8,000 for the visits of Barcelona, Rayo Vallecano and Real Betis before Christmas. Only 4,000 were at last home game -- a 0-0 home draw against relegation threatened Real Valladolid, and hiked cheapest ticket prices of 60 euros for Madrid's visit presumably had an effect too.

Getafe have beaten both Jose Mourinho's Real Madrid and Josep Guardiola's Barcelona at the Coliseum in recent years. They actually have a much better record against Madrid in the last decade than most teams -- with five wins since they were promoted in 04-05. But the initial enthusiasm about being in the division is long gone, and few expected anything similar here given Luis Garcia's side's awful form at the moment.

There were ironic cheers when main creator Diego Castro slipped over and horribly skewed a cross high into the sparsely populated seats behind Diego Lopez's goal just before half-time with the score already 0-2. Midfielder Juan Rodriguez was booked for a pointless kick after Luka Modric skipped away from him near halfway a few minutes later. The pair of incidents summed up a mix of frustration and resignation on the pitch and in the stands.

There were whistles at the end, and even a few sparse chants of "Luis Garcia Out." The coach's job does look in jeopardy given Getafe have not won in La Liga since Nov. 29, and have not even scored in their last four outings. He again fielded questions pre-game about his job security, replying that his players just needed a stroke of luck or a good win to lift confidence and then results.

Whether or not Garcia gets sacked in the coming weeks, few really think Getafe will be relegated this year. They will likely win a few here and there before the season's end, securing another year in the top flight, while avoiding the extra-hassle of a Europa League campaign. Such is life in Spanish football's suburban mid-table mediocrity -- so it's hardly a surprise so few show up to watch.