Three Things: Arsenal vs. Liverpool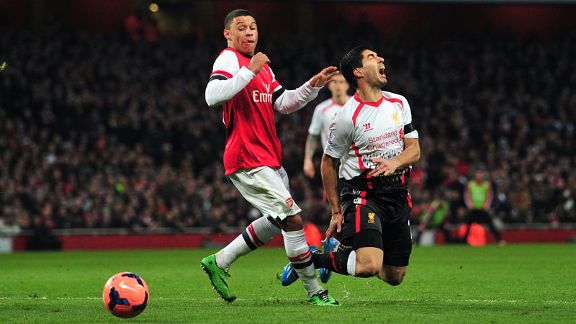 GettyImagesAlex Oxlade-Chamberlain challenges Luis Suarez in the area but referee Howard Webb said no penalty.
LONDON -- A trio of thoughts on Arsenal's 2-1 win vs. Liverpool in the FA Cup fifth round.

1. Webb's big mistake

The Football Association tends to turn to 2010 World Cup final referee Howard Webb when it needs a safe pair of hands for a game of this magnitude, but the experienced official made a horrible error that proved to be the turning point of this game.

Minutes after taking his time before awarding Liverpool a penalty after Luis Suarez fell under a less-than-robust challenge from Lukas Podolski, Webb refused to give the Uruguayan a second spot kick when Alex Oxlade-Chamberlain ploughed through him. It was a decision that was impossible to fathom.

Standing in prime position to witness Suarez get to the ball first and then come under fire from a reckless lunge from the Arsenal man, Webb instantly waved a solitary finger of denial as he rejected Liverpool's heated appeals for a second penalty.

Suarez did not help himself by exaggerating the impact of a challenge that hardly needed embellishment, but an official of Webb's experience should have seen through that.

Liverpool's No. 7 may have a reputation for being vertically challenged at times, but this was an occasion when he was desperately harshly dealt with.

Yet Webb's poor day did not end there. He could easily have sent off Steven Gerrard for a second-half challenge that appeared to merit a second yellow card, but opted to let the Liverpool skipper remain on the pitch.

Even the best can have a bad day at the office.

2. Liverpool's missed opportunity

While a top-four finish has to be a priority for Brendan Rodgers this season, Liverpool will look back on this game at the Emirates Stadium as the most disappointing afternoon of their otherwise hugely encouraging campaign.

The final score line did not offer a reflection of a game that was even at best, if not slightly tilted in Liverpool's favour and just a week after they were thumped 5-1 by the Reds at Anfield. Rodgers' team could and probably should have tilted this game in their favour with more clinical finishing in front of goal.

Had Daniel Sturridge snapped up either of the two early chances he was presented with after bursting behind the Arsenal backline, the nightmares of the Anfield just a week ago would have been revisited for home centre-backs Laurent Koscielny and Per Mertesacker.

On another day, Suarez could have had a hat trick as he fired shots on the Arsenal goal with increasing menace following a range-finder just before halftime, while Daniel Agger merely needed to direct his header at goal when the otherwise impressive Lukas Fabianski misjudged a Gerrard free kick late on.

The statistics backed up the theory that Liverpool should have scored more than one goal. Their seven shots on target included at least five that could be considered serious scoring opportunities, and they also spurned a host of fine attacking positions.

There was no lack of motivation from Rodgers and his team, but eight days after destroying the same opponents, this was a day when they were left to rue missed chances.

Securing a return to the Champions League would more than make up for this disappointment, but this was a season when they had the time, ambition and momentum to target a trophy as well. That lost chance will be lamented by all Liverpool supporters.

3. Giroud replaced by Arsenal double act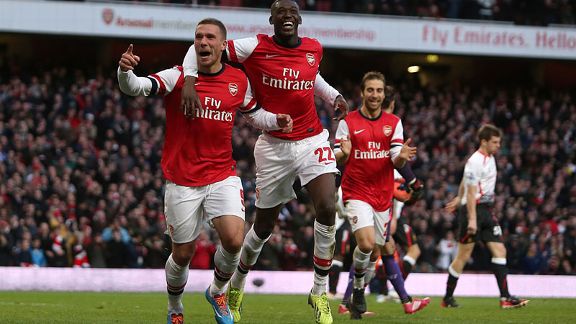 GettyImagesYaya Sanogo was an unorthodox but effective presence up front for the Gunners.
The persistent proclamations from Gunners boss Arsene Wenger that he has the backup firepower for Olivier Giroud were put to the test when the Frenchman, who hit the headlines in the English tabloid newspapers for all the wrong reasons on Sunday morning, was left on the bench.

Thus, the Arsenal manager will have drawn satisfaction from a goal by Lukas Podolski and an encouraging performance from Yaya Sanogo, especially in the first half.

Podolski's finish two minutes into the second half was as crisp as it was clinical, while the effort he put in as he was handed a rare start confirmed his commitment to the cause. Giving away a penalty for his needless foul on Suarez, though, was a blot on his copybook for the afternoon.

And what of Sanogo? Those who are regular visitors to Wenger's press briefings at Arsenal's London Colney training centre have heard the Gunners boss talk in glowing terms about his summer signing from Auxerre, and this was the day when he had his chance to back up the faith his manager has in his talents.

Injured for much of this season, it was impossible to expect the 21-year-old to turn in a match-winning display in what was only his third appearance for the club, but he did manage to occupy the Liverpool defence with his strength and was involved in Oxlade-Chamberlain's opening goal.

Give him a B-plus for this display, but he needs to show more if he is to put any pressure on Giroud as Arsenal's first-choice striker.