Moyes and Wenger content despite more dropped points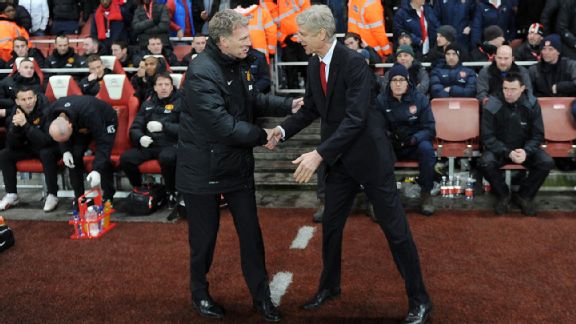 David Price/Arsenal FC/Getty ImagesBoth managers seemed happy with a point.
LONDON -- David Moyes was willing to give more time to questions afterwards; Arsene Wenger was gently trying to put a more positive spin on a night that had its share of negativity.

It was that kind of evening; a sedate - as opposed to scintillating -- 0-0 draw which left both managers relatively content.

After the extreme emotions which swirled around the build-up to this match like the stormy British weather, such conservatism was perhaps inevitable. Both teams needed, first and foremost, to steady their feet and, to their credit, they did.

It is precisely because of that high pressure, however, that it might be rather difficult, until the dust properly settles, to say whether this outcome was actually as good a result as both managers tried to make out.

The final score did start to force a few more questions as the two men walked away and it was difficult not to think both Manchester United and Arsenal were either too accepting or too fearful to really aggressively go for the win they both badly needed and could have got.

- Delaney: Three Things from Arsenal vs. Man United
- Mangan: Arsenal find stability
- Payne: United show patience

Sure, they may have had their previous matches on their minds but that in itself potentially reveals one of the reasons why the two teams may ultimately fail in their main objectives.

There was obviously a huge benefit to both in preventing a complete psychological collapse after the respective calamities of Anfield and Old Trafford, yet the very fact that is even being talked about as an issue itself reflects a weakness about both sides. The two teams were deadened by their fear, rather than being driven by their ambition.

At the elite level, where the tight margins can very suddenly expand, that can make a genuine difference. Here, it meant both lost--- or at least failed to gain -- ground in their respective league chases.

That is all the more pointed because of the peculiar game of poker this match represented.

As a consequence of what had gone on before, both sides could have reasonably looked at each other and thought both were there for the taking. Neither had the bravery to really go for broke; to go all in but caution reigned.

Wenger acknowledged as much in his post-game press conference, that Arsenal were much more mindful of preventing defeat rather than proactively going for the win.

"You felt our team was highly focused not to concede tonight and maybe restricted our game going forward because we were certainly hit by the five goals we conceded on Saturday and you could feel that a bit tonight."

More worryingly, Wenger admitted they were "nervous".

"I felt we were nervous, yes. Where we are usually very dangerous breaking through the middle, Man United defended very well there."

Nerves, of course, are not the type of trait you associate with title winners. Is that not a concern for the Arsenal coach?

"It's not worrying because we care about what we do. We concede five goals like we did on Saturday, we are only human beings you know."

A proper title challenge, however, generally involves pushing yourself to the limit and, on this occasion, Arsenal fell short. Wenger couldn't dispute that.

"We lost two points, we missed the opportunity to go top of the league again. A point keeps us in the race."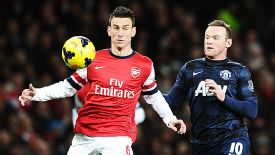 GettyImagesLaurent Koscielny holds off Wayne Rooney.
The point though, as Wenger acknowledged, is that they could have been leading said race. The feeling is beginning to grow that they will always stay close but never quite go close enough.

Given that, this result was probably worse for Arsenal. Not for the first time in the last nine years, Wenger couldn't quite get his side to grasp the nettle.

More than anything, and as damningly repetitive as ever, it seems the squad is paying the true price for caution shown in the transfer window. Even aside from Olivier Giroud's drop-off in form after being over-used, it is as if Arsenal could just do with the lift that a lively new player brings.

That might well have staved off the sense of stagnation that is increasingly creeping in. The group could have been jolted. This game certainly might have been.

Moyes, meanwhile, was sitting much more stably and made that known. He looked and sounded satisfied with the display, and it does of course ease the pressure.

In stark contrast to his fractious press conference on the eve of the match, the Manchester United manager was more willing to talk and he praised the positives.

"I thought we did a lot of good things in the game, good shape. Overall we looked quite compact & defended well [but] I'd have liked to have played better when we went forward."

So, given everything, and given the need to win games to catch up for fourth, did he see it as a good result?

"I see it as a hard place to come, Arsenal are a good team, they've had a great season up to now. If you said to me at the start of the season that you'd take four points off Arsenal, I don't think I'd have been too unhappy."

To counter that, it could be argued that United have taken a much greater ratio of points off Wenger's side over the last few years. This, after all, represented just the third time that they had failed to beat Arsenal in the last 11 games.

Alex Ferguson had clearly developed a template to defeat Wenger, but Moyes only seemed to fully follow the defensive part, rather than the brilliant breaks which were a trademark of its attacking aspect.

Satisfaction with this uninspiring draw, then, may just indicate how much the club has been conditioned by this season's strife and the new coach. On the other hand, it is possibly an occasion where the beleaguered manager could be cut a little slack.

One of the greatest problems with this campaign has been just how much the pressure is clearly affecting coach and team. In the last few weeks, in particular, it is as if the intensity of the situation has been constantly causing Moyes to second-guess himself and thereby make the wrong decisions.

As such, regardless of the questions concerning his suitability to the job, it would be incorrect and unfair to say that this season is a fair reflection of a fundamentally good manager.

Much has gone against him -- even if he has occasionally been the cause -- and this game at least offers a reprieve. It will mean he is not under so much pressure for the next match, and can attempt to properly build with a new player like Juan Mata from a more stable footing.

If Moyes can now start to show progress from there, things can be seen as more promising. The problem is that we've been here before a few times this season.

The big issue with this game was that it felt like there could have been more there for both teams. Both should have been more willing.